Projects
7th Avenue Streetscape
The Seventh Avenue Streetscape project is a $1.4 million investment into pedestrian and stormwater infrastructure and landscaping in the business district slated to start in 2021. 
Project Status: Current Projects
Parking Deck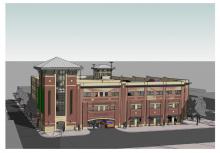 City Council has determined that a downtown parking deck is needed to provide sufficient parking in downtown Hendersonville. A 3-story (4-level) garage will be constructed at the corner of 5th Avenue and Church Street.
Project Status: Current Projects