Hendersonville Farmers Market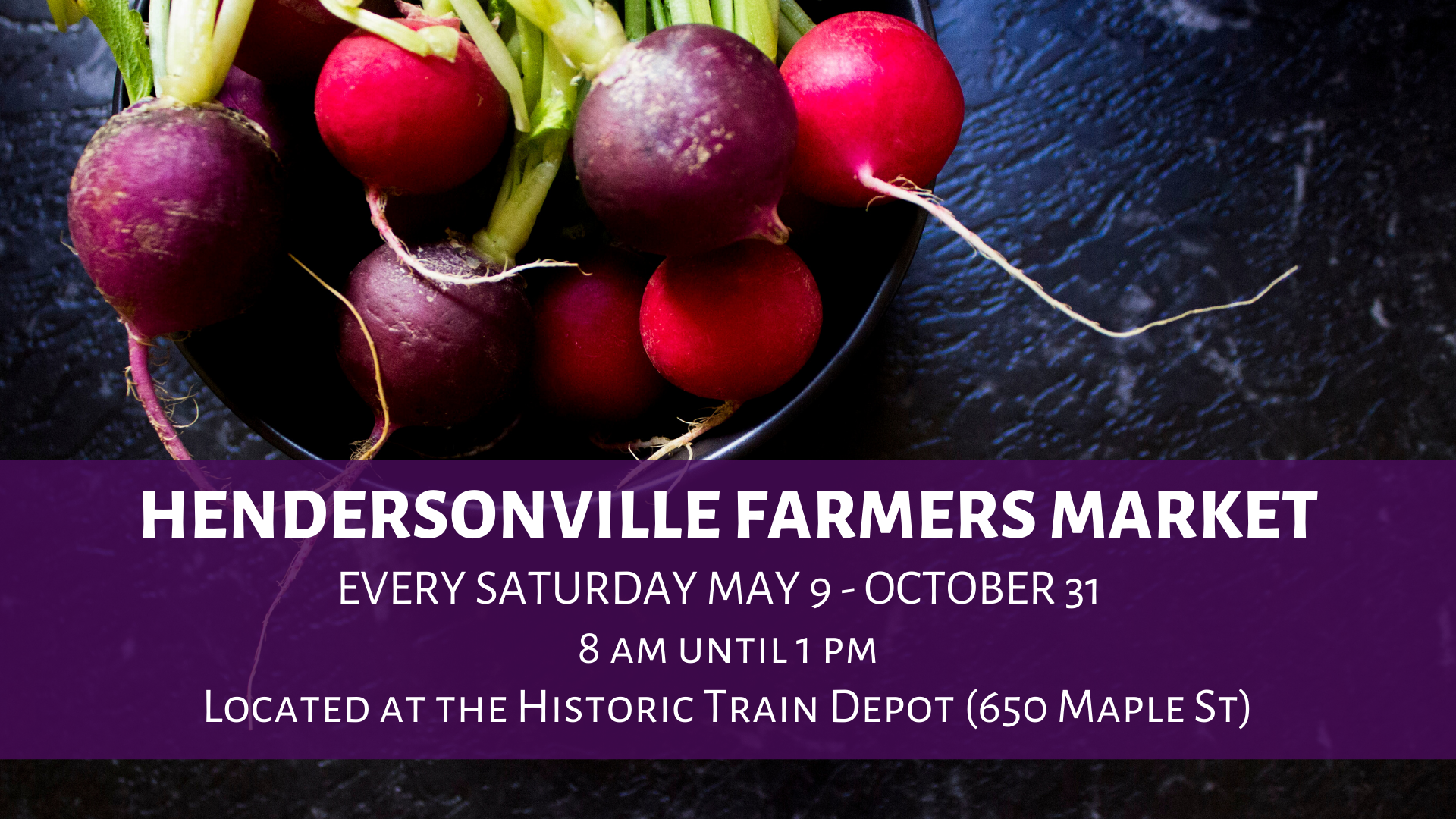 New in 2020, the Hendersonville Farmers Market aims to be a world-class market that contributes to the success of local producers and growers, expands access to farm fresh foods, and creates a vibrant community gathering space. With fresh produce, meats, baked goods, crafts, live entertainment, food trucks, and more, it'll be a weekly outing with something for everybody!


DATES OF OPERATION
Opening Day: Saturday, May 9, 2020
May - October
Saturdays, 8:00 a.m. until 1:00 p.m.
Rain or shine!
Holiday Markets
November 28 and December 5, 8:00 a.m. until 1:00 p.m.
Location & Parking
Hendersonville Farmers Market is located at the Historic Train Depot (650 Maple Street) in downtown Hendersonville's Seventh Avenue District.
Limited free parking spaces are available at the market on Maple Street off of Fifth Avenue in addition to parking on surrounding streets. Lot and metered parking are available 0.3 miles away at the City Hall lot (145 Fifth Avenue) or 0.4 miles away at the Maple lot (124 Fifth Avenue).


VENDORS
Hendersonville Farmers Market organizers are recruiting a diverse lineup of producers and growers with a strong focus on being Henderson County-made. Check back in April 2020 for a full roster and more information on our vendors for the 2020 season!
Interested in being a vendor for our 2020 season? To apply, first read the Vendor Guidelines. Then, fill out our online application using the button below. Contact the Market Manager at mfriedheim@hvlnc.gov or 828-233-3205 with any questions.


ENTERTAINMENT & SPECIAL EVENTS
Visitors can expect a lively atmosphere celebrating food, farm and family. Entertainment from local artists as well as themed events such as Kids' Day and Pollinators' Day will occur at the market regularly throughout the season. Food trucks will also be a staple, allowing visitors to enjoy breakfast or lunch on their farmers market adventure.

Interested in being a performer at the market? Check out our Performer Guidelines.
GET INVOLVED
Hendersonville Farmers Market is committed to showcasing farmers, producers and artisans with products made right here in Western North Carolina. To do this successfully, the market depends in part on support from the community.
Become a Sponsor
Our sponsorship packages offer great visibility for your business in Hendersonville and the surrounding communities. With a minimum of 25 vendors and anticipated 300 visitors or more every Saturday, May through October, every week will be an adventure! Contact the Market Manager at mfriedheim@hvlnc.gov or 828-233-3205 to inquire about our sponsorship packages.
Volunteer Opportunities
Volunteers are needed each market day to assist with operations and interact with customers, among other duties. If you've got a can-do attitude, this will be a fun way to get to know your community! Start the process by filling out our Volunteer Sign-Up form.

SNAP/EBT
Stay tuned for more information on using your SNAP/EBT benefits at Hendersonville Farmers Market.
CONTACT US
Meredith Friedheim
Market Manager
828-233-3205
mfriedheim@hvlnc.gov