Tree Board Projects & Activities
TREE PLANTINGS, POLLINATORS, AND EDUCATIONAL PROGRAMS
Guided Tour of Trees on Main Street in September Sponsored by Hendersonville Tree Board
An outstanding variety of trees, shrubs, and flowers create a linear park along Hendersonville's Main Street. On Sunday, September 26, at 2 p.m., Arborist Bill Leatherwood will lead a walk to identify the trees and discuss the special care and maintenance that helps the plants and trees thrive in the landscaped, restrictive areas of the beds and containers on Main Street. Space is limited for the 90-minute walk. Make reservations by Thursday, September 23, by phoning Mac Brackett at 828-692-3026. Details will be provided. The walk is open to the public at no charge.
Leatherwood, an arborist contracted by the City of Hendersonville to care for downtown trees, is intimately involved with tree care and maintenance along the downtown artery and has inventoried each tree and shrub.
"The trees and garden-like setting create the character of Main Street as much as the sidewalk cafes and historic buildings," Leatherwood explained. "As we walk, we will identify some unusual trees and see how the City and the downtown business district have planted and maintained trees over the years to enhance the beauty of this 'front yard' of Hendersonville."
Hendersonville Tree Board is sponsor of this event. Commissioned by the City of Hendersonville to provide advice on the selection and care of trees and shrubs in public places, the Tree Board also educates the public concerning the economic, environmental, and aesthetic benefits of trees, shrubs, and native plantings. The Arbor Day Foundation has recognized Hendersonville as a Tree City USA for 30 years because of its high level of urban tree management. In 2018 the N.C. Forest Service recognized the city as Tree City of the Year in North Carolina. The municipality has been a designated Bee City USA since 2015.
Phone Tree Board Chair Mac Bracket at 828-692-3026 by Thursday, September 23, to make a reservation for the Sunday, September 26 walk. To learn more about Hendersonville Tree Board and its projects visit the webpage at http://www.hendersonvillenc.gov/tree-board.
The Hendersonville Tree Board is a volunteer committee appointed by Hendersonville City Council. Its mission is to improve and maintain our urban forest, to educate citizens about trees and their economic and aesthetic importance, and to help implement the requirements of a registered Tree City USA.
Winter Educational Program: Thurs., March 14, 2019 – Trees, Trees, and More: NC Arboretum in Our Backyard. 6-7:30 p.m., Henderson County Library Auditorium, 201 N. Washington St. Drake Fowler, Chief Operations Officer at NC Arboretum and certified landscape architect reported on how the NC Arboretum, a nearby resource, can be used to help us grow our urban forest in every neighborhood. Nearly 50 interested attendees with lots of Q&A.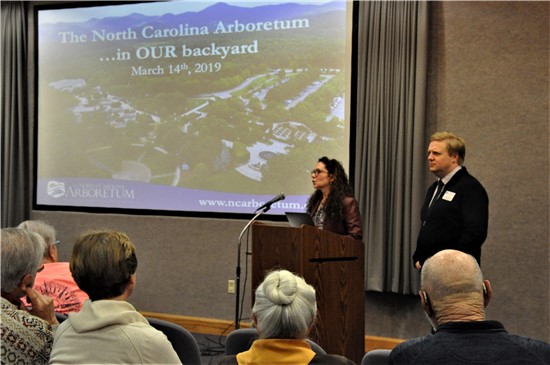 Tree Planting: Fri., May 3 – Arbor Day Celebration. Hendersonville Elementary, 12 noon. The Arbor Day event was well attended … students at Hendersonville Elementary participated and sang a song about trees and helped plant the tree (red oak) in memory of Dr. Jim Volk. Four Seasons Rotary Club members Chris Johnson and Corey Prince organized the event and did a great job. Mark Madsen, Tree Board member, aptly educated the students about how to plant a tree. NC Forest Service rep presented City with Tree City Award and also a Growth Award. Mayor proclaimed it Arbor Day in Hendersonville. Tiffany Ervin, with Four Seasons Rotary, officiated. Weather cooperated.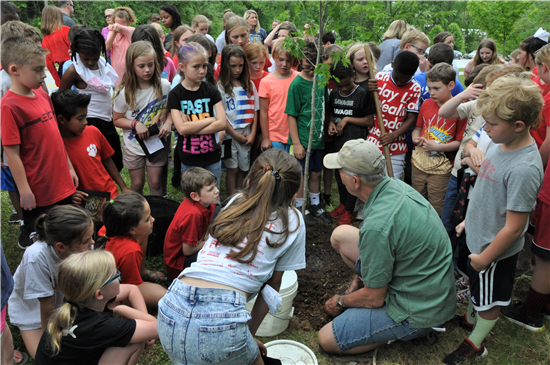 Tree Planting. Sat., May 4 – NeighborWoods Project at Green Meadows Community. 10 a.m. Distribution of a dozen trees and tree-planting demo at 807 Robinson Terrace. All participants were there to see the demonstration and collect their trees. Definite interest in more trees for planting in the fall.
Education and Community Participation. May 24-26 – Garden Jubilee. Downtown Hendersonville. Kim Bailey and Alesia Greismyer, with Hendersonville Environmental Sustainability Board, helped man the table set up at the event. Free seed packets of pollinator plants charmed in many visitors to the table where information was available about pollinators, plants, and the City's Bee City USA designation.
Pollinators. June – Pollinator Month. Tree Board helped organize 14 events held during entire month, including Bee-licious tasting of honey, mead, and more; invasive plant removal project; Henderson County Tailgate Market focus on flowers and pollinators; Hands-On Children's Museum program; guided walks – in a nature preserve, in Holmes Educational State Forest, at Bullington Gardens, Flat Rock Park, Connemara; a beekeeping instructional program; on-line educational series; and more.
Educational Program. Sun., July 14 – Shady Garden Tours. At 2 and 4 p.m. A popular private urban garden tour to learn and see how you can have flowers and still keep your trees. About 50 people attended. All were enthusiastic and curious, asked many questions about plants and trees, took notes, left feeling enriched. Created increased interest in Tree Board and its mission and projects including Heritage Tree Project. Garden host was professional, knowledgeable, and entertaining. Tree Board volunteer coordinator fielded many phone calls and gave instructions about parking, location, etc.
Pollinators. Sat., August 17 – Honey Bee Day. Inspired by Tree Board volunteer Kim Bailey, several local events were planned around this date including the Bee Bold Pollinator Festival at Bold Rock Cidery in Mills River, held 1-6 p.m. to emphasize the importance of pollinators to the apple cider business and to educate about the world-wide decline in pollinator population. A raving success, along with other events in Hendersonville. These events kicked off the funding campaign to bring a Bee Mural to downtown Hendersonville, to be painted by the "Bring the Hive Alive" project.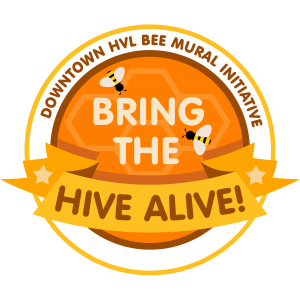 Pollinators. September – Monarch Month. Numerous events were coordinated through Tree Board for this month-long activity. Programs were hosted by Pisgah Wildlife Center, NC Arboretum, Henderson County Bee Keepers, Bullington Gardens, and more.
Educational Program. Sun., Sept. 15 – Learn About Trees on Main Street. 2:30 p.m. Bill Leatherwood, Consulting Arborist for City of Hendersonville, told about the types of trees planted along Historic Main Street and described behind-the-scene practices and care that keep the downtown arboretum looking good. Attendees were quite involved, asking lots of questions during the entire 90-minute walk. Participants review: "thankful for the opportunity to participate."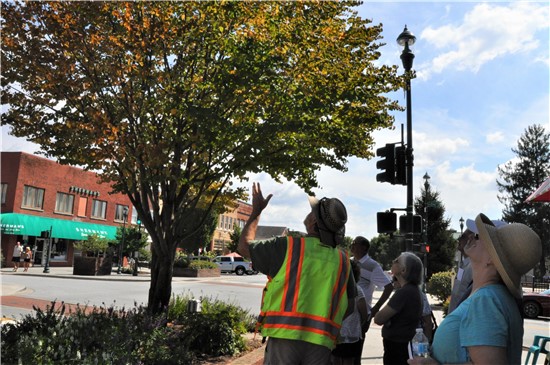 Educational Program. Sat., Oct. 5 – Learn About Trees Along the Oklawaha Greenway. 10 a.m. Tree Board co-sponsored this event with Friends of the Oklawaha Greenway. FOOG coordinator Suzanne Hale said: Thank you so much for co-sponsoring the Tree Walk. Tree Board volunteer Mark Madsen did a great job leading the walk. About 25 people showed up. The group had a lot of good questions and Mark had a lot of good answers. A very successful morning.
Tree Plantings. Sat., Oct. 19 –- NeighborWoods Project at Green Meadows Community. 10 a.m. Tree Board distributed eight free trees to residents who requested them through this program. Tree-planting demo was included by Tree Board volunteer. Green Meadows is an established neighborhood in need of more trees to provide aesthetic enjoyment and a sense of comfort.
Tree Plantings. Sat., Oct. 19 – NeighborWoods Project at Oklawaha Village. 12 noon. Tree Board distributed eleven trees with a tree-planting demo in this recently-built middle-income neighborhood. Land was cleared for new construction. Delivery of free trees to interested homeowners was very welcomed.
2018 PROJECTS PAY OFF ….
CITY RECOGNIZED WITH TREE CITY OF THE YEAR IN NORTH CAROLINA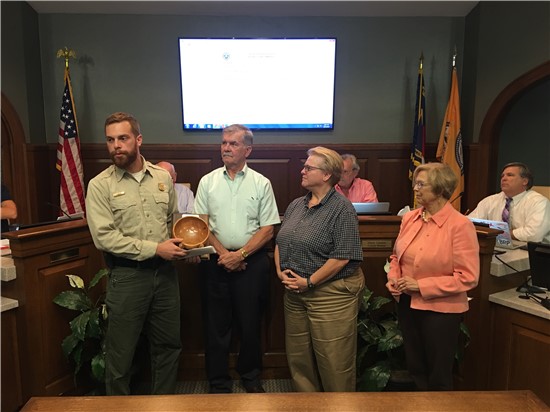 Late in 2018, the North Carolina Forest Service designated the Hendersonville community as Tree City of the Year in North Carolina. Because of citizen support and an active Tree Board, made up of volunteers appointed by the City, Hendersonville is proud of its tree-oriented projects and programs.
Oct. 14 – NeighborWoods Tree Planting in Towne Forest on Blythe St. 33 trees chosen by Towne Forest residents were distributed for planting to participants during the neighborhood's annual meeting. Trees were provided at no charge through the Tree Board's NeighborWoods project. This project helps sustain our urban tree cover.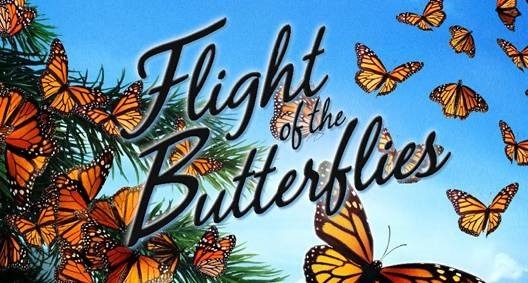 Late Sept – Monarch Migration Celebration. Locally, programs were presented in cooperation with Hendersonville's Bee City USA program and other organizations. On Sept. 24 "A Monarch's Journey" at Bullington Gardens sold out and Sept. 27 "Flight of the Butterflies" film at Blue Ridge Community College was well attended. A monarch conservation mini-symposium at NC Arboretum and film screening on Sept. 22 were at capacity. Several public school classrooms participated with presentations and student projects during the week, and Hands On! Children's Museum on Main Street Hendersonville held a symbolic migration event. Monarchs are vitally important to pollination and tree health.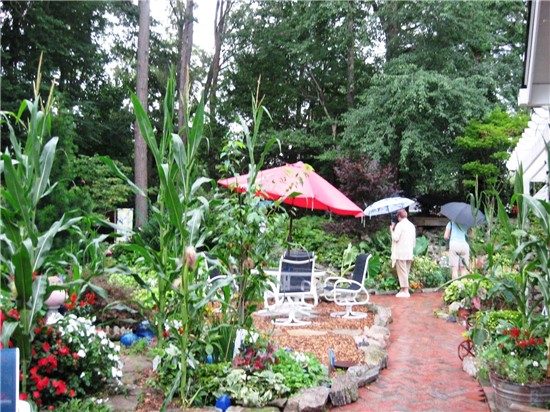 July 22 – "See How It's Done: Shade Garden Tour." This private garden that is mostly shade with bright sunny spots was the site of guided tours to see how this Certified Backyard Habitat and two-time landscape-award-winning garden has been arranged and constructed for pleasure, beauty, and preservation of trees. The event attracted both local and regional attendees in spite of severe-weather predictions. The rain stopped to accommodate the 12 visitors. We are hoping to repeat this event in 2019.