Tree Board Projects & Activities
The Hendersonville Tree Board is a volunteer committee appointed by Hendersonville City Council. Its mission is to improve and maintain our urban forest, to educate citizens about trees and their economic and aesthetic importance, and to help implement the requirements of a registered Tree City USA.
HENDERSONVILLE TREE BOARD PROJECTS 2022 (ANNUAL REPORT)
With a renewed economic up-tick during 2022, housing developments were a frequent topic of discussion at Hendersonville Tree Board meetings. The Tree Board advises City Council on tree preservation and protection on new developments, and because of the number of new developments presented during the year, the Tree Board decided to examine and update sections of the City Code and regulations in regards to existing trees and proposed plantings. By the end of the year, a grant request was proposed to help fund a Tree Canopy Survey in order to have concrete numbers as the City continues to grow. Loss of tree canopy and general loss of trees in the City's Urban Forest coverage appears to be significant – something the Tree Board wants to address. Along with the popular Bee City USA programs, the Tree Board organized other events and projects this year, which helped focus residents' interest in trees.
Winter 2022-23 -- Yarn-Bombing Project. During four winter months, seven trees near the Historic Train Depot on Maple St. were wrapped in decorative, colorful yarn by the STEAP organization. This art installation was approved by the Tree Board.
Fall NeighborWoods projects -- Several NeighborWoods projects were successfully completed this fall: Druid Hills (40 trees), Wolf Chase (16 trees), Blue Ridge Villas (15 trees), Oklawaha Village (13 trees). Most participants planted their own trees, but for the large job in Druid Hills students in West Henderson HS Key Club were lined up to help. Tree Board member Mary Davis procured the volunteers. In all, 84 trees were added to our City's tree canopy. Through the NeighborWoods program, the Tree Board supplies free saplings to property owners who have signed up for the program, promising to plant and maintain their trees for long-term successful growth.
October 20 – Film Screening -- "My Garden of 1,000 Bees." Thomas Auditorium, Blue Ridge Community College. Presented by Hendersonville Bee City partnering with BRCC this outstanding documentary film by exceptional wildlife filmmaker Martin Dohrn was enjoyed by approx. 145 attendees. Phyllis Stiles, founder of Bee City USA, introduced the film. Brannon Basham and Jill Jacobs of Spriggly's Beescaping fielded the Q&A session afterward. Carolina Bee Farm provided a honey-tasting and SkyTop Orchard provided apple cider. Conserving Carolina, Henderson County Beekeepers, Spriggly's Beescaping, and Bee City USA Hendersonville provided information tables. Door prizes of native plants were doled out.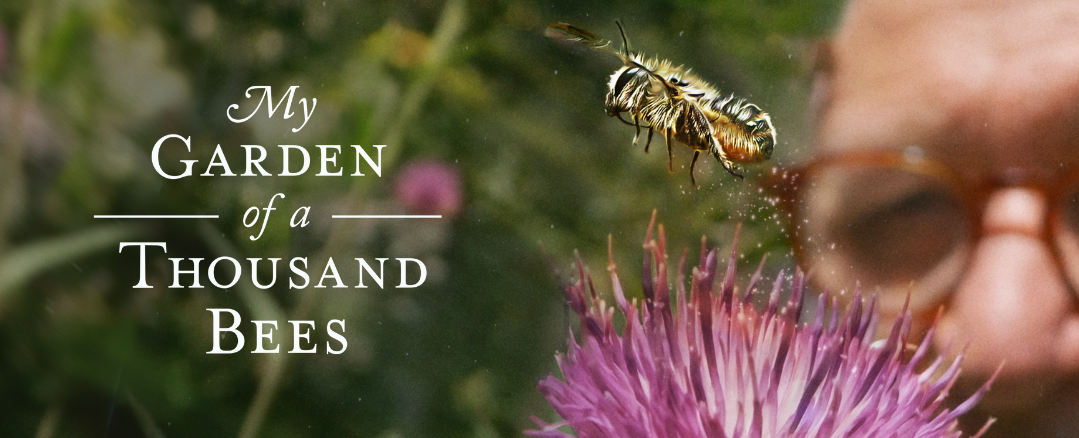 October 8 – Native Tree Walk Along the Oklawaha Greenway. Co-sponsored by Hendersonville Tree Board and Friends of the Oklawaha Greenway. Tree Board member Mark Madsen led the walk and board member Glenn Lange distributed Tree Board brochures. Several of the 15-18 attendees indicated interest in the NeighborWoods program.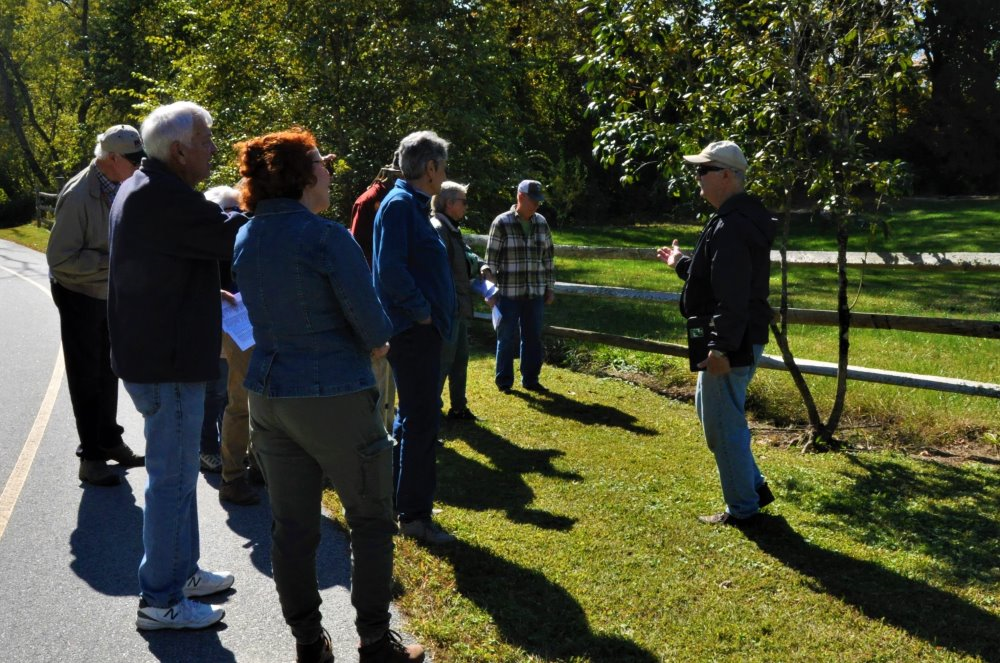 Mid-Sept.-Oct. 7 – Symbolic Monarch Migration. Bee City USA Hendersonville invited local classrooms, youth organizations, and individual students to join this international program. Seventeen participated.
Sept. 22 – "A Monarch's Migration" program. Bullington Gardens. Estela Romero, monarch educator and journalist who works in monarch overwintering sanctuaries near her home in Angangueo, Michoacán, Mexico, and Kim Bailey, local educator and farmer/owner of Milkweed Meadows Farm in Fruitland, NC, present up-close and personal views of the monarch's remarkable life cycle and epic migration to a sold-out crowd. Organized through Bee City USA Hendersonville.
Sept. 2-5 – North Carolina Apple Festival. Main Street, Hendersonville. Bee City USA Hendersonville shared a booth with Cooperative Extension Service and Henderson County Beekeepers. One volunteer estimated attendance at the booth at 140-ish people per hour, even though Sunday was rained out entirely.
August 27 – Bee Bold Festival. Bold Rock Cidery, Mills River. Hendersonville Bee City USA had a booth to distribute information … this well-attended event celebrated bees and pollinators that help make apples for Bold Rock Cidery cider.
June – Hendersonville Pollinator Month. Many events by local organizations were presented during the month to educate and celebrate pollinators. The Laurel of Asheville magazine ran a special article. Activities were wide-ranging and well attended. For example, attendance at Sideways Farm and Brewery Sunday Brunch Market on June 5 was "huge," according to Hendersonville Bee City USA coordinator Patrice German.
May 27-28 – Garden Jubilee on Main St. A booth was provided for educational purposes during this popular annual event. Pollinator Alley was a highlighted section related to Bee City USA and other vendors. 400 free seed packets of pollinator-friendly flowers were distributed at the Hendersonville Bee City USA booth.
May 6 – Arbor Day Celebration. A healthy red maple sapling was planted along the Oklawaha Greenway near 7th Ave. parking area. Gene Carr, president of Four Seasons Rotary and Rotary member Tiffany Ervin were joined by Public Works staff Kevin Rhodes and Mark Stierwalt and NC Forest Ranger Kristin Kelly, several Tree Board members, and Mayor Volk. The Arbor Day proclamation was read, Gene Carr spoke, Kelly honored the City with noteworthy praise, and the tree was planted in lovely soil, just before the rain scattered the crowd. News coverage was good, including a WLOS reporter. The moment was captured on the 6 o'clock news that evening.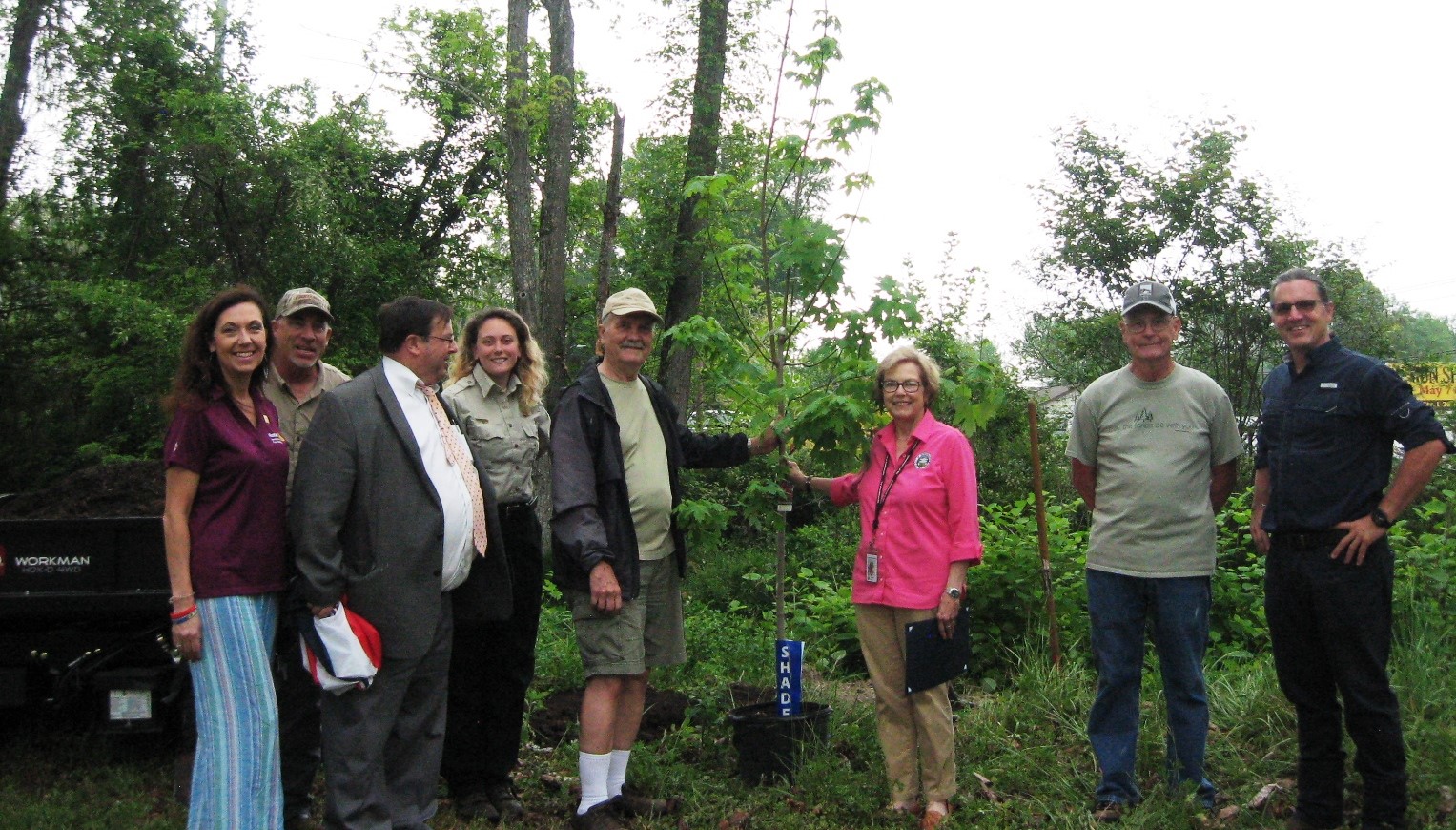 April 20 – 30 Trees Planted along Oklawaha Greenway near its intersection with 7th Ave. E.
April 9 – Dedication of Garden Memorializing Wes Burlingame at the kiosk on Oklawaha Greenway at intersection with Patton Park connector. This event honored and memorialized former long-time Tree Board member who died in late 2019. The Burlingame Native Plants Garden at the kiosk is planted in his memory.
March 30 – NeighborWoods planting at Wolf Chase. Nineteen trees were delivered to the Property Owner's Association at Wolf Chase development for planting throughout the development.
March 10 -- Educational Program – Bees and Trees: What Pollinator-Friendly Trees and Shrubs to Plant This Spring and Why. Henderson County Library auditorium. Phyllis Stiles, founder, Bee City USA, described the need for more trees in urban environments and which pollinator-friendly ones are best to plant this spring, not only to support wildlife but to help alleviate the threats of global warming. About 50 people, with questions and interest, attended this visually informative program open to the public at no charge.

Feb. 6. -- Guided Tree Walk Along the Avenues. On a chilly, windy day, Mark Madsen led a walk along West 3rd and 4th Avenues with a resolute, enthusiastic group of attendees to learn about our urban trees in winter. Starting at the Henderson Co. Schools Admin. Building on 4th Ave. W, the walk focused on the majestic trees in this historic neighborhood of older homes and landscaping. Invasive ivy, privet, and others were pointed out as well as both good and bad pruning practices seen along the way.
HENDERSONVILLE TREE BOARD PROJECTS 2021 (ANNUAL REPORT)
During 2021, Covid-19 restrictions still lingered and affected how and when many Tree Board projects and programs could be held. Thus, the normally-scheduled indoor educational program held at the Library during winter was cancelled. Yet, many outdoor events, including Garden Jubilee, were able to be continued. The Tree Board's NeighborWoods tree-planting projects continue to be popular in neighborhoods throughout the city. And the handsome Bee Mural was completed, now available for daily viewing in the Azalea parking lot, corner of Third Ave. E. and King St.
Thurs., October 26 – Arbor Day Ceremony, Sullivan Park, Martin Circle. About 15 people attended this event on a sunny, cool day to plant a colorful, good-looking autumn blaze maple in the Green Meadows neighborhood. Four Seasons Rotary Club has organized the Arbor Day ceremony, assisted by the City and Tree Board, for about 20 years. Several members of the organization attended along with Tree Board members. Gene Carr, president of Four Seasons Rotary, welcomed all, Mayor Barbara Volk read a proclamation declaring October 26 as Arbor Day in Hendersonville, and Henderson County Ranger, NC Forest Service, Kristen Kelley addressed the group. Public Works Director Tom Wooten and staff members had prepared the site, and then the tree was officially and properly planted. As the group dispersed, a surprise light shower further settled the tree into its well-placed home.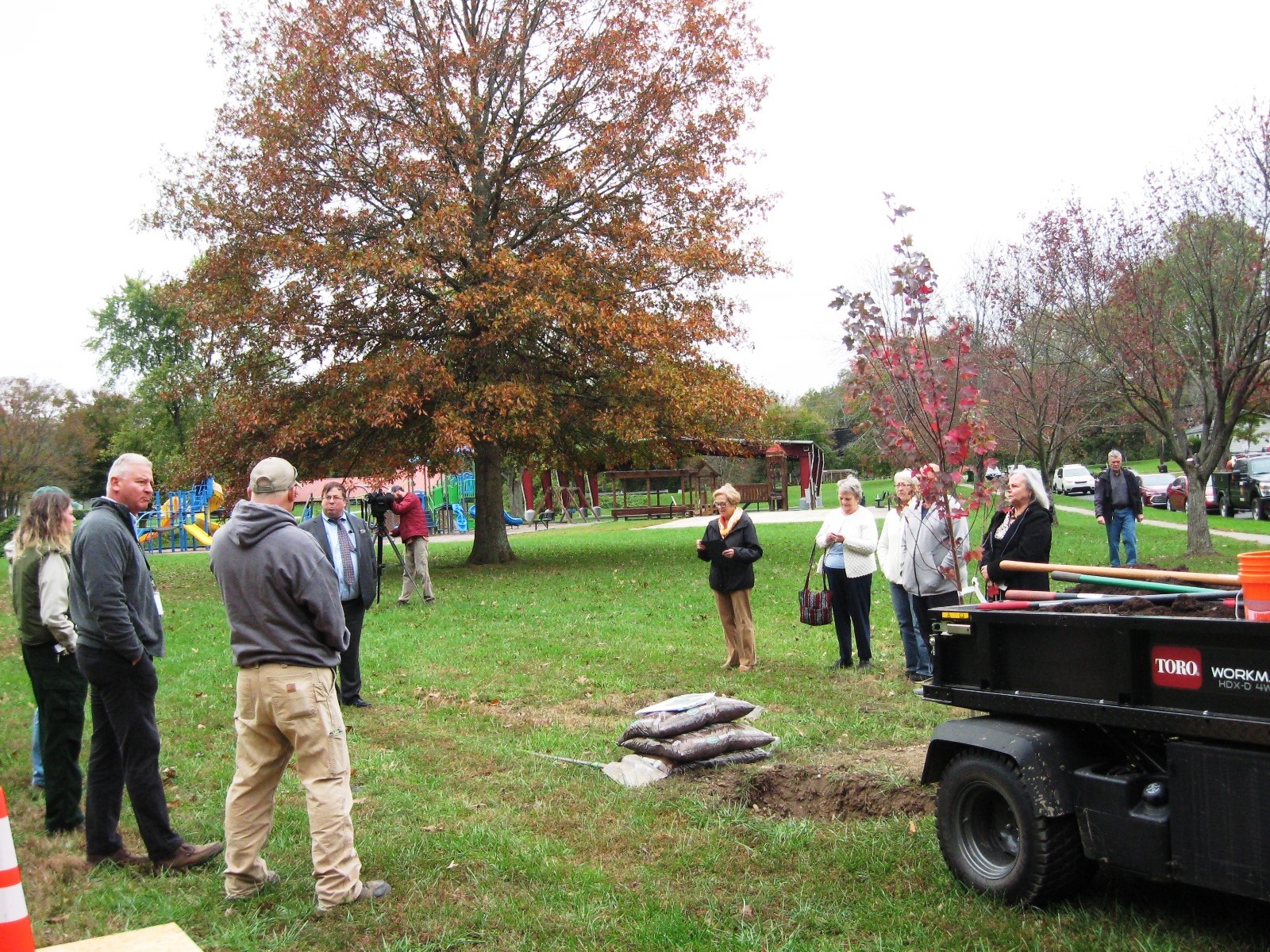 Sat., October 16 – NeighborWoods Project in Druid Hills. About a dozen residents in the historic neighborhood along Higate Rd. planted more than 20 healthy, new trees in their yards. Tree Board members Glenn Lange and Andy Crawford organized this event. Invaluable volunteer students in Hendersonville High Key Club assisted with digging and heavy lifting. Trees were supplied free of charge through the Tree Board's NeighborWoods project. The City delivered the trees and mulch onsite.
Sat., October 9 – NeighborWoods Project at 9th Avenue W/N. Oak St. About 9 residents of this older neighborhood planted 13 new trees to replace older, mature ones. The healthy saplings and mulch were supplied and delivered at no charge through the Tree Board's NeighborWoods project. Tree Board member Debbie Roundtree organized the project for this neighborhood group.
Sun., Sept. 26 – A Guided Walk: Learn About Trees on Main Street. Bill Leatherwood, Consulting Arborist for City of Hendersonville, led a group of interested attendees, telling about the types of trees planted along Historic Main Street and describing behind-the-scene practices and care that keep the downtown arboretum looking good.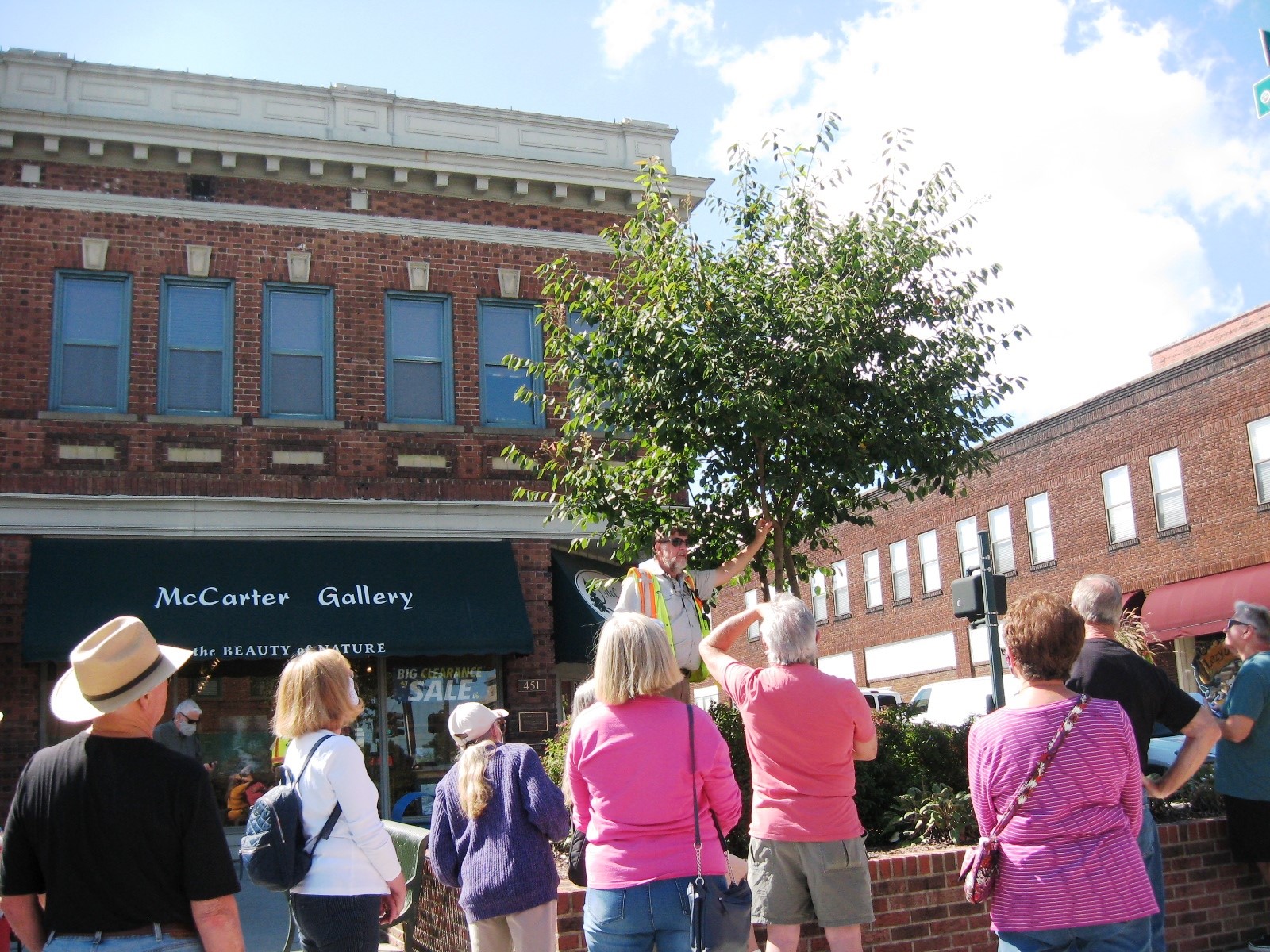 June – Pollinator Month. Almost a dozen educational activities were held across the county during the month. All activities were well attended.
May 28-30 – Henderson County Garden Jubilee. Hendersonville Bee City USA and Tree Board shared a booth during this popular annual event on Main St, providing educational materials and a pollinator demonstration. Free seed packets of pollinator-friendly flowers were distributed.
Sat., April 17 --NeighborWoods Project at Green Meadows. 12 residents in this historic neighborhood off 7th Ave. E. received a total of 22 trees, which now beautify their homes and the neighborhood. A dozen students, members of the Interact Club at Hendersonville High, volunteered to help with planting. City staff delivered the large saplings along with mulch for the planting.
Recognition of 30th year of City of Hendersonville as a Tree City USA. A brief ceremony was planned during this NeighborWoods event to display the 30-Year plaque and 30-Year stickers, and the large new Tree City USA flag presented to the City by the Arbor Day Foundation in partnership with the U.S. Forest Service and the National Association of State Foresters.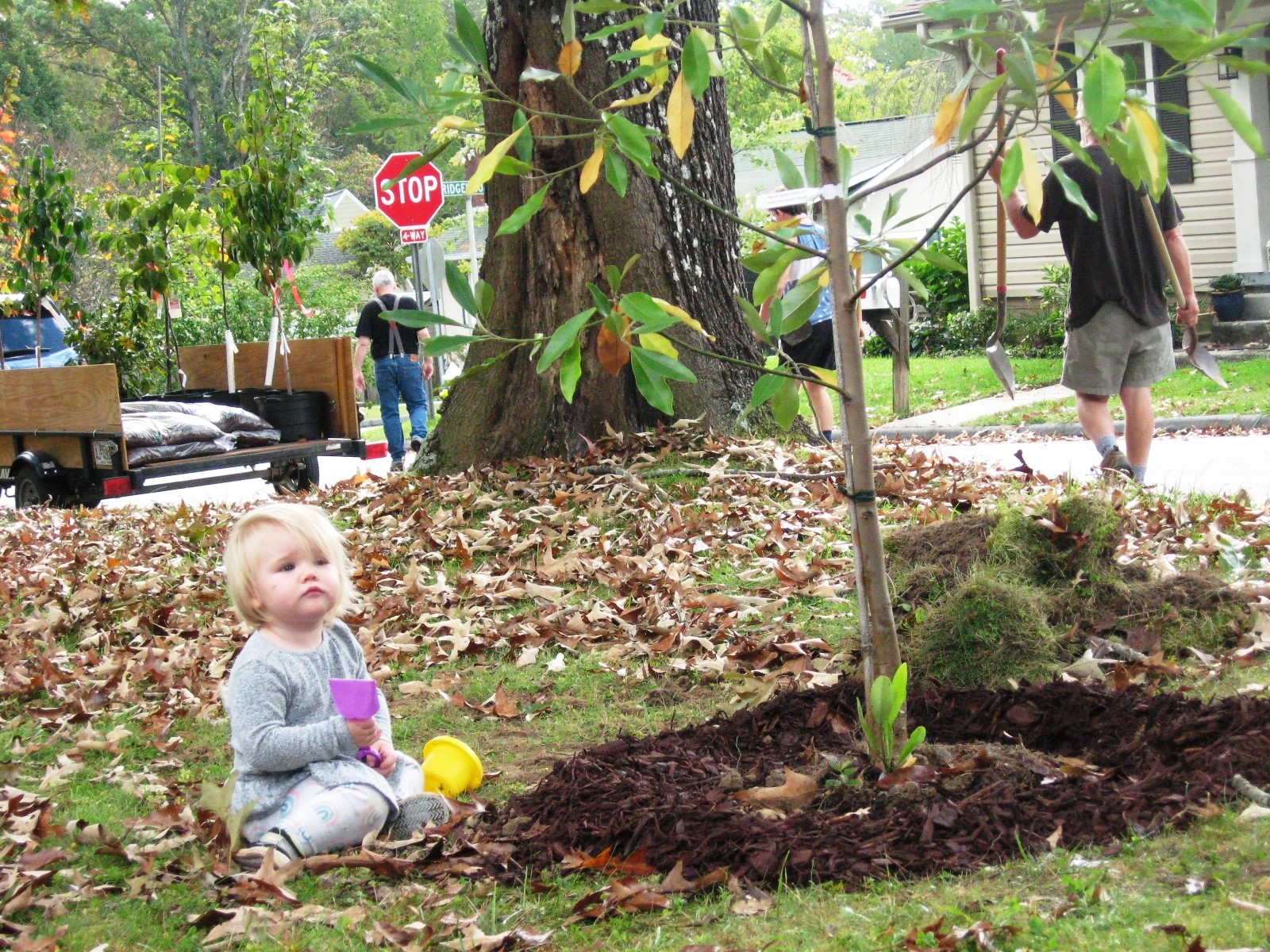 March 29 thru early May – Bee Mural Project completed. After an over-winter break, painting of the mural resumed in late March. A number of on-site activities were hosted during the month, including Bees and Blooms on Saturdays, vendors, and educational displays. The mural is on the exterior wall of Hands On! Children's Museum in the Azalea parking lot, corner of Third Ave. East and King St., downtown Hendersonville.
May 1-2 – Community Painting Days at the Bee Mural. This popular event allowed citizens to "paint a petal" on the mural. Volunteers assisted, and paint and brushes were supplied. From very young to older adults, a wide range of participants put their mark on the mural.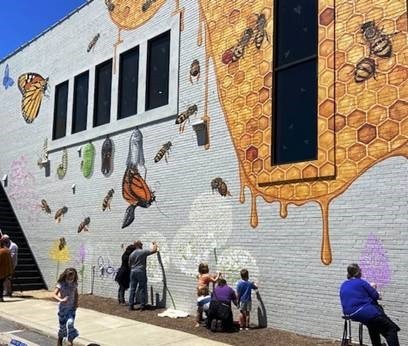 May 13 – Dedication of the Bee and Pollinator Mural and Pollinator Garden. With officials from Hendersonville City, City staff, volunteers, Joseph Knight, director of Hands On! Children's Museum, and a speech by the Mayor of Hendersonville, the mural was officially dedicated. Muralist Matt Willey spoke as well as Kim Bailey, coordinator of the mural project. Pollinator-friendly landscaping in the parking areas and underneath the mural was in-place.
HENDERSONVILLE TREE BOARD CONTINUES TO SUPPORT THE COMMUNITY'S LOVE OF TREES,
ESPECIALLY DURING THE 2020 PANDEMIC (ANNUAL REPORT)
Bee Mural Project. October 26 through Dec. 3 -- Creation of the Bee Mural. The Bee Mural Initiative began two years ago when we learned about muralist Matt Willey, who lived in Asheville at the time, and his project to paint 50,000 bees around the world to promote and educate about the importance of bees and pollinators. Under the auspices of the City's Bee City USA program, the Tree Board was designated as the coordinator of the initiative to bring Willey to Hendersonville to paint a mural. Partnering with the City's Sustainability Board, efforts were made to find a wall for the mural, promote fundraising, and create community involvement. All the effort culminated with Willey's arrival in town and the process of painting the mural began. The Hands On! Children's Museum stepped up to partner by providing the exterior wall of their building for the artwork. It is viewable from the City's Azalea parking lot on Third Ave. E. between Main St. and King St. A grant was received to help plant a pollinator garden near the mural … and the initial planting of the beds began. The "hibernation" of the project to over-winter until spring was announced in early December. The muralist will return to complete the project in late March or April 2021.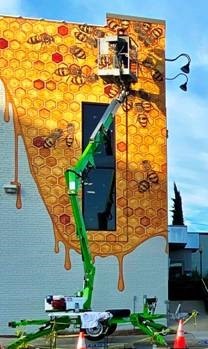 Tree Plantings. NeighborWoods Tree Planting Project at Cambridge West. 13 trees, including serviceberry, magnolias, dogwood, and sweet gum, were delivered to this small condominium complex on Fourth Avenue West. The groundskeeper planted and will maintain the healthy new trees.
NeighborWoods Tree Planting Project at Oklawaha Village. A successful distribution of 34 trees to residents of the new Oklawaha Village on North Main Street was held, along with a training-session tree planting, which all participants attended. Tree Board member Debbie Roundtree, in cooperation with Hendersonville Housing Assistance, worked with residents to deliver the trees. Following construction, landscaping was rather bare, so families were happy to accept trees through the Tree Board's NeighborWoods program to improve their new neighborhood.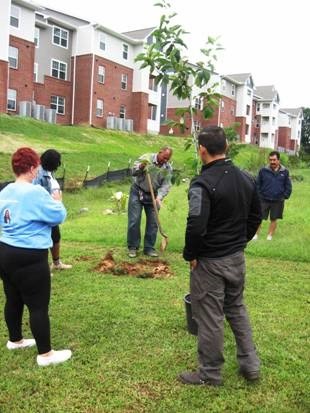 NeighborWoods Tree Planting Project at Laurelwood. In this well-established condominium complex on 6th Avenue West, older trees were aging out, so 10 young trees were chosen by residents to help keep the canopy healthy. Participants in the NeighborWoods program promise to care for and maintain the trees they receive. The trees are provided at no charge and are chosen from a list of best-trees for the urban forest.
Pollinator Month Activities. June – Pollinator Month. Kim Bailey., coordinator for Pollinator Month activities, worked with businesses and other locations to create a calendar of events during this pandemic year's reframed Pollinator Month scenario. More than a dozen activities were hosted – both in-person events, such as self-guided tours of gardens and natural area locations, and online/virtual events, such as a virtual movie showing of "The Pollinators," online classes by Gardens that Matter, and an online sale of pollinator-friendly plants with curbside pickup.
Garden Jubilee. May 22-25. A perennial favorite annual event sponsored by Hendersonville TDA, the Garden Jubilee format was changed this year due to COVID-19 restrictions. Hendersonville's Bee City USA program participated by hosting an information tent located at Sideways Farm and Brewery in Etowah, one of the many Garden Jubilee sites scattered around the county. A pollinator-friendly plant sale, on location and online, was held to raise money for the Bee Mural project. News coverage and public attendance and participation resulted in more than $5,000 raised.
Educational Program. Monday, Feb. 24 – Public program, Henderson Co. Library, 6 p.m., "Micro Climate Change and the Urban Forest." Eric Bradford, Director, Asheville GreenWorks, was the speaker and presenter of an effective Powerpoint program. About 15 attendees were interested, engaged, and asked questions. This in-person event occurred before Covid-19 virus hit America.
Tree Board Member Wes Burlingame Memorialized. Wes Burlingame served on the Tree Board from 2013 until 2018 as a valuable, active member. He oversaw numerous planting events, including the planting of 34 trees at Bruce Drysdale Elementary, 84 trees at Bearcat Loop, and assisted many, many participants in the City's NeighborWoods program by helping them pick proper trees and how to plant and maintain trees for healthy growth. He owned Laurel Springs Nursery, where he grew specialty and native plants for 30 years. Wes died September 2019.

Unpredictable-Tree Contest. January 15-31 – Contest to guess when the Star Magnolia on Main St. will bloom. This fun contest, open to the public, ended before it began – but accomplished its goal! Due to media attention to this contest, the public was made colorfully aware of one of the beautiful trees along Main Street, and, thus, to the small urban forest that graces downtown Hendersonville. However, due to unseasonably warm weather, the Star Magnolia had opened several blossoms before the Jan. 15 start of the contest. For a few weeks in early 2020, the handsome Star Magnolia at the corner of Third Ave. W. and Main St. was a "star."
Winter Educational Program: Thurs., March 14, 2019 – Trees, Trees, and More: NC Arboretum in Our Backyard. 6-7:30 p.m., Henderson County Library Auditorium, 201 N. Washington St. Drake Fowler, Chief Operations Officer at NC Arboretum and certified landscape architect reported on how the NC Arboretum, a nearby resource, can be used to help us grow our urban forest in every neighborhood. Nearly 50 interested attendees with lots of Q&A.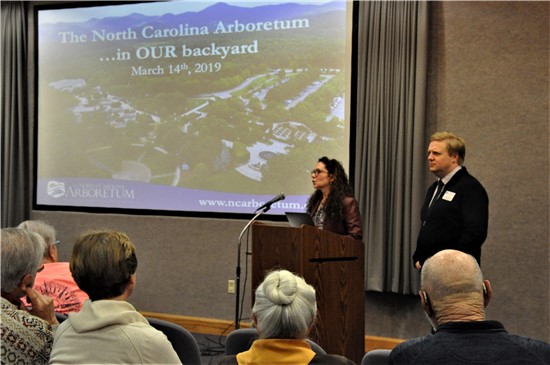 Tree Planting: Fri., May 3 – Arbor Day Celebration. Hendersonville Elementary, 12 noon. The Arbor Day event was well attended … students at Hendersonville Elementary participated and sang a song about trees and helped plant the tree (red oak) in memory of Dr. Jim Volk. Four Seasons Rotary Club members Chris Johnson and Corey Prince organized the event and did a great job. Mark Madsen, Tree Board member, aptly educated the students about how to plant a tree. NC Forest Service rep presented City with Tree City Award and also a Growth Award. Mayor proclaimed it Arbor Day in Hendersonville. Tiffany Ervin, with Four Seasons Rotary, officiated. Weather cooperated.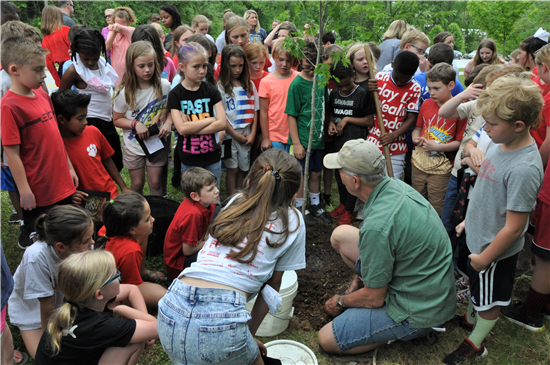 Tree Planting. Sat., May 4 – NeighborWoods Project at Green Meadows Community. 10 a.m. Distribution of a dozen trees and tree-planting demo at 807 Robinson Terrace. All participants were there to see the demonstration and collect their trees. Definite interest in more trees for planting in the fall.
Education and Community Participation. May 24-26 – Garden Jubilee. Downtown Hendersonville. Kim Bailey and Alesia Greismyer, with Hendersonville Environmental Sustainability Board, helped man the table set up at the event. Free seed packets of pollinator plants charmed in many visitors to the table where information was available about pollinators, plants, and the City's Bee City USA designation.
Pollinators. June – Pollinator Month. Tree Board helped organize 14 events held during entire month, including Bee-licious tasting of honey, mead, and more; invasive plant removal project; Henderson County Tailgate Market focus on flowers and pollinators; Hands-On Children's Museum program; guided walks – in a nature preserve, in Holmes Educational State Forest, at Bullington Gardens, Flat Rock Park, Connemara; a beekeeping instructional program; on-line educational series; and more.
Educational Program. Sun., July 14 – Shady Garden Tours. At 2 and 4 p.m. A popular private urban garden tour to learn and see how you can have flowers and still keep your trees. About 50 people attended. All were enthusiastic and curious, asked many questions about plants and trees, took notes, left feeling enriched. Created increased interest in Tree Board and its mission and projects including Heritage Tree Project. Garden host was professional, knowledgeable, and entertaining. Tree Board volunteer coordinator fielded many phone calls and gave instructions about parking, location, etc.
Pollinators. Sat., August 17 – Honey Bee Day. Inspired by Tree Board volunteer Kim Bailey, several local events were planned around this date including the Bee Bold Pollinator Festival at Bold Rock Cidery in Mills River, held 1-6 p.m. to emphasize the importance of pollinators to the apple cider business and to educate about the world-wide decline in pollinator population. A raving success, along with other events in Hendersonville. These events kicked off the funding campaign to bring a Bee Mural to downtown Hendersonville, to be painted by the "Bring the Hive Alive" project.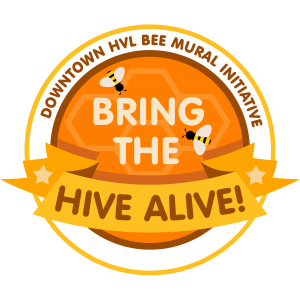 Pollinators. September – Monarch Month. Numerous events were coordinated through Tree Board for this month-long activity. Programs were hosted by Pisgah Wildlife Center, NC Arboretum, Henderson County Bee Keepers, Bullington Gardens, and more.
Educational Program. Sun., Sept. 15 – Learn About Trees on Main Street. 2:30 p.m. Bill Leatherwood, Consulting Arborist for City of Hendersonville, told about the types of trees planted along Historic Main Street and described behind-the-scene practices and care that keep the downtown arboretum looking good. Attendees were quite involved, asking lots of questions during the entire 90-minute walk. Participants review: "thankful for the opportunity to participate."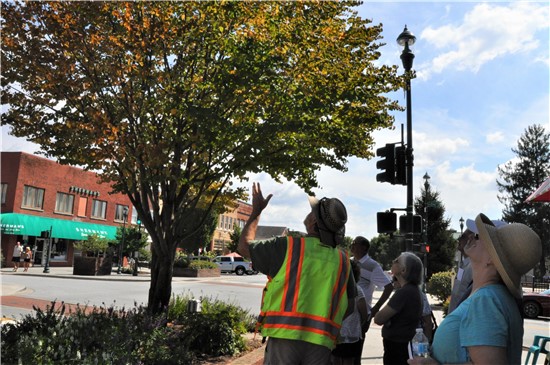 Educational Program. Sat., Oct. 5 – Learn About Trees Along the Oklawaha Greenway. 10 a.m. Tree Board co-sponsored this event with Friends of the Oklawaha Greenway. FOOG coordinator Suzanne Hale said: Thank you so much for co-sponsoring the Tree Walk. Tree Board volunteer Mark Madsen did a great job leading the walk. About 25 people showed up. The group had a lot of good questions and Mark had a lot of good answers. A very successful morning.
Tree Plantings. Sat., Oct. 19 –- NeighborWoods Project at Green Meadows Community. 10 a.m. Tree Board distributed eight free trees to residents who requested them through this program. Tree-planting demo was included by Tree Board volunteer. Green Meadows is an established neighborhood in need of more trees to provide aesthetic enjoyment and a sense of comfort.
Tree Plantings. Sat., Oct. 19 – NeighborWoods Project at Oklawaha Village. 12 noon. Tree Board distributed eleven trees with a tree-planting demo in this recently-built middle-income neighborhood. Land was cleared for new construction. Delivery of free trees to interested homeowners was very welcomed.
2018 PROJECTS PAY OFF ….
CITY RECOGNIZED WITH TREE CITY OF THE YEAR IN NORTH CAROLINA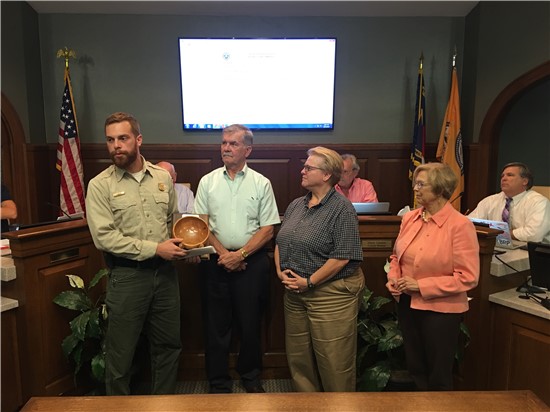 Late in 2018, the North Carolina Forest Service designated the Hendersonville community as Tree City of the Year in North Carolina. Because of citizen support and an active Tree Board, made up of volunteers appointed by the City, Hendersonville is proud of its tree-oriented projects and programs.
Oct. 14 – NeighborWoods Tree Planting in Towne Forest on Blythe St. 33 trees chosen by Towne Forest residents were distributed for planting to participants during the neighborhood's annual meeting. Trees were provided at no charge through the Tree Board's NeighborWoods project. This project helps sustain our urban tree cover.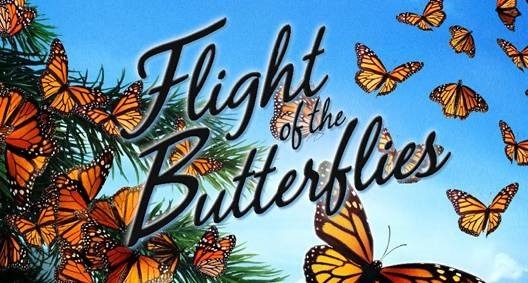 Late Sept – Monarch Migration Celebration. Locally, programs were presented in cooperation with Hendersonville's Bee City USA program and other organizations. On Sept. 24 "A Monarch's Journey" at Bullington Gardens sold out and Sept. 27 "Flight of the Butterflies" film at Blue Ridge Community College was well attended. A monarch conservation mini-symposium at NC Arboretum and film screening on Sept. 22 were at capacity. Several public school classrooms participated with presentations and student projects during the week, and Hands On! Children's Museum on Main Street Hendersonville held a symbolic migration event. Monarchs are vitally important to pollination and tree health.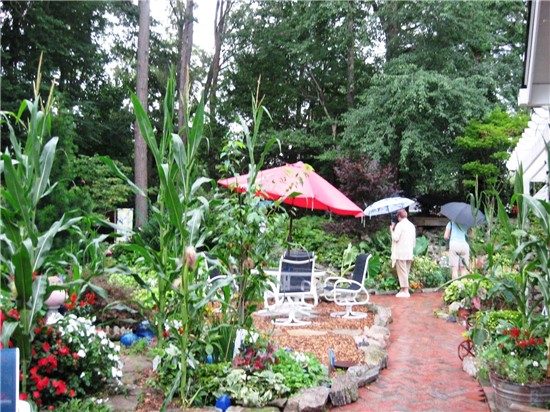 July 22 – "See How It's Done: Shade Garden Tour." This private garden that is mostly shade with bright sunny spots was the site of guided tours to see how this Certified Backyard Habitat and two-time landscape-award-winning garden has been arranged and constructed for pleasure, beauty, and preservation of trees. The event attracted both local and regional attendees in spite of severe-weather predictions. The rain stopped to accommodate the 12 visitors. We are hoping to repeat this event in 2019.