Visit Downtown

HISTORIC DOWNTOWN HENDERSONVILLE
A visit to Downtown Hendersonville can also take you back in time. Incorporated in 1847, Hendersonville is a fantastic place for history buffs who want a deeper understanding of our area's culture and peoples. Your journey into the past can begin at the recently restored Historic Downtown Courthouse at First and Main, home to the outstanding Henderson County Heritage Museum. Of course, the Historic Courthouse is only one of many beautiful historical buildings Downtown. As you stroll from the Courthouse North toward 7th Avenue, you'll notice a variety of architecturally significant buildings that are now home to dozens of shops and services ready to make your stay special. Self Guided Tour brochures are available at the Visitor's Center- 201 South Main Street.
Please visit the Hendersonville Historic Preservation Commission's website for your Historic tour through our past!
After your stroll through Downtown Hendersonville Main Street District please feel free to drop in and visit Henderson County Genealogical & Historical Society. This nonprofit organization was established in 1983 for profit, educational, and cultural organization. The organization also promotes research into the heritage of Henderson County by collecting, preserving, and publishing the history of Henderson County, North Carolina and her people.
---

SPECIAL MUST-SEE FESTIVALS & EVENTS!
Downtown Hendersonville hosts numerous special must-see events throughout the year, so be sure to check out our full Events Calendar, but here are some of the highlights.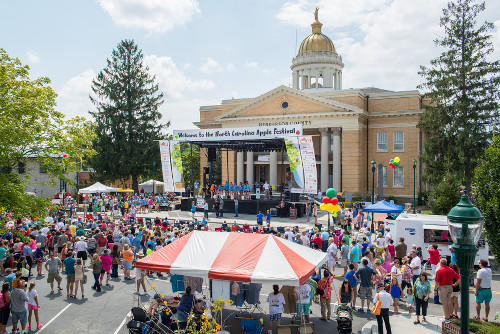 A special treat Downtown is the annual Public Art Display, "Bearfootin' in Hendersonville," featuring the return of the wildly popular bear statues. Visitors and locals love to hunt for bears and strike a pose in front of their favorites to create one-of-a-kind photo memories.
Throughout the spring and summer, Downtown is host to a number of indoor/outdoor events including the Garden Jubilee (May), Main Street Antique Sidewalk Show (June), and Chalk It Up (July)! May through September, you'll hear lots of music downtown, with the ever-popular Music On Main concerts every Friday night, the fabulous Monday night Street Dances featuring mountain heritage music and dancing and of course the award winning Rhythm & Brews (name says it all!) held on the third Thursday of the month.
On Labor Day weekend (Sept.), the renowned North Carolina Apple Festival arrives to pay tribute to our area's extensive apple heritage, followed by Trick-or-Treat Street and a unique Art on Main weekend (Oct.). The Holiday Lighting Celebration (Nov.) kicks off the Winter Holidays in style.
Whether you're here for a day trip, a week vacation, or you're here to stay forever, we hope you'll take the time to visit Historic Downtown Hendersonville.
Stop in a gallery to meet the artists-in-residence. Take a break on a bench to breathe the clear mountain air. Get to know a shop owner. Have a local restaurateur make you a meal you won't forget. If that's not enough to make you stay forever, then . . . consider yourself invited back real soon.