Fire Department Employment

The Hendersonville Fire Department has a mission to minimize risk to life, property, and the environment while creating a strong bond with our community. In order to effectively serve our city we need professional, motivated, and dedicated people to be a part of our team and achieve the department's vision.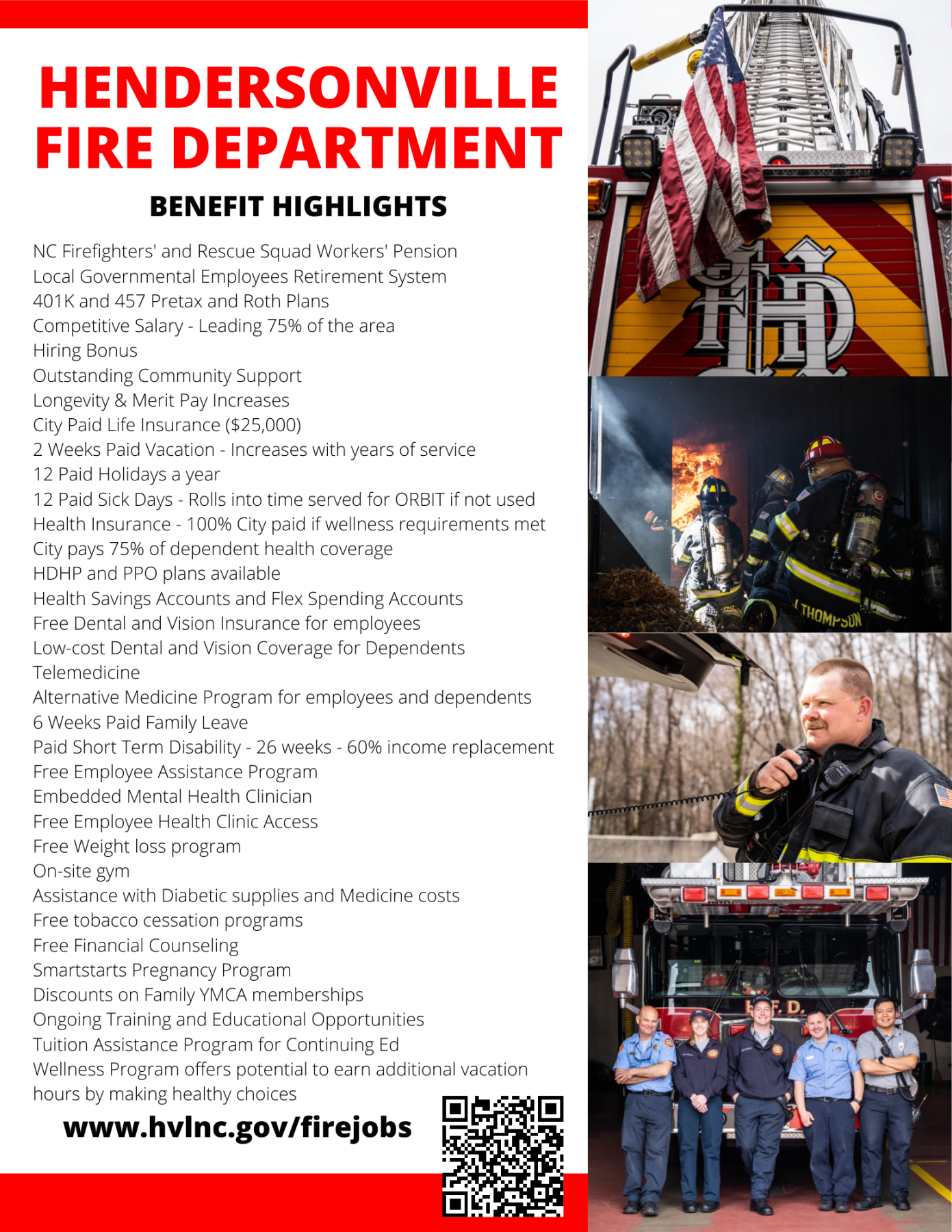 Firefighter Benefits
NC Firefighters' and Rescue Squad Workers' Pension
Local Governmental Employees Retirement System
401K and 457 Pretax and Roth Plans
Salary in the top 75% of the area
Outstanding Community Support
Longevity & Merit Pay Increases
City Paid Life Insurance ($25,000)
2 Weeks Paid Vacation, Increases with years of service
12 Paid Holidays a year
12 Sick Days, rolls into time served for ORBIT if not used
Employee Health Insurance - 100% City paid if wellness requirements met
City pays 75% of dependent coverage
HDHP and PPO plans available
Health Savings Accounts and Flex Spending Accounts
Free Dental and Vision Insurance for employees
Low-cost Dental and Vision Coverage for dependents
Telemedicine
Alternative Medicine Program for employees and covered dependents
6 Weeks Paid Family Leave
Paid Short Term Disability Coverage, 26 weeks, 60%income replacement
Free Employee assistance program
Embedded Mental Health Clinician
Free Employee Health Clinic Access
Free Weight loss program
On-site gym
Assistance with Diabetic supplies and Medicine costs
Free tobacco cessation programs
Free Financial Counseling
Smartstarts pregnancy program
Discounts on Family YMCA memberships
Ongoing Training and Educational Opportunities
Tuition Assistance Program for Continuing Ed
Wellness Program offers potential to earn additional vacation hours by making healthy choices
For candidates hired on or after July 1, 2022:
$4,000 hiring bonus for new, full-time employees. Upon completing the hiring process, full-time employees will be eligible for the program.
1/3 upon completion of the hiring process. 1/3 upon successful completion of 6-month review (meets or exceeds expectations). 1/3 upon successful completion of 1-year review (meets or exceeds expectations).
Existing employees who refer or recruit a new full-time employee are eligible for a one-time bonus in the amount of $1,000.
Questions may be directed to:
Jessica Pomerleau, Recruitment and Retention Officer
City of Hendersonville
160 Sixth Avenue East
Hendersonville, NC 28792
Email: hremployment@hvlnc.gov
Phone: (828) 233-9154
Fax: (828) 697-8645
The City of Hendersonville is an Equal Opportunity Employer.