Vendors

**we have reached a maximum capacity of vendors for the 2021 season**
Hendersonville Farmers Market strives to recruit a diverse lineup of producers and growers in an environment where Henderson County-made products are given priority. As a producer-only market, everything sold at Hendersonville Farmers Market is offered by the farmers and artisans who help sustain the culture, economy, and environment of our region. If a vendor did not grow or produce their product, they cannot sell it here. This ensures the freshest and highest quality product for our consumers, who can find out exactly where their food came from and how it was grown or raised. More than 70 vendors participated in the 2020 Hendersonville Farmers Market, all of whom produce within a 60-mile radius of Hendersonville.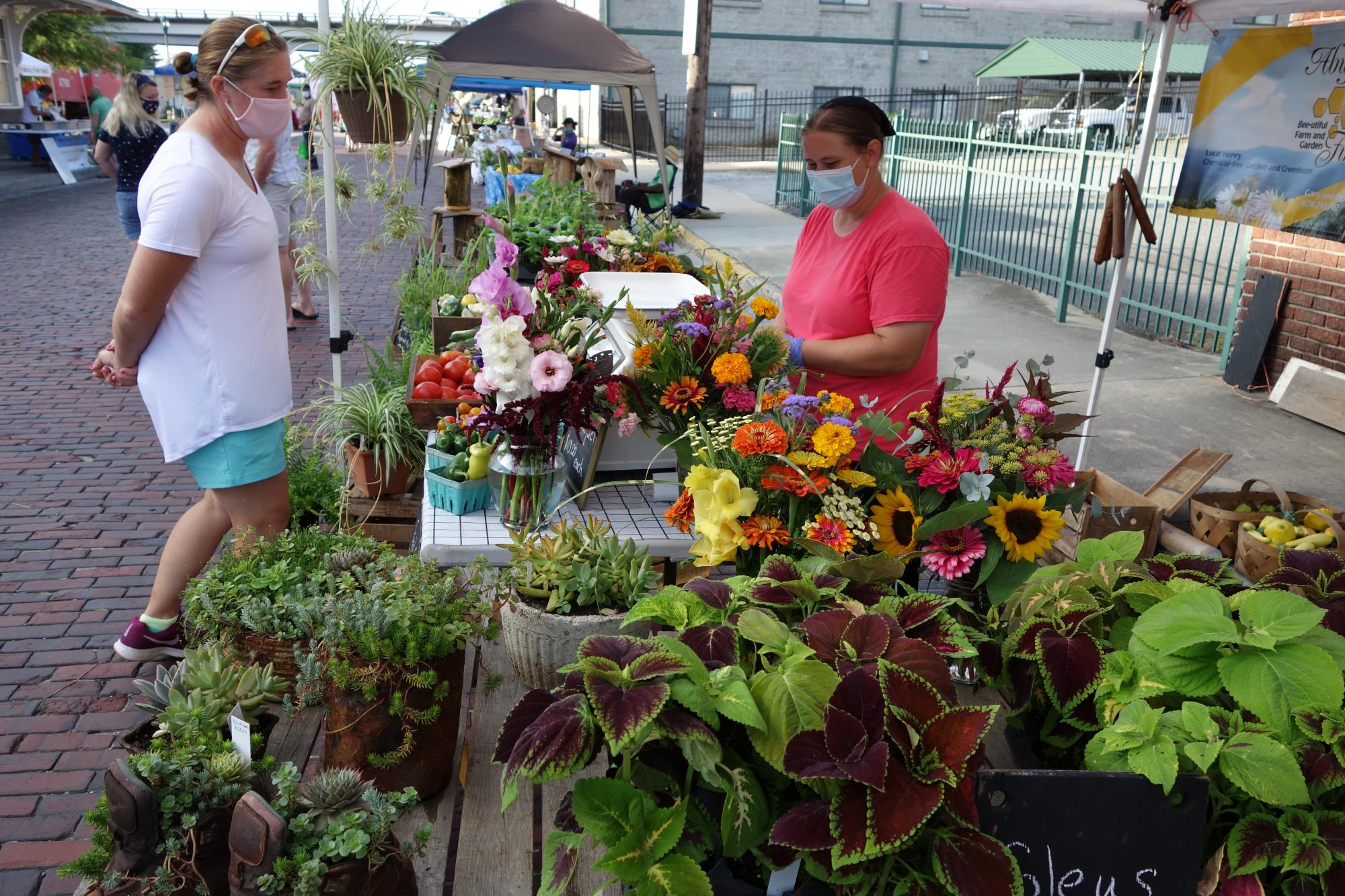 Interested in being a vendor for our 2021 season? Read the following information and find the applicable online application below. After submitting an application, vendors will be accepted or denied based on product need. A preference is given to Henderson County products as well as vendors from previous years who are in good standing.
Local farmers form the core of our market and we limit other vendor types in proportion to the number of active farmers vending. Our target makeup of vendors at the market is as follows:
50% Growers, Animal Products, Foragers
35% Baked Goods, Consumables, Prepared Food (Food Trucks)
15% Artisans
Vendor fees range from $15 per market to $125 for the full season. Vendors must bring their own tent/table and all booth materials to market.
Artisan/Craft/Non-Food Vendors:
We have so many talented craftspeople in our community! Please note that our maximum for artisan vendors is 15% of the total vendor makeup. All artisan products must be handcrafted by the vendor. In order to be considered handcrafted, the item must show evidence of manual skills obtainable only through significant experience and dedication. Farm crafts, or crafts that are produced predominantly from materials harvested or grown by the artisan, will be given preference. To welcome a diversity of craft vendors throughout the season, artisan vendors will have the option of being either limited season vendors or day vendors, but not reserved (full) season vendors.
We also have a Young Entrepreneurs program welcoming K-12 students in Henderson County to sell homemade food or crafts at the market.
Nonprofit organizations are invited to set up a booth at the market to spread awareness, offer an activity and/or collect donations. Nonprofits can participate for up to three markets at $10 per market date.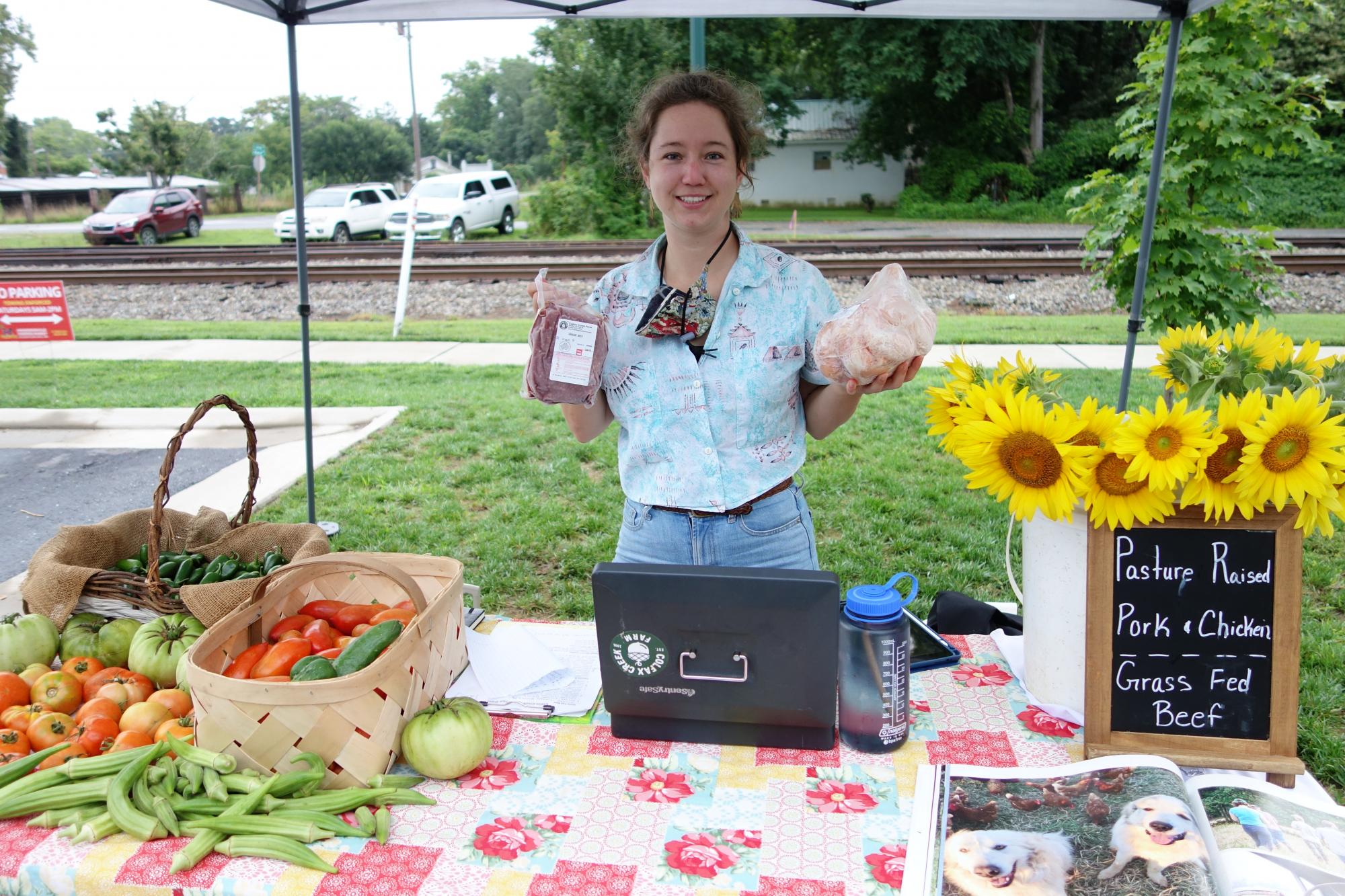 "We love it. We appreciate it. We believe it strengthens local farmers and our community and we cannot wait for next year. Thank you for a professional, pleasant and profitable experience." - Local Vendor
Market Governance: Hendersonville Farmers Market is operated by the 501c3 nonprofit Friends of Downtown Hendersonville. A board governs the nonprofit and oversees various committees, including the Downtown Events Team. The Downtown Events Team is charged with long- and short-term planning and execution of the Hendersonville Farmers Market. A Vendor Advisory Committee, consisting of seven vendors, meets quarterly and reports to the Downtown Events Team. The Friends of Downtown Hendersonville is staffed by the City of Hendersonville Community Development Department's Downtown Division. The Downtown Events Coordinator serves as the Market Manager of Hendersonville Farmers Market.
Stay in Touch on Facebook, Instagram or by subscribing to our weekly Downtown Hendersonville e-newsletter.