Rhythm & Brews Concert Series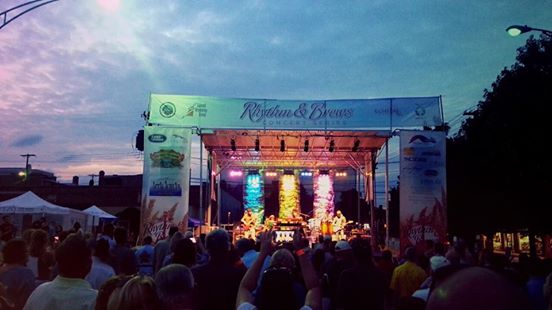 The Rhythm & Brews Concert Series brings together live music, great food and local beer, wine and cider! These free shows traditionally take place on the third Thursday of every month from May-September (July-October in 2021), closing part of South Main Street to make room for all the fun. The show begins with an opener at 5:30 p.m. followed by the headlining performance at 7:30 p.m.
Kids love Rhythm & Brews, too! There's a children's area with games and activities in addition to a friendly atmosphere with plenty of room for little ones to dance. Camp chairs and picnic blankets welcome.
2021 Rhythm & Brews Concert Series Lineup

July 15: Abby Bryant & The Echoes with opener Andrew Thelston Band
August 19: Jamie McLean Band with opener Hustle Souls
September 16: Mike and the Moonpies with opener Kenny George Band
October 21: The Broadcast with Human Ladder
R&B event organizers will adhere to any and all government mandates regarding COVID-19.
Adults can enjoy downtown Hendersonville's first fully integrated beer and wine garden featuring locally crafted drinks from Sierra Nevada, Triskelion Brewing Co., Guidon Brewing Co., Oklawaha Brewing Co., D9 Brewing Co., Dry Falls Brewery, Saint Paul Mountain Vineyards wines and hard ciders from Flat Rock Cider Company and Bold Rock Hard Cider.
---
R&B Super Fan Package and Contest
New this year, the R&B Super Fan Sponsor Tent provides an enhanced experience with an exclusive, shaded viewing area including beer, wine and refreshments from Moe's BBQ. Individuals can become R&B Super Fans by purchasing a season package sponsorship for $100 per show. The package includes two sponsor tent tickets to each show and two R&B season t-shirts. Become an R&B Super Fan. By becoming a R&B Super Fan, you are supporting our 501c3 nonprofit organization Friends of Downtown Hendersonville. Your support will not only help sustain R&B, but all of our other events as well, including Hendersonville Farmers Market, the Bearfootin' Art Walk, and more. The Super Fan Sponsor Tent is sponsored by Bryan 'b2' Byrd, Realtor with Keller Williams Mountain Partners.
ONGOING CONTEST - Enter to Win Super Fan Tent Access
Enter to win special access to the Rhythm & Brews Super Fan Sponsor Tent! The prize includes exclusive access for two for the August 19 show with headliner Jamie McLean, plus two season t-shirts, beer and wine, and snacks from Moe's BBQ throughout the event.
Entering is easy. Sign up here! Five winners will be chosen the week leading up to the August 19 show.
If you don't win for the August 19 show, you are automatically entered for our September 16 and October 21 shows!


---
The 2021 Rhythm & Brews Concert Series is presented by Horizon Heat & Air.
The Inclement Weather Policy is to delay each act by 30 minutes before moving onto the next act. If headline act is unable to perform by 8:00 p.m. the show will be canceled. Follow the weather decisions on our Facebook page.
Please leave your pets comfortably at home. Per Hendersonville City ordinance, animals are excluded from the event space for the health, safety and welfare of the community, dogs, patrons, and vendors and their products.