Bee City
Hendersonville: the 7th Bee City USA in the Nation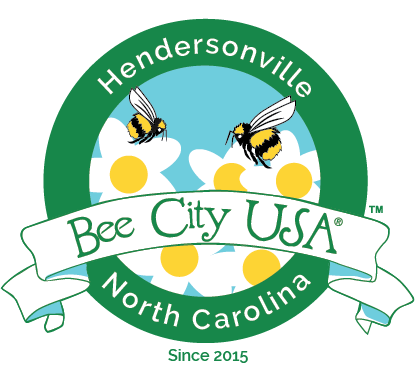 On May 7, 2015, Hendersonville passed a resolution to become a Bee City USA affiliate, the seventh municipality in the country to be so designated. The effort was approved by a unanimous vote of Hendersonville City Council. There are now over 200 affiliates in over 40 states!
Numerous organizations and individuals helped accomplish this goal. The application process was steered by Mac Brackett, chair of the Tree Board, and Kim Bailey, member of the Environmental Sustainability Board. Mayor Barbara Volk said, "Hendersonville's City Council let it be known that we understand the importance of pollinators, and therefore want to make the town more pollinator-friendly. We are grateful to our Tree Board and the Environmental Sustainability Board for bringing the opportunity to our attention." Founder and executive director of Bee City USA Phyllis Stiles added, "Of the cities that have applied to date, Hendersonville's process was the most intentional and inclusive. You are truly a model for other cities to follow." Henderson County Cooperative Extension, Henderson County Beekeepers Association, Henderson County Environmental Programs Department, Bullington Gardens, Historic Johnson Farm, Carolina Mountain Land Conservancy (now Conserving Carolina), and many others were involved. The Henderson County Board of Commissioners also approved a Letter of Support to accompany the application and resolution.
In their joint effort to continue to fulfill the city's commitments to create healthy habitats for pollinators, the Tree Board takes the lead on planting projects and maintaining a recommended species list while the Environmental Sustainability Board heads up educational events to raise awareness of the importance of pollinators. Both boards work in partnership with scores of local organizations and businesses to achieve Bee City USA program objectives. In 2017, Hendersonville gained another partner in pollinator protection efforts when Blue Ridge Community College became certified as the 16th Bee Campus USA affiliate in the nation. The level of collaboration taking place across the community is exemplified by the recent initiative to bring The Good of the Hive to paint a bee and pollinator mural on the exterior wall of the Hands On! Children's Museum in the heart of downtown Hendersonville. From the spring of 2019 through spring of 2021, over 65 sponsors and countless other donors raised over $40,000 to bring the mural, nearby demonstration pollinator gardens, and related educational programs to fruition.
Annual reports of Bee City USA - Hendersonville's past accomplishments are posted on the national Bee City USA website. A seasonal schedule of upcoming local Pollinator Events and a self-guided Pollinator Trail are also available. Current updates are posted on Hendersonville's Bee City USA Facebook page and YouTube channel. Any questions, suggestions for future projects to help protect pollinators, offers of assistance, etc. may be sent to beecityhendersonville@gmail.com.