Recycling
The City of Hendersonville offers a free curbside recycling program to customers. Henderson County accepts plastic containers, metal cans, glass bottles and jars and paper, cartons, and cardboard at the Convenience Center. This allows our customers to recycle these materials curbside.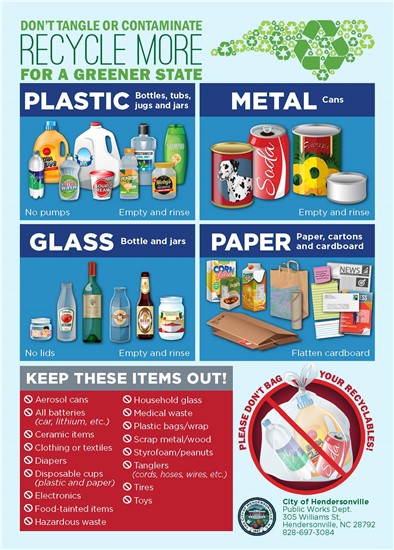 Recycling will be collected on the same day as garbage for all customers. Customers should set their recycling carts/bins out prior to 7 a.m. on the same day as their brush and garbage pickup. Please do not place your container on the sidewalk. If additional carts or bins are needed please contact the Public Works Department at (828) 697-3084.
We collect mixed paper, cardboard and most plastic bottles, metal cans, and glass jars and bottles. Recycling should be rinsed and free of food debris when placed in recycling.
All materials are taken to the Henderson County Transfer Station or a new materials recovery facility to be recycled.
View our Environmental Services Resource Guide [PDF] and access additional information about our services. For our customers who prefer Spanish, view our Environmental Services Resources Guide - Spanish version [PDF].
View Environmental Services Resource Guide
The Henderson County Convenience Center located at 265 Convenience Center Dr, (off Stoney Mountain Road) accepts computers & accessories, stereo sets & speakers, telephones & cell phones, and radios at no cost to you. You may drop them off Monday-Saturday from 8:00 a.m.-4:30 p.m.
For residents who are interested in composting at home, check out this guide provided by the NC Department of Environmental Quality.
Please check out this resource to help stop unsolicited mail, phone calls, and email: https://www.usa.gov/telemarketing