Water Treatment
Hendersonville Water Treatment Facility (WTF)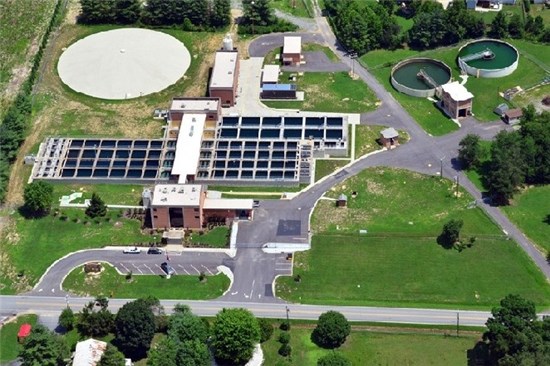 The City's water treatment facility (WTF) was originally constructed in 1963 with several upgrades since that time. The most recent renovation project at this treatment facility was completed in the spring of 2010. This facility is currently permitted and constructed to treat up to 12.0 MGD (million gallons per day) with conventional water treatment process including 5-sedimentation basins, 4-multimedia gravity filters, chlorination, fluoridation and corrosion control. This facility is located inside of the Town of Mills River along NC Highway 191 (Haywood Road). The raw water supply for this plant is provided from three different sources, two of which are located in the Pisgah National Forest and one is located on the Mills River. The two intakes found in Pisgah National Forest are located on the North Fork of the Mills River and Bradley Creek and are both gravity fed and provide approximately 4.5 MGD under normal operating conditions. The balance of our raw water is pumped from an intake located on the main stem of the Mills River. The City is currently developing a fourth source of raw water on the French Broad River approximately 2-miles from the treatment plant.
This water undergoes conventional treatment using various chemical and mechanical processes and is then pumped into the City's distribution system from a pump station located at the WTF. The average daily production for 2022 was 7.50-MGD (7,500,000-gallons per day) or approximately ~62% of our treatment capacity. We are required by the State of North Carolina and the US Environmental Protection Agency to analyze water provided to consumers for a wide range of potential contaminants and water quality parameters. Frequencies for these analyses range from hourly to daily to annually to once every four years depending on the potential contaminant. A complete list of these analyses can be obtained from the WTF.
We welcome visitors and can arrange tours of the plant for groups, school classes and others interested in the water treatment process.
Plant Spotlight on Hendersonville's Water Treatment Plant
For additional information please contact:
Ricky Levi, WTF Manager
Hendersonville Water Treatment Facility
4139 Haywood Road
Mills River, NC 28759-9740
(828) 891-7779 or email