Gen H - Timeline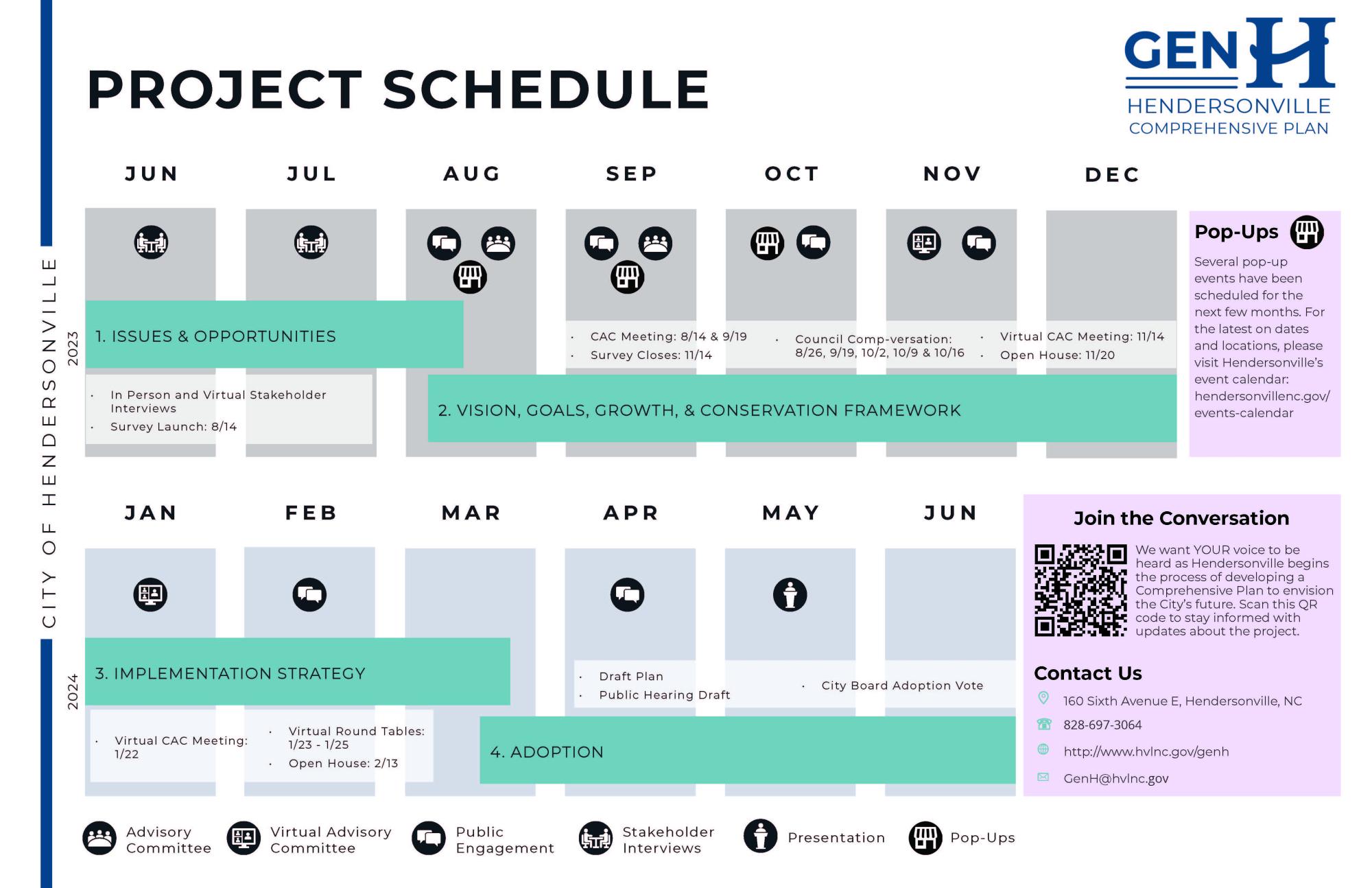 The development of the Gen H Comprehensive Plan consists of four phases:
Phase 1: Preparing For Our Shared Vision
Issues & Opportunities – May-August 2023
Compiling Hendersonville background information (planning documents, mapping data, previous studies, housing statistics, etc.)
Assembling forecasts on how Hendersonville could grow and change over time
Interviewing a diverse group of representatives including City Council, staff, and community stakeholders from a variety of areas and viewpoints (transportation, parks, sustainability, downtown, economic development, arts, tourism, education, healthcare, housing, seniors, business, utilities, equity & inclusion, and more.)
Developing the public engagement plan to reach as many Hendersonville residents as possible
Phase 2: Developing Our Shared Vision
Vision, Goals, Growth & Conservation Framework – August 2023-December 2023
Organizing the Community Advisory Committee who will provide input throughout the project
Starting the public engagement process
Launching the public survey and public engagement meetings
Phase 3: Refining Our Shared Vision
Implementation & Strategy – January 2024-March 2024
Building vision statements and growth framework based on community input received
Exploring growth alternatives and presenting to stakeholder groups
Developing strategies and actions to achieve the goals of the community
Continuing the public engagement process
Drafting the Gen H Comprehensive Plan document
Phase 4: Confirming Our Shared Vision
Adoption – March 2024-June 2024
Engaging the community, advisory boards, and stakeholder groups as the plan is reviewed
Finalizing the plan by the project management team
Reviewing and Public Hearing by the Planning Board
Reviewing, Public Hearing and Adoption by City Council
Have questions about the Gen H Comprehensive Plan?
Project Lead:
Matthew Manley
Strategic Projects Manager
(828) 697-3010
100 N. King St.
Hendersonville, NC 28792
| Sun | Mon | Tue | Wed | Thu | Fri | Sat |
| --- | --- | --- | --- | --- | --- | --- |
| | | | | | | |
| | | | | | | |
| | | | | | | |
| | | | | | | |
| | | | | | | |
| | | | | | | |
| | | | | | | |
| | | | | | | |
| | | | | | | |
| | | | | | | |