Sustainability Hero Award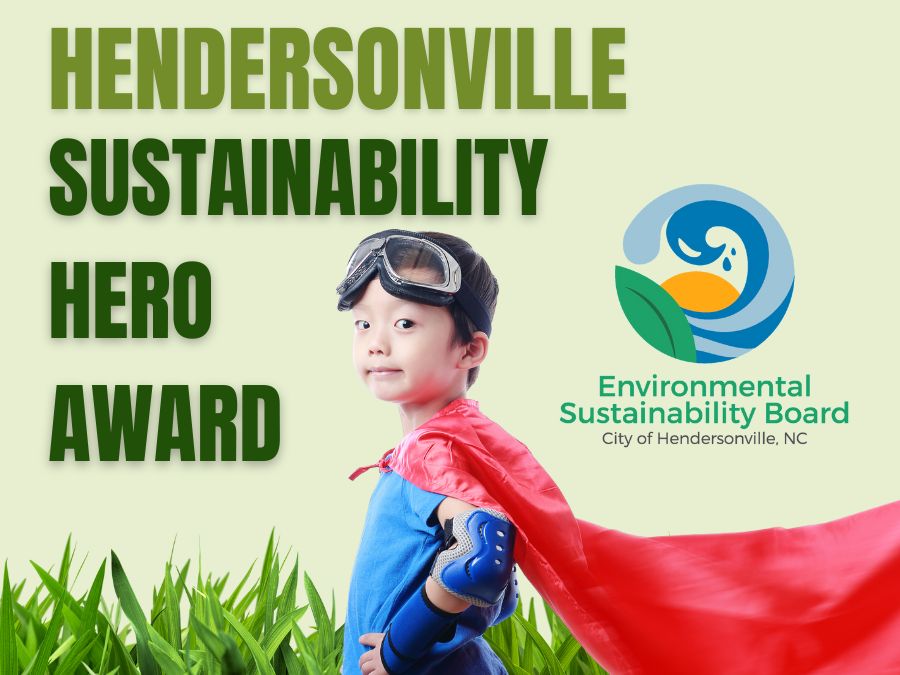 The Hendersonville Environmental Sustainability Board created the Hendersonville Sustainability Hero Award in 2023. The Sustainability Hero Award celebrates outstanding achievement in the pursuit of the City's commitment to lead by example in pursuing environmentally sustainable practices critical to preserving the community for future generations. The Sustainability Hero award will honor an individual City employee or team that is a champion for change and is responsible for development and implementation of sustainability practices in Hendersonville and the surrounding community.
Nominations for the Sustainability Hero Award may be submitted by any individual or organization.
Nomination requirements for the 2023 award:
The individual's or team's success in improving the condition of any of the environmental elements of the City and the surrounding community during calendar year 2023, including: Energy Management; Transportation (including fleet operations, walkability, and bikability); Waste Management (including waste diversion and reduction of toxic and hazardous chemicals and materials); Drinking Water, Stormwater, and Wastewater Management; and, Land Management and Conservation.
The project(s) or effort(s) carried out by the individual or team, including any strategies and technologies that were deployed, who was involved and an approximate project timeline.
Results and achievements accomplished during 2023, focusing not only on outputs but also on intermediate and long-term outcomes, and/or anticipated future outcomes.
The nominee's leadership in efficiency improvements and financial savings, innovation, education, and outreach.
The nominee's success in working across organizational boundaries, as well as working with other localities, organizations, or individuals to support and promote environmental sustainability goals in Hendersonville and the surrounding community.
Nominations for the Hendersonville Sustainability Hero Award may include a letter of support from a local or regional community partner.
2024 Hendersonville Sustainability Hero Award review process:
Call for Nominations February 1, 2024.
Nominations submission period February 1, 2024 – March 1, 2024.
Nominations will be reviewed by the Hendersonville Environmental Sustainability Board. The winning nomination will be recognized by the Mayor and Chair of the Environmental Sustainability Board during a public event such as the Hendersonville Earth Day celebration.
Hendersonville's Environmental Sustainability Board honored Stormwater Division Manager Mike Huffman as the City's first-ever Hendersonville Sustainability Hero.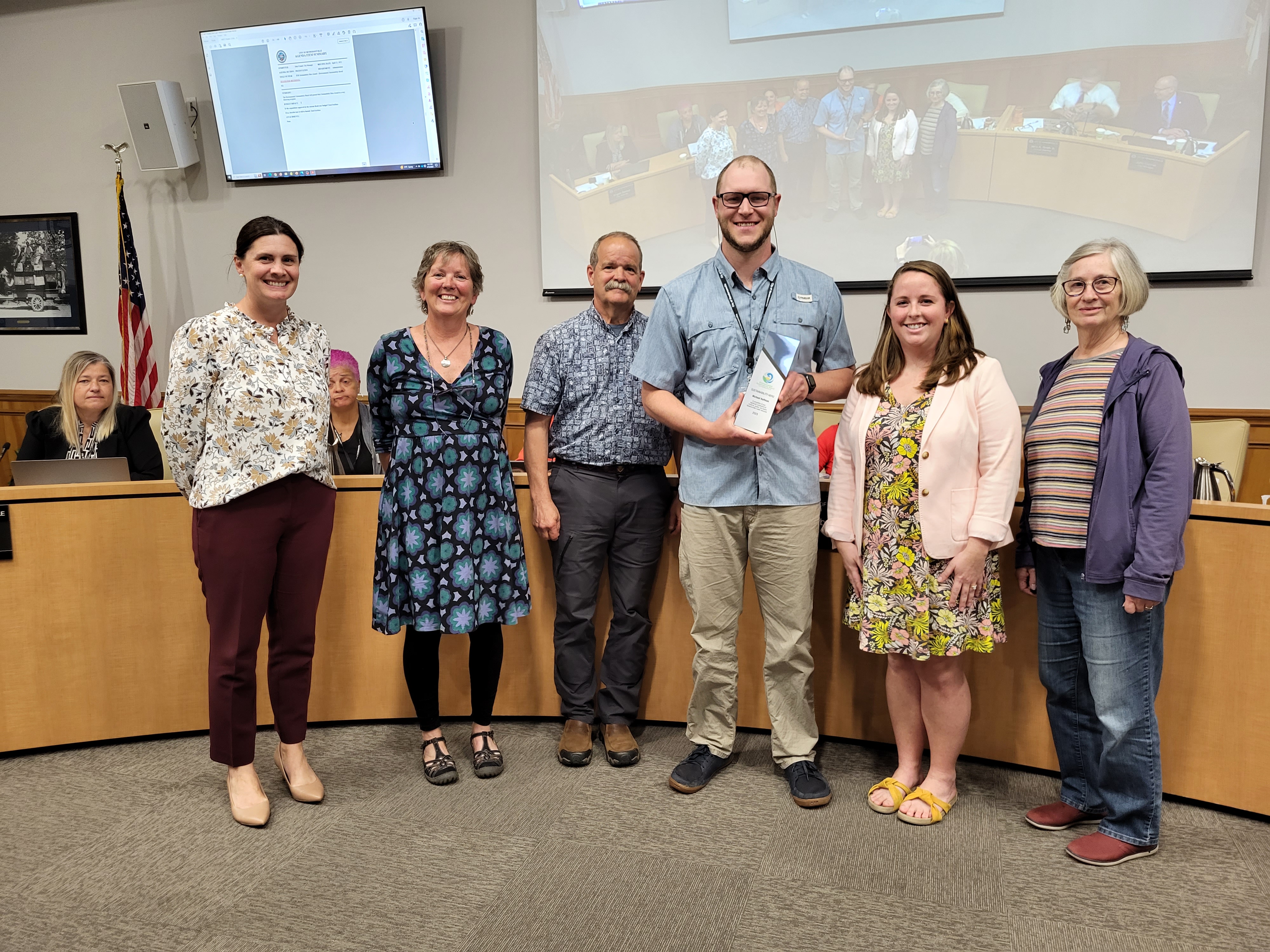 "This year's recipient has exemplified all the qualities and characteristics of a Sustainability Hero," said ESB Board Chair Kelly Pahle. "Tonight, we would like to take a second and celebrate this person's outstanding achievement in leadership, innovation, and service to the community as it relates to helping preserve our community for future generations."
Chair Pahle highlighted some of Mike Huffman's accomplishments that led to his selection as honoree:
Applied for and received millions of dollars in grant funds to implement water quality improvement projects.
Organized and led many stream and floodplain restoration projects within the community.
Advocated for the incorporation of stormwater features in many of the City's recent development projects including the new police headquarters, parking deck, and the new fire station construction.
Developed the City's Stormwater Program to be a leader in the industry.
Achieved full compliance in the most recent MS4 (municipal separate storm sewer system) audits, becoming one of the few programs in NC to be found fully compliant.
Implemented a wide variety of sustainability initiatives including the City's rain barrel program, storm drain marking, and stream clean-ups.
Initiated the City's Trash Trout Program which has removed over 10,000 lbs. of trash from local waterways; it was the first of its kind and based on its success, there are now 35 trash trouts across five states.
Committed to meaningful public education and outreach that has included creating the City's "stormwater stroll" as a tool to educate the community on stormwater treatment practices, and volunteering with girl scouts and boy scouts leading to a rain garden installation at a local elementary school and water quality murals on rainwater cisterns in Patton Park.
The presentation of the Sustainability Hero Award to Mike Huffman was met with a standing ovation by City Council, staff, and meeting attendees. Mike thanked the Environmental Sustainability Board for the recognition as well as City Engineer Brent Detwiler, the Engineering team, City Council, and City management for the support that made all the sustainability efforts and projects possible.