Community Connect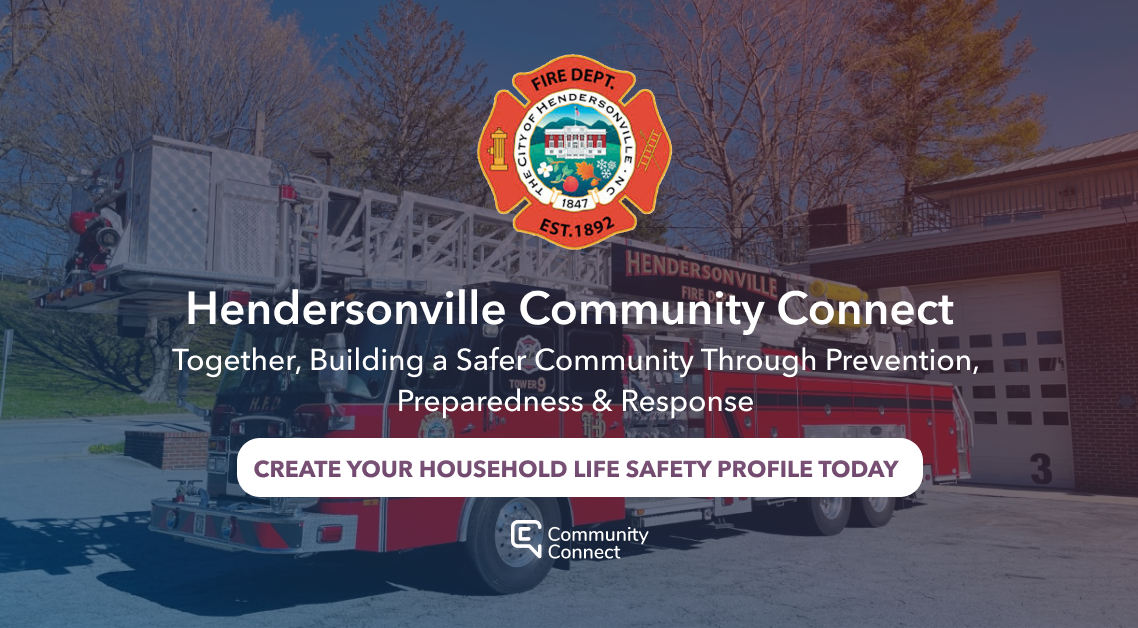 Community Connect is an application focused on protecting residents and their property in the most effective way possible during an incident or major disaster. It is a free, secure, easy-to-use platform that allows residents and businesses to share critical information to aid Hendersonville Fire Department personnel in their emergency response.
CREATE YOUR COMMUNITY CONNECT PROFILE
Residents inside and outside the city limits are also encouraged to sign up for Smart911. Creating a Smart911 profile gives telecommunicators access to life-saving information when you dial 911. The information you choose to share can be used to help police officers, firefighters, EMS, and other emergency services personnel when responding to your 911 call.
Create an account
Sign in for free and get started doing your part. It just takes your email, phone number, and address.
Enter the info that matters most
Enter valuable information that can help the Hendersonville Fire Department assist more effectively during an emergency.
Help the Hendersonville Fire Department when seconds count
That's it. Just keep us updated when things change over time so we can always be prepared.
The Hendersonville Fire Department will securely be able to access your Community Connect data. Data stored in Community Connect is only accessed during an emergency at your address or a large-scale disaster.
Community Connect is secured by "bank-level encryption". This means we are using 256-bit encryption that is only available to first Responders logged into the same application that they use to view calls being received from dispatch and inspection data of properties in your community.
Community Connect provides you with the ability to edit your address. Community Connect will also automatically send you periodic emails to encourage you to update your profile or account for any changes, including a change in an address or household members.
Each Community Connect profile is tied to both a specific address and a specific email address. Please use your personal email for your residential Community Connect profile and a work email to create your business Community Connect profile.
Community Connect is designed to be fully accessible and can be configured on any internet-connected device. In the event that you do need to create a Community Connect profile for someone who cannot do so themselves, there are options that may be available:
Create a Community Connect account using their email and physical address for them.
Contact the Hendersonville Fire Department at (828) 697-3024 or by email and they will assist in creating an account for your loved one.
Community Connect limits one profile to each specific Address. This still allows each unit to have an account at apartment buildings or condo complexes. If residents receive an error message that there is already a Community Connect account for this address, take the following steps.
Ask your family, roommates, or co-habitants if they've already created a profile.
If none of your co-habitants appear to have created the Community Connect profile, please reach out to team@communityconnect.io, and customer service representatives will work with you to resolve the situation.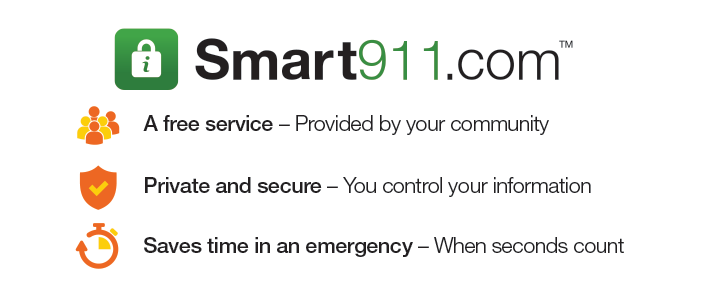 Smart911 is a free service that allows the public to provide additional details to emergency dispatchers and first responders. Smart911 is used by Henderson County 911, Hendersonville Police Department, as well as the Hendersonville Fire Department.
In a similar manner to Community Connect, users create a safety profile for their household and the information is only available to first responders in the event 911 is dialed.
We recommend City of Hendersonville residents enroll in both Community Connect and Smart911 to ensure their emergency information is available to dispatchers and all first responders arriving on the scene.