Engineering Projects
4th Avenue and Ashe Street Neighborhood Water and Sewer Replacement
The City of Hendersonville's existing water and sewer infrastructure in the Ashe Street Neighborhood and 4th Ave area is aging and in need of replacement. City forces spend significant resources maintaining this aging infrastructure. This area of downtown Hendersonville is ripe with commercial...
Project Status: Current Projects
7th Avenue Streetscape
The Seventh Avenue Streetscape project is a $1.4 million investment into pedestrian and stormwater infrastructure and landscaping in the business district slated to start in 2021. 
Project Status: Current Projects
Above The Mud Greenway Project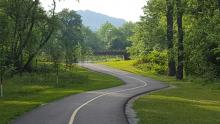 The City of Hendersonville is seeking public input on a grant project proposal that could connect the Ecusta Trail to the Oklawaha Greenway and 7th Avenue.
The public is invited to attend a drop-in public meeting on Tuesday, March 29th from 4:00 – 6:00 p.m. at the City Operations Center at...
Project Status: Current Projects
Clear Creek Interceptor Replacement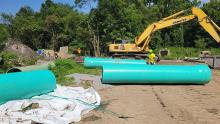 The Clear Creek Interceptor Replacement consists of the replacement of approximately 3,3000 linear feet of undersized 18-inch diameter gravity sewer pipe along Clear Creek with 30-inch diameter sewer pipe. The purpose of the project is to provide additional capacity alleviating sanitary sewer...
Project Status: Current Projects
Ecusta Trail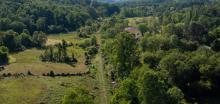 In an effort that began in 2008, a subsidiary of Conserving Carolina successfully purchased approximately 19 miles of rail corridor from South Main Street in Hendersonville to the City/County Sports Complex in Brevard in...
Project Status: Current Projects
Etowah Water Improvements Project

The Etowah Area Water System Improvement Project includes the installation of approximately 14,800 linear feet of 12 and 8-inch water mains, a 500,000-gallon ground level water storage tank, construction of a booster pumping station, access road, and demolition of an existing...
Project Status: Current Projects
Ewart Hill Reservoir No. 2 Improvements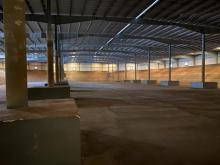 Originally constructed in 1954, the Ewart Hill Reservoir No. 2 is a 5 million gallon covered concrete basin that makes up approximately 30% of the utility's total finished water storage. The improvements consists of installation of a flexible membrane liner to prolong the service life of...
Project Status: Current Projects
French Broad River Intake & Pumping Station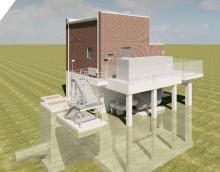 The proposed French Broad River intake and pumping station is intended as a redundant source of non-potable water to improve the resiliency of the Water Treatment Facility general operations. The intake and pumping station is also designed for future expansion to serve future water demands...
Project Status: Current Projects
North Greenwood Forest Neighborhood Water Replacement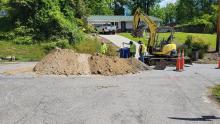 To provide the highest level of water service to its customers, the City plans to replace water pipes in the North Greenwood Forest area neighborhood in Etowah, North Carolina. The existing water pipes in this area are aging resulting in excessive pipe breaks and maintenance burdens for utility...
Project Status: Current Projects
WWTF Ultraviolet Disinfection Improvements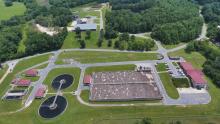 The Ultraviolet (UV) Disinfection Improvements project consists of the replacement of aging UV disinfection equipment nearing the end of its useful life at the City's Wastewater Treatment Facility (WWTF). UV disinfection is the final stage of the treatment process where wastewater is disinfected...
Project Status: Current Projects