2023 Hendersonville Christmas Parade

Saturday, December 2, 2023
The Hendersonville Christmas Parade, held annually, establishes the perfect ambiance for the festive season. The event features the active participation of local businesses and organizations, culminating in a special appearance by the iconic Santa Claus. Immerse yourself in the evening parade, aglow with the enchanting radiance of holiday-themed Christmas lights.
Head over to Main Street Hendersonville to revel in the charming procession of floats and lively marching bands, and immerse yourself in the joyous holiday spirit. This event is hosted by the Hendersonville Merchants and Business Association.
2023 Hendersonville Christmas Parade Street Closures and Parking Information
On Saturday, December 2, the Hendersonville Christmas Parade organized by the Hendersonville Merchants & Business Association will be taking place in downtown Hendersonville. This year's parade will take place in the evening starting at 6:00 PM.

The parade viewing area extends along Main Street from 5 Points to the Kanuga/Caswell Street intersection.

No parking will be allowed in the 100 block of Main Street between 1st and 2nd Avenues in front of the Historic Courthouse starting at 11:00 AM. This block will be shut down at 12:00 PM to allow event organizers to set up.

No parking will be allowed after 3:00 PM on Main Street between 6th Avenue and Kanuga/Caswell. At 4:00 PM Main Street and the avenues will shut down to vehicle traffic to allow barricades to be set up. Before the parade begins, detours will divert traffic away from downtown. Parade staging will occur on Oakland Street, Bearcat Blvd as well as portions of Asheville Highway once the detours begin.

Parade Detours:
• Motorists approaching the parade area will be directed to a detour route.
• Southbound traffic traveling towards downtown on Asheville Hwy (US-25) will be diverted to Fleming St for Hwy 64 W and Church St connections
• Commercial truck traffic traveling inbound on 4 Seasons Blvd (US-64) will be rerouted via Duncan Hill/Signal Hill to reach Asheville Hwy (US-25).
• Immediately before the parade, South Main Street will close for the parade unloading area
The streets will reopen approximately 30 minutes after the parade's conclusion to allow attendees time to disperse.

Parking is available in city surface lots and the parking deck on 5th Avenue West. On December 2 the City Parking Deck will operate with special event rate pricing of $10. After 3:00 PM, anyone wishing to park in the parking deck should use the Church Street entrance to assist with traffic flow. Visit www.hvlnc.gov/parking for details.
Parade Route & Street Detours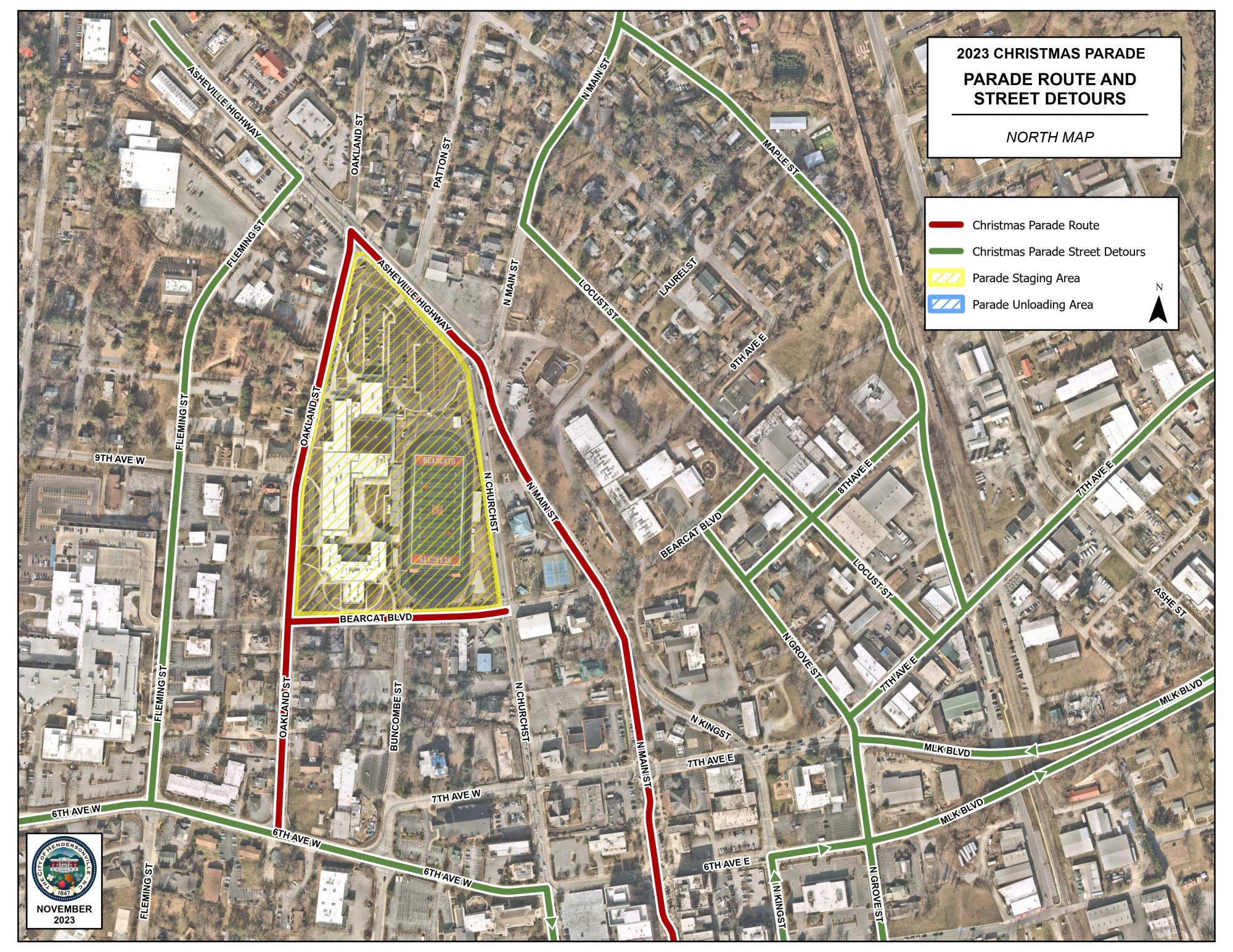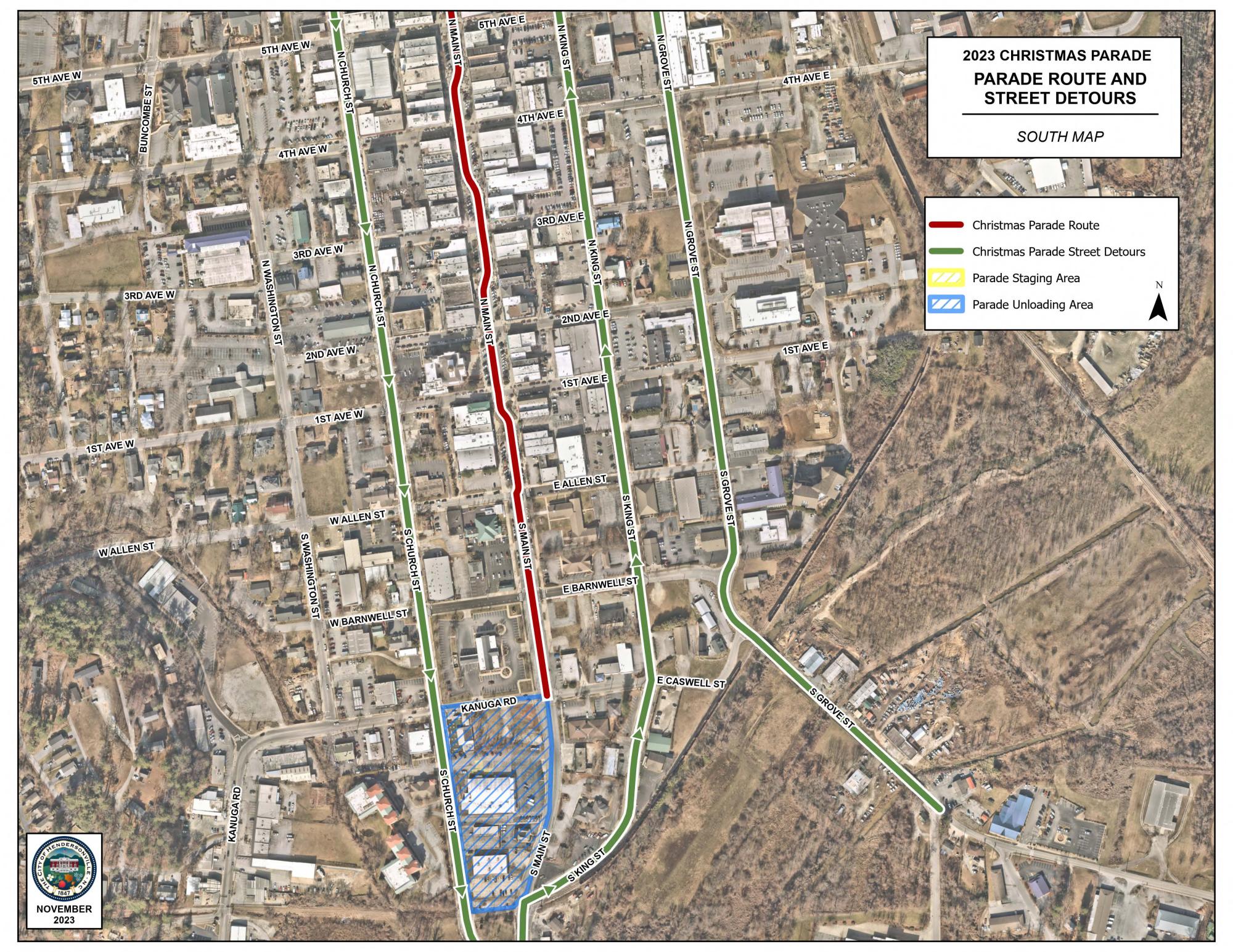 Happy Holidays and see you at the Hendersonville Christmas Parade!

For more information Visit the Hendersonville Merchants and Business Association Website
If you have any questions please feel free to reach out to The Hendersonville Merchants Business Association at (828) 692-4179 or Sandra Walker, President (828) 702-6903 and Bessie Bright, VP (828) 388-1642.