Edwards Park
Milestone timeline:
Architect Selected
Completed: Feb 10, 2022
February 2022
Mini-Golf 'In-Putt' Meeting
Completed: May 16, 2022
May 2022
Site Work Begins
Completed: Dec 1, 2022
Winter 2022
Estimated Completion
Fall 2023

Edwards Park, at 904 N. Main Street, is being redeveloped into a new City of Hendersonville park.
A new ADA-accessible miniature golf course named for Laura E. Corn will be constructed and reimagined on the Edwards Park site. A concession stand and public restrooms will be constructed along with a playground. Local artists and organizations are collaborating to blend old features from the Boyd Park site as well as creating new art features. The newly designed Edwards Park and the reimagined Laura E. Corn Mini-Golf construction is expected to be completed in the fall of 2023.
Edwards Park, named for Mayor Albert V. Edwards, originally opened in 1933 as a center for activities of Boy Scouts and Girl Scouts. The existing scout huts will remain at the site. A new bicycle corral in partnership with the Blue Ridge Bicycle Club is planned along with the new park amenities.
Watch an update on the Edwards Park Development:
Architects
ADW Architects, Charlotte NC
Harris Miniature Golf, Scranton PA
Construction
Edifice, Charlotte NC
Community Partners
A few of the community partners working on the project include:
Apple Country Woodworkers
Blue Ridge Bicycle Club
Artist Dee Ballenger
Artist Diamond Cash
Artist Judy Dempsey
Artist Bethany Joy
Hendersonville Historic Preservation Commission
Henderson County Genealogical and Historical Society
Henderson County Public Library
Community Foundation of Henderson County
Shipman Family
Family of Laura E. Corn
Family of Jim 'Pop' Laughter

Project Updates:
Evening Street Closure - N. Main Street - April 3
Evening Street Closure - N. Main Street - April 3
The City of Hendersonville has scheduled a street closure of N. Main Street from the 5 Points intersection to Locust Street during the evening of Monday, April 3, 2023, starting at 6:30 PM. The road is expected to reopen at 6:00 AM on Tuesday, April 4. This closure will allow water and sewer tie-ins to be completed for the new mini-golf course and concession stand at Edwards Park.
The construction activity schedule is below with detour map attached.
5:00 PM – Detour Signage Installed
6:30 PM – Closure of N. Main Street
7:00 PM – Work occurring 7:00 PM to 6:00 AM
6:00 AM – Road reopens at 6:00 AM on Tuesday, April 4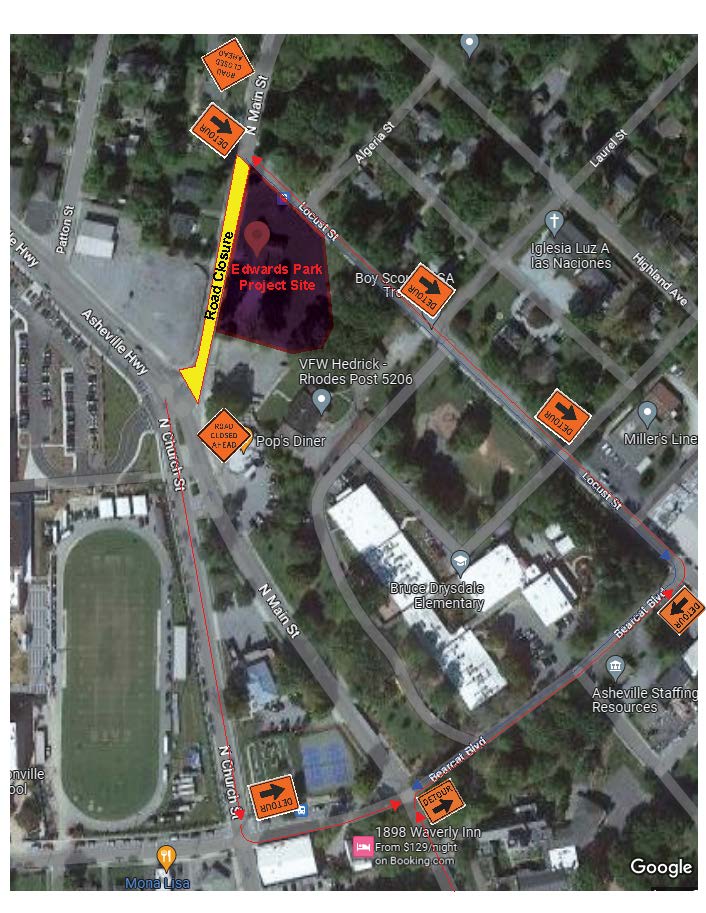 City Council Update on Edwards Park
Wednesday, January 25, 2023
City Council Update on Edwards Park
Assistant City Manager provided an update at the January 25th City Council Meeting.
View Council Meeting Recording
The park update occurs at 2:20.