Bearfootin' Bears Raise Funds for Nonprofits in Successful Virtual Auction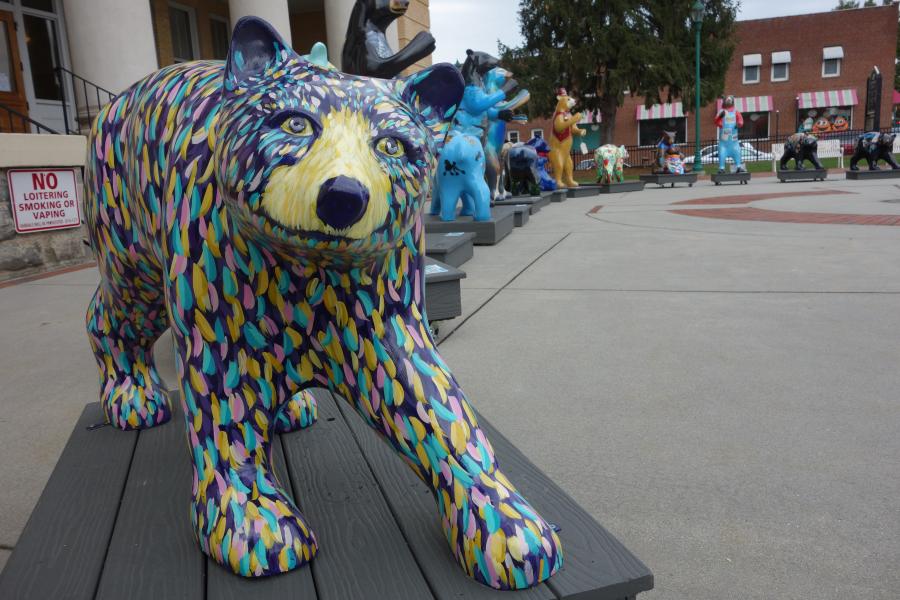 HENDERSONVILLE, N.C. (October 28, 2020) - After several weeks of virtual bidding, the 18th Annual Bearfootin' Bear Auction came to an exciting close on Saturday with proceeds totaling $84,109. This is a $26,700 increase from the 2019 total and a $36,900 increase from the 2018 total.
Each of the 20 bears brought in at least $2,000. The highest bid on any of the four-legged masterpieces was $9,000 for Thea, benefitting United Way of Henderson County. Three of the bears sold at the Buy Now option for $7,500, which was available through the Thursday leading up to the auction. A total of 72 bidders placed more than 220 bids throughout the auction period.
"We are overwhelmed with excitement and gratitude," said Downtown Manager Jamie Carpenter. "It's clear that the Bearfootin' Bears are as beloved as ever, and we're taking away a new perspective from the virtual version of this event for next year."
Part of the proceeds from each bear benefit a designated local nonprofit. The first $3,000 of the winning bid is split with the organizing nonprofit, Friends of Downtown Hendersonville, to sustain the event and support the overall Downtown Program. Any amount above the first $3,000 goes entirely to the designated nonprofit (in other words, a maximum of $1,500 per bear will go towards Friends of Downtown Hendersonville).
The final hour of the auction was streamed live on Downtown Hendersonville's Facebook page in a fun production that aimed to drive up bids on each bear and report ending results.
Interested in getting involved in next year's Bearfootin' Art Walk? The application to sponsor a 2021 bear is now open with a maximum of twenty bears available. Contact Events Coordinator mfriedheim@hvlnc.gov or 828-233-3205 for more information.
###
ABOUT THE FRIENDS OF DOWNTOWN HENDERSONVILLE
The Friends of Downtown Hendersonville exist to identify, preserve and enhance the key factors that contribute to the authentic small-town urban character of historic downtown Hendersonville. Organizational projects are identified, assessed and prioritized based on their contribution to and potential to enhance and support a vibrant entrepreneurial environment and the livability of downtown.