Labor Day Weekend and Apple Festival Announcements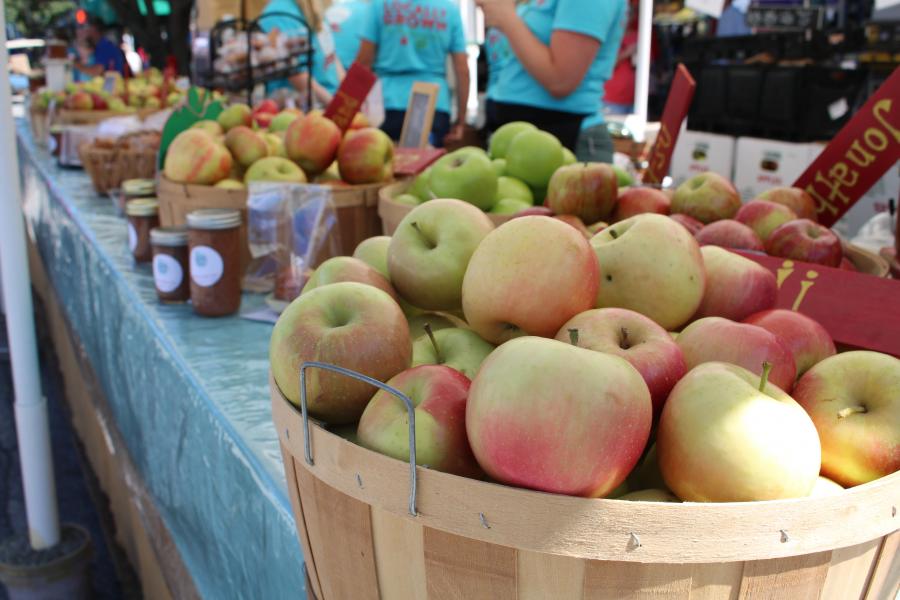 Labor Day Weekend and Apple Festival Announcements
Apple Festival
On Friday, September 1 through Monday, September 4 the North Carolina Apple Festival will take place in downtown Hendersonville. The street festival starts at 10 am on Friday, September 1 with the opening ceremony taking place at 2:15 pm at the Historic Henderson County Courthouse.
Main Street will be closed to traffic between Kanuga/Caswell and 7th Avenue for the duration of the festival with street closures starting on Thursday, August 31. No parking will be allowed on Main Street after 4:00 pm on Thursday. Main Street will be closed until Monday, September 4, following the parade and festival cleanup.
For the safety and comfort of pets, non-service animals are discouraged at the Apple Festival. Festival attendees should leave pets comfortably at home.
Parking is available in city surface lots and the parking deck on 5th Avenue West. During the Apple Festival, the parking deck will be operating with a $10 daily flat-rate fee. During peak festival hours, volunteers will be present to assist users at the gates. To assist with weekend festival traffic, the parking deck gate at Church Street will be enter only and the 5th Avenue parking deck gate will be exit only.
The City Hall parking lot located at 160 6th Avenue East will be dedicated as handicapped parking on Saturday, Sunday and Monday of Labor Day weekend. Additional parking information on City of Hendersonville managed parking can be viewed at www.hvlnc.gov/parking.
More information on the Apple Festival and entertainment schedules, visit https://www.ncapplefestival.org/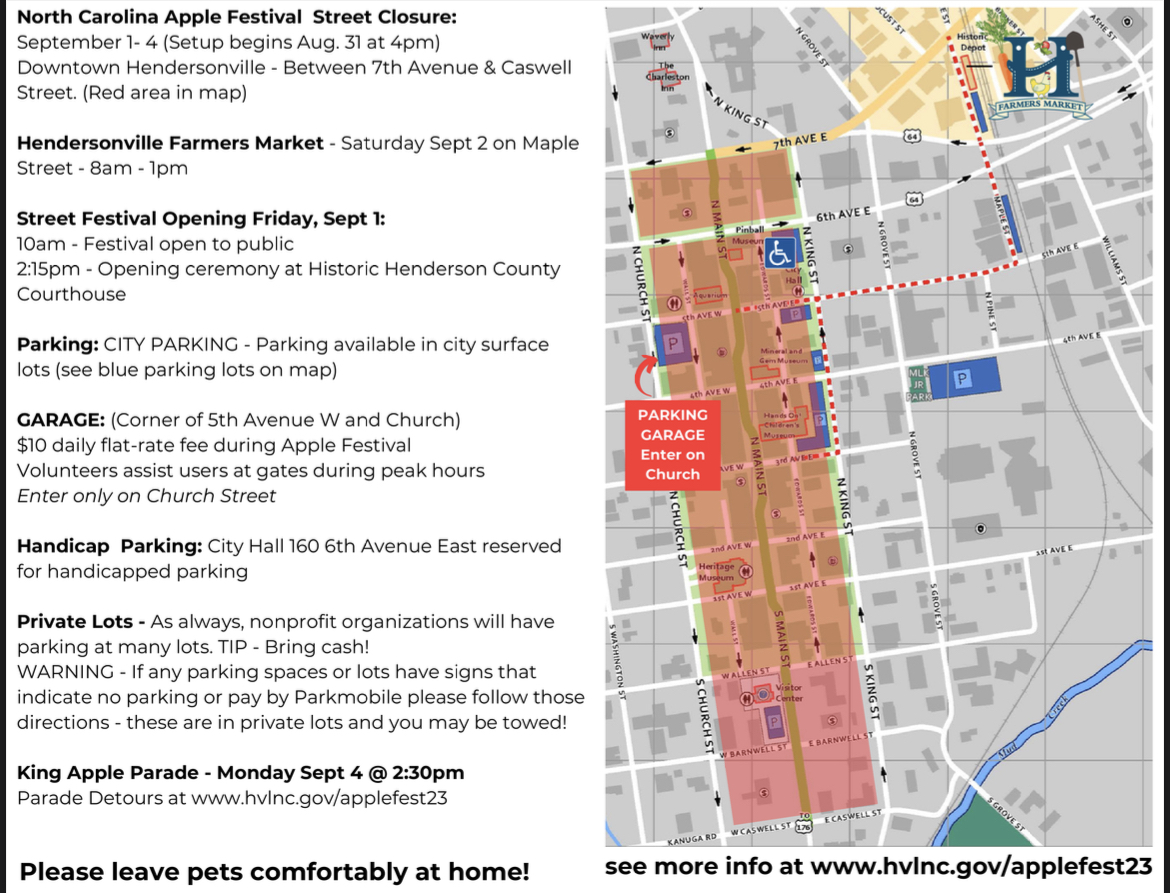 Hendersonville Farmers Market
On Saturday, September 2, the Hendersonville Farmers Market will take place from 8 am - 1 pm along Maple Street adjacent to the Historic Train Depot. More information can be found at https://www.hendersonvillenc.gov/events/hendersonville-farmers-market
The King Apple Parade
On Monday, September 4, the King Apple Parade will take place in downtown Hendersonville at 2:30 pm. The parade viewing area extends along Main Street from 5 points to Kanuga/Caswell.
Street closures beyond the Main Street festival closure will occur to accommodate the parade route and parade staging areas.
Parade Street Closures and Detours:
Parade staging will occur on Oakland Street from Asheville Hwy to 6th Avenue West as well as along Bearcat Blvd in front of Hendersonville High School. The southbound lane of Asheville Hwy will also be used for staging after 1:30 pm when the detour route begins.
Motorists approaching the parade area will be directed to a detour route.

Southbound traffic traveling towards downtown on Asheville Hwy (US-25) will be diverted to Fleming St for Hwy 64 W and Church St connections

Commercial truck traffic traveling inbound on 4 Seasons Blvd (US-64) will be rerouted via Duncan Hill/Signal Hill to reach Asheville Hwy (US-25).

Immediately before the parade, South Main Street will close for the parade unloading area.
Parade Map (North)
Parade Map (South)
Additional information for parade participants and spectators can be found at https://www.ncapplefestival.org/
Government Office Closure
The City of Hendersonville government offices will be closed on Monday, September 4, 2023, for Labor Day. Garbage, recycling and brush collection for City of Hendersonville customers will not be taking place on Monday, September 4 due to the City's holiday schedule. Collection for Monday customers will be delayed by one week with collection resuming on Monday, September 11, 2023. Any extra bagged garbage from Monday customers will be picked up on September 11.
For water/sewer issues occurring on September 4, please use the afterhours number at (828) 891-7779.
Top Ten Apple Festival Safety Tips
Drive Safe
There will be lots of traffic, detours and extra pedestrians throughout the Labor Day weekend. Motorists should slow down, avoid distractions (like texting and driving), and stay alert for pedestrians, other motorists and new traffic patterns. See street and parking information at hvlnc.gov
Stay Cool
One of the most frequent incidents occurring at large festivals is related to heat exhaustion and heat stroke. Make sure you and your family remain hydrated, wear sunscreen, and take breaks in the shade to stay cool.
For the Love of Fido
For the safety and comfort of pets, non-service animals are discouraged at the festival. Large crowds and potentially hot temperatures and pavement are not the best environment for animals. Please keep the fur babies comfortably at home.
Stay Informed
The City of Hendersonville offers free emergency and non-emergency notifications. Signing up is easy and you can customize the types of alerts and delivery methods. Visit hvlnc.gov/alerthvl to create a profile and customize alerts or text AlertHVL to 226787 to automatically sign up for all text alerts.
Call 911 for Emergencies
If you experience or witness an emergency (medial emergency, lost child, suspicious activity, etc.) dial 911. A large number of emergency responders will be at the Apple Festival and by calling 911 you can help on-site personnel and additional crews to be dispatched quickly to respond.
Lost People
Always have a method to reach others in your group if you become separated. If you are missing someone at the festival, go to the Hendersonville Police Department booth at the intersection at 3rd Ave & Main St and a Police Officer can assist you in locating the missing person. If a lost child is found, stay put and dial 911. A Police Officer will come to you and reunite the lost child with their parent or guardian.
Protect Your Property
Lock your car doors and do not leave valuables visible in your vehicle. Maintain situational awareness with purses, wallets and purchases when moving around the festival.
Celebrate Responsibly
Do not drink and drive! If you plan to consume alcohol, make sure you have a designated driver or safe way home. You must be at least 21 years old to consume, possess or buy alcohol. HPD is participating in the Governor's Highway Safety Program Labor Day Booze It & Lose It Campaign and will be on the lookout for impaired drivers.
See Something, Say Something
Report suspicious activity to law enforcement immediately by calling 911.
General Festival Questions
Event information, entertainment schedules, and FAQs are available at https://www.ncapplefestival.org/
Apple Festival volunteers and board members will be wearing Apple Festival shirts and are able to assist with questions.