Vendor List for September 25 at Hendersonville Farmers Market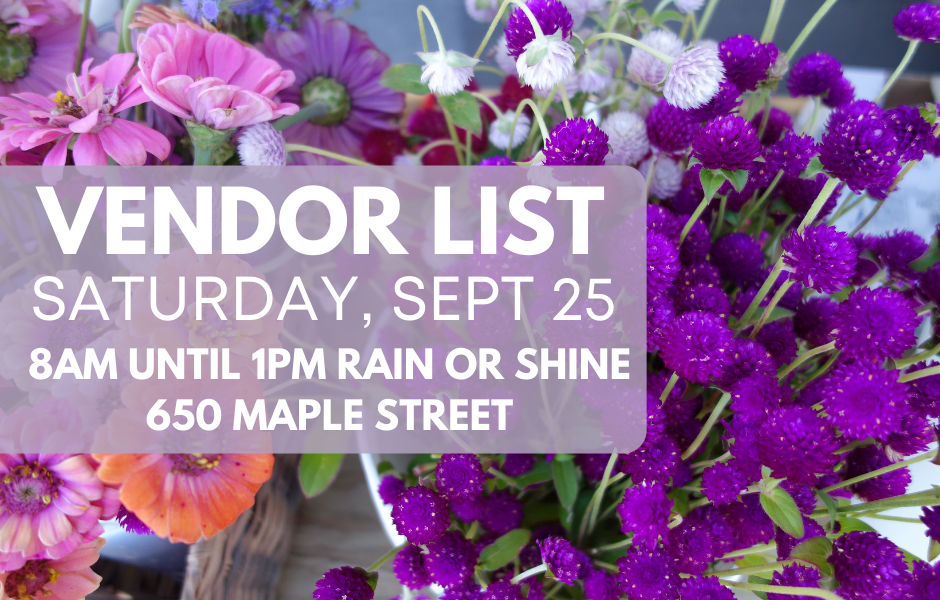 It's officially fall, and all the goodness of the season is here. Look out for homegrown squash, beans, carrots and greens. Grab a coffee and food truck snacks while you shop for baked goods, fresh and dried flowers, meats, vegan cheese, fermented products, artisan crafts and more!
Live Music: The Rosabelles (at the Depot), and Fiddlin' Ryn (Jam Tent)
Food Truck: Daddy D's on Wheels
Kid's Corner Coloring and Fun!
Farmers & Growers (produce, eggs, meat, honey): Barry Farms, Black Dog Flowers, Broom's Blooms, Colfax Creek Farm, Crow Holler Produce, Hillside Farm, Honeybee Bliss, Mickey Lively Plants, Natural Foods, Popp's Posies at The Popp Shoppe, Sylvia's Plants, Tiny Bridge Farm
Prepared Food/Drink Vendors (baked goods, fermented foods, value added products): Asheville Pretzel Co, DARE Vegan Cheese, Deena's Bakery, Homemade Pasta Noodles, Raspberry Fields, Sea of Sweets Bakery, Serotonin Ferments, ShareWell Coffee Co. & Roastery, Simply Caught Seafood, Underground Baking Co.
Arts & Crafts (nonfood/nonplant): Handwoven Baskets by Michael Blake, Happy Toad Pottery, Mountain Barkery, Sister Soaps and Brother Bars