Vendor List for September 11 at Hendersonville Farmers Market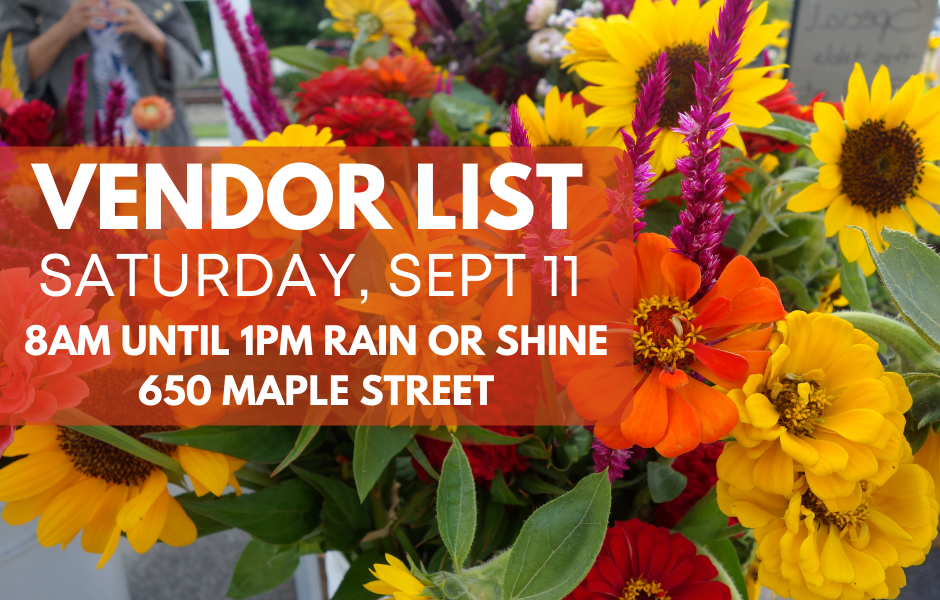 Beautiful weather is in store to compliment a lovely market this Saturday with more than 40 vendors! Autumn gourds are starting to make an appearance, and late summer produce is still plentiful (and should remain plentiful until the first frost). In addition to farm products, customers can expect an array of baked goods, crafts, Daddy D's Food Truck, and more!
Live Music: Apple Country String Band (Depot) and Glass City Special (Jam Tent)
Chef Demo: Chef Squared Co.
Food Truck: Daddy D's on Wheels
Kid's Corner: Color with our new autumn themed coloring sheets!
Nonprofit: Friends of DuPont Forest
Farmers & Growers (produce, eggs, meat, honey): The AppaLatin Farmstead, Barry Farms, Bee-utiful Farm and Garden, Bright Branch Farm, Broom's Blooms, Colfax Creek Farm, Crow Holler Produce, Fair Hollow Garden, Fruitland Farmstead, Garden of Griffin, Grateful Bed Farm, Hillside Farm, Honeybee Bliss, M & M Berry Farm, Mickey Lively Plants, Natural Foods, Newman Farm, Popp's Posies at The Popp Shoppe, Pressley Farm, Simply Caught Seafood, Sylvia's Plants, Tiny Bridge Farm
Prepared Food/Drink Vendors (baked goods, fermented foods, value added products): A Piece of Maine, Asheville Pretzel Co, Chef Squared Co., Boom Boom Kettle Corn, DARE Vegan Cheese, Echo Mountain Inn Cold Pressed Juice, Homemade Pasta Noodles, Raspberry Fields, Sea of Sweets Bakery, Serotonin Ferments, ShareWell Coffee Co. & Roastery, Spinning Spider Creamery, Underground Baking Co.
Arts & Crafts (nonfood/nonplant): BeebearPro, Butterfly Flight, Handwoven Baskets by Michael Blake, Mountain Barkery, Two Chicks Pottery