Vendor List for October 28th Hendersonville Farmers Market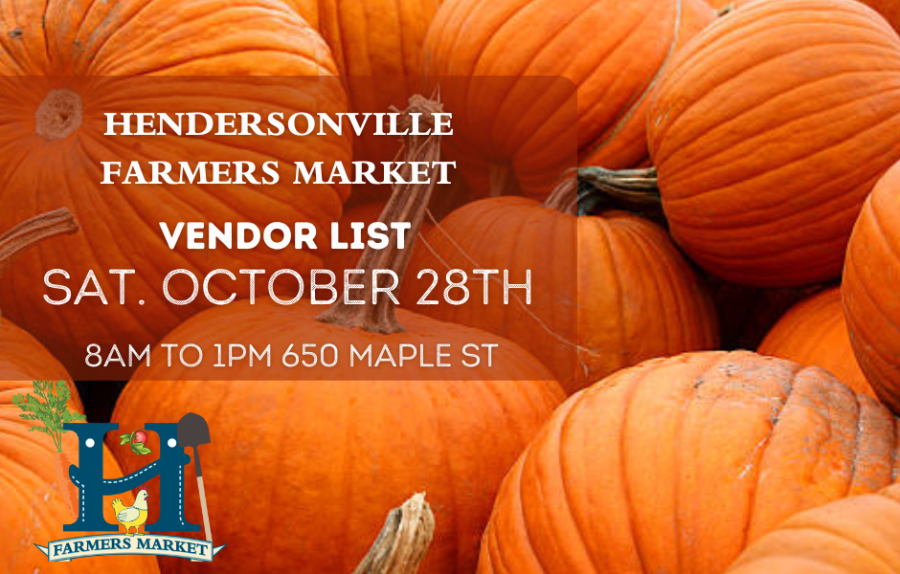 Join us for the final Hendersonville Farmers Market of the season on October 28th! Don't miss out on this fantastic event on Maple Street from 8 AM to 1 PM. Come and savor a wonderful day, where you can peruse a diverse selection of locally-sourced products, treat yourself to delectable baked goods, and uncover one-of-a-kind handcrafted treasures from our talented vendors. It's the perfect way to close out the season, so make sure to be there!
Live Music: Rick Kuncicky
Jam Tent: Andy Bracken
Cooking Demo: Betsy NC Extension
Kid's Corner: Betsy NC Extension
Farmers & Growers (produce, eggs, meat, honey, plants): Black Dog Flowers, Bright Branch, Gray Family Farmstead, Honeybee Bliss, Saluda Grade Farm, Stump Farms, Sylvia's Succulents Cacti and Plants, Tiny Bridge Farm, Wild Goods, Popp's Posies at The Popp Shoppe, Ivy Fields Farm, Grow Water Farms
Value Added Food/Drink Vendors (baked goods, fermented foods, cheese, pasta etc.): Barnhouse Kitchen, Deena's Bakery, Homemade Pasta Noodles, Raspberry Fields, ShareWell Coffee Co. & Roastery, Sea of Sweets Bakery, Bretzel Bus by Underground Baking Co., Sophia's boutique, Up All Night, Sweet Brine'd
Arts & Crafts (nonfood/nonplant): Mother Hubbard Crafts, Hess Family Craft, Plated Bliss, Handwoven Baskets by Michael Blake, Dragon Metal Studios or Sage & Spirit, Kimmet's Krafts, Mountain Wood Arts
Dogs and Pets: Mountain Barkery
Health and Wellness: YAM (Yoga and Massage)
Hendersonville Farmers Market takes place every Saturday (May 6-Oct 28) at the Historic Train Depot on 650 Maple Street, 8am-1pm.