Vendor List for October 21st Hendersonville Farmers Market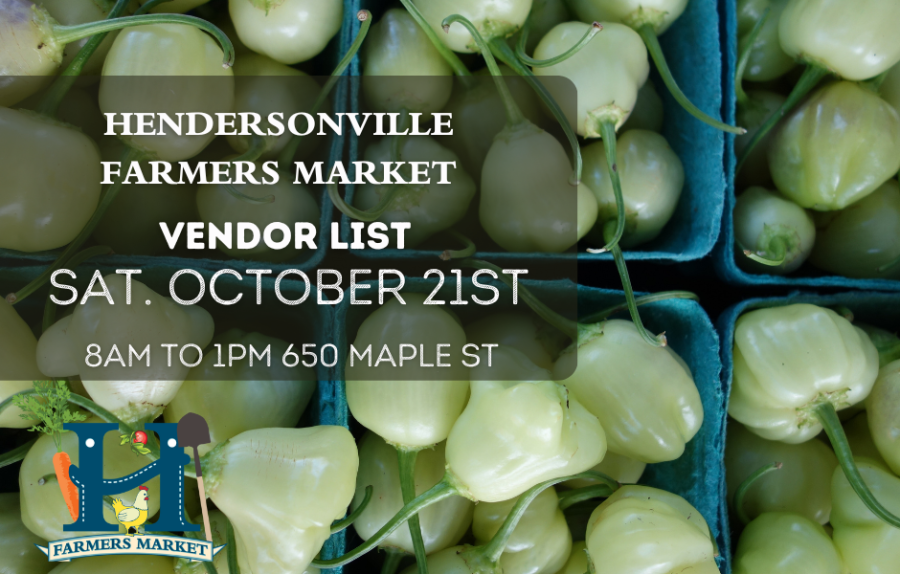 We invite you to the Hendersonville Farmers Market on October 21st! Come to Maple Street between 8 AM and 1 PM to enjoy a delightful day. Explore a wide range of locally sourced goods, indulge in delicious baked treats, and discover unique handcrafted items from our talented vendors.
Also, take note of the 'Trick or Trail 5K' race, organized by IDaph Events, adding an exciting touch to the day. And don't forget to get into the spirit of the spooky season by dressing up in your favorite fall-themed or Halloween costumes! Let's come together with the community and embrace the enchanting spirit of the fall season.
Live Music: Apple County String Band
Cooking Demo: Abigale Pierce
Farmers & Growers (produce, eggs, meat, honey, plants): Bee-utiful Farm and Garden, Black Dog Flowers, Gray Family Farmstead, Honeybee Bliss, Saluda Grade Farm, Stump Farms, Saluda Grade Farm, Sylvia's Succulents Cacti and Plants, Tiny Bridge Farm, Tierra Fertil Coop , Wild Goods, Popp's Posies at The Popp Shoppe, Ivy Fields Farm, Grow Water Farms
Value Added Food/Drink Vendors (baked goods, fermented foods, cheese, pasta etc.): Aw Shucks Popcorn, Barnhouse Kitchen, Deena's Bakery, Homemade Pasta Noodles, Raspberry Fields, ShareWell Coffee Co. & Roastery, Sea of Sweets Bakery, Bretzel Bus by Underground Baking Co., Sophia's boutique, Up All Night, Young's Backyard BBQ
Arts & Crafts (nonfood/nonplant): GlimmerBee Creations, Mother Hubbard Crafts, Gemstone Gypsea
Dogs and Pets: Mountain Barkery
Young Entrepreneur: Kassandra Grace Candles, Mama Llamas LLC, Rachel's Scarves, Wolverine Forge
Health and Wellness: YAM (Yoga and Massage)
Non Profit: Council on Aging of Buncombe County
Hendersonville Farmers Market takes place every Saturday (May 6-Oct 28) at the Historic Train Depot on 650 Maple Street, 8am-1pm.