Vendor List for Oct 2 at Hendersonville Farmers Market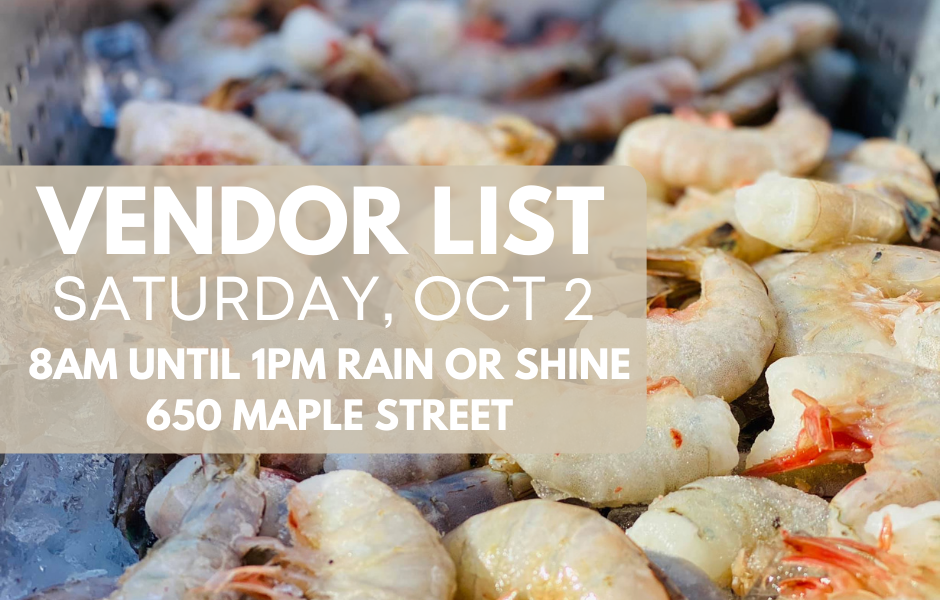 Enjoy the first Saturday of October at the farmers market! Simply Caught Seafood will provide a free, all-you-can-eat shrimp boil (while supplies last)! This Saturday we'll also have a cooking demo, kid yoga, two live music groups and more than 30 vendors to purchase local food and crafts from.
Cooking Demo: Join Launa Tierney of Homemade Pasta Noodles for a live cooking demo (including free samples) from 10-11am.
Live Music: Fiddlin' Ryn (at the Depot), and Glass City Special (Jam Tent)
Kid's Corner: Visit the Kid's Corner for free 20-minute YAM Kid Yoga sessions at 10 and 10:30am for ages 3-10, mats provided.
Farmers & Growers (produce, eggs, meat, honey): Barry Farms, Black Dog Flowers, Bright Branch Farms, Broom's Blooms, Colfax Creek Farm, Garden of Griffin, Gray Family Farmstead, Fruitland Farmstead, Hillside Farm, Honeybee Bliss, Mickey Lively Plants, Natural Foods, Sylvia's Plants, Tiny Bridge Farm
Prepared Food/Drink Vendors (baked goods, fermented foods, value added products): Deena's Bakery, Homemade Pasta Noodles, Mimi's Mountain Mixes, Raspberry Fields, Sea of Sweets Bakery, ShareWell Coffee Co. & Roastery, Simply Caught Seafood, Sweet Brine'd, Underground Baking Co.
Arts & Crafts (nonfood/nonplant): Mother Hubbard Crafts, Mountain Barkery, Paper Clutz Co., Sister Soaps and Brother Bars, Whimsical Whatnots
Nonprofit: Conserving Carolina, League of Women Voters – Henderson County