Vendor List for November 20 Holiday Market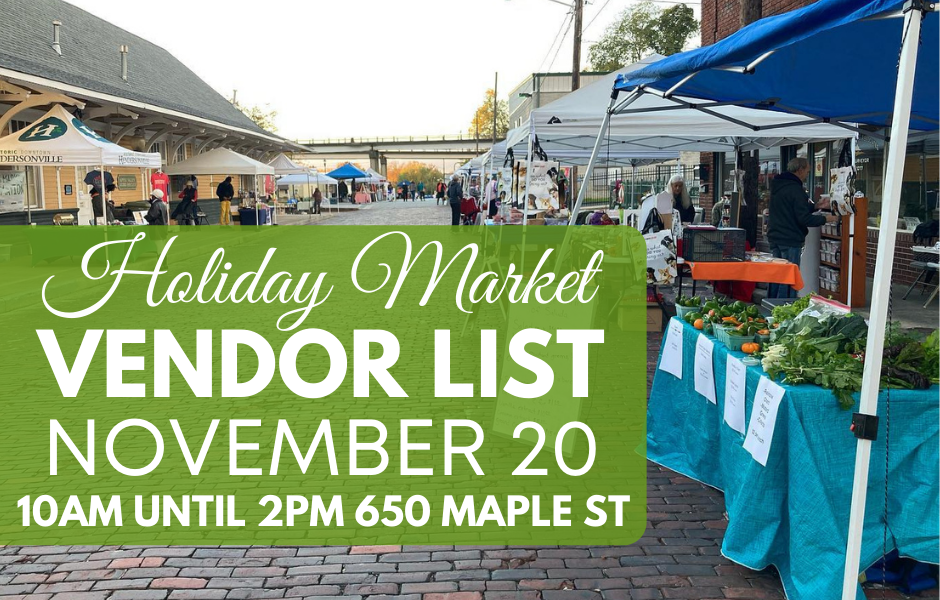 Put a local feast on your family's table this Thanksgiving! On Saturday, November 20, more than 40 vendors will line Maple Street from 10 a.m. until 2 p.m. selling seasonal, farm-fresh products and locally made artisan crafts. Hosted by Hendersonville Farmers Market, this event is the first of two Holiday Markets that will close out the season. The second Holiday Market will take place two weeks later, December 4, also during the timeframe of 10 a.m. until 2 p.m. Marketgoers will find their favorite regular season vendors from Hendersonville Farmers Market offering seasonal food products, baked goods, and more, in addition to a plethora of handmade artisan crafts including unique gifts and holiday decorations. SNAP/EBT users can double their dollars on eligible food items. Of more than 40 vendors currently signed up to participate, about half are craft vendors.
Live Music: Fiddlin' Ryn and Friends (temperature-dependent)
Kid's Corner: Free activity with the Arts Council of Henderson Council
Food Truck: Feta Flav
Farmers & Growers (produce, eggs, meat, honey): Broom's Blooms, Crow Holler Produce, Encompass Farm, Fruitland Farmstead, Garden of Griffin, Gray Family Farmstead, Hillside Farm, Honeybee Bliss, Popp's Posies at The Popp Shoppe, Tiny Bridge Farm
Prepared Food/Drink Vendors (baked goods, fermented foods, value added products): A Piece of Maine, Asheville Pretzel Co, Boom Boom Kettle Corn ,Chef Squared Co., DARE Vegan Cheese, Deena's Bakery, Mimi's Mountain Mixes, Raspberry Fields, Sea of Sweets Bakery, Serotonin Ferments, ShareWell Coffee Co. & Roastery, Sweet Brine'd, Underground Baking Co.
Arts & Crafts (nonfood/nonplant): Dragon Metal Studios, Handwoven Baskets by Mike Blake, Happy Toad Pottery, JCS Pottery, KickAshe, Mother Hubbard Crafts, Mountain Barkery, Paper Clutz Co,, Plated Bliss, Sister Soaps and Brother Bars, Sophia's Boutique, Two Chicks Pottery, Whimsical Whatnots, The Wild Ginkgo