Vendor List for May 27th Farmers Market!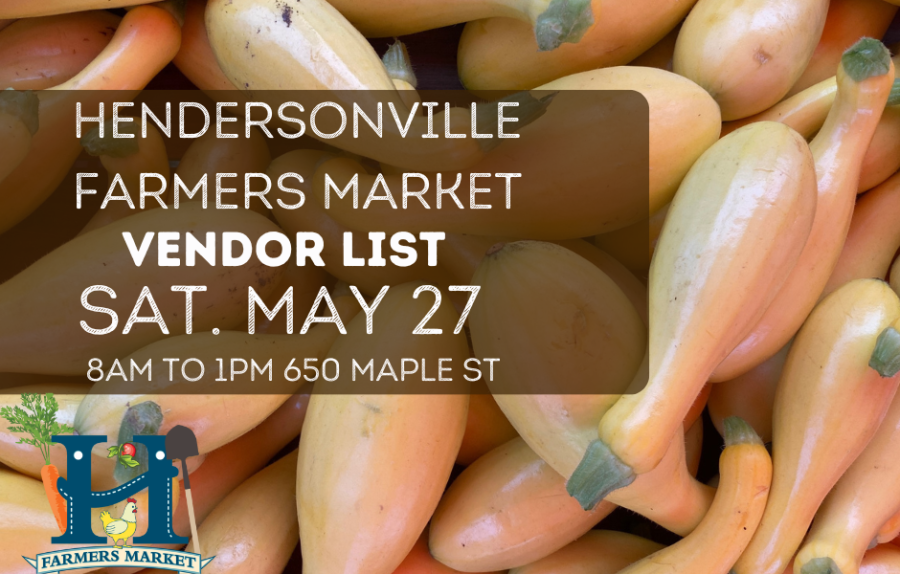 Discover the freshest flavors and embrace the vibrant spirit of community at the Hendersonville Farmers Market this weekend, May 27th! Join us for a bountiful celebration of local produce, artisanal goods, and unforgettable culinary experiences that will nourish your senses and bring your taste buds to life!
Live Music: Apple County String Band
Kids' Corner: Betsy with NC Co-op Extension
Cooking Demo: Betsy with NC Co-op Extension
Farmers & Growers (produce, eggs, meat, honey, plants): Bee-utiful Farm and Garden, Black Dog Flowers, Bright Branch Farm, Crow Holler Produce, Cleveland Natural Farm, Garden of Griffin, GourMays Mushroom Farm, Honeybee Bliss, House of Brandstracts, Lanning Road Farms, Morgan Farm, Popp's Posies at The Popp Shoppe, Serotonin Ferments, Saluda Grade Farm, Stump Farms, Tiny Bridge Farm.
Value Added Food/Drink Vendors (baked goods, fermented foods, cheese, pasta etc.): Barnhouse Kitchen, Conjure Craft Chocolate, Deena's Bakery, Homemade Pasta Noodles, Sea of Sweets Bakery, ShareWell Coffee Co. & Roastery, Underground Baking Co.'s Brezel Bus, Up all Night,
Arts & Crafts (nonfood/nonplant): Mountain Barkery, Double Cross Crochet, Plate Bliss, Out of the Drawer Quilts, Best Friends Creations, Studio David, Options 1111, GlimmerBee Creations
Young Entrepreneur: Willa Crochets
Non-Profit: Habitat for Humanity, YAM