Vendor List for May 22 at Hendersonville Farmers Market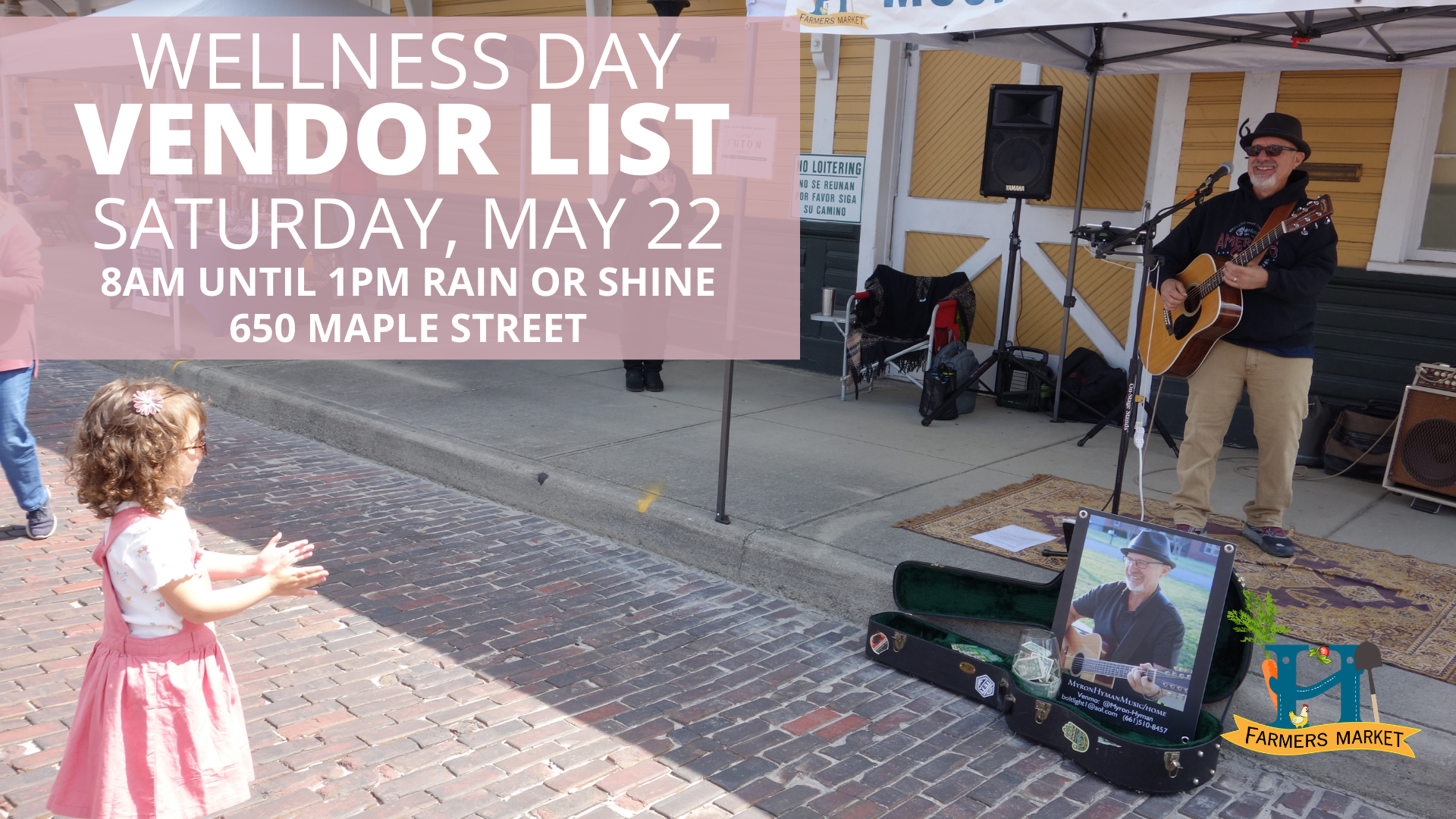 It's Wellness Day at Hendersonville Farmers Market! Come out for the usual spread of goods from our regular vendors, plus added educational and interactive activities based around promoting self care and healthy routines.
Wellness Day activities to check out:
- Pardee Dietician Bree Neison's healthy salads cooking demo from 10-11am
- Pathway to Your Health's Susan Connor will be providing physical wellness tips
- Kid Yoga (free, ages 3-10) in the Kid's Corner for 20-min sessions at 10am and 10:30am by Yoga and Massage
- Yoga and Massage free massage booth
- Kids Crafts and recreational education from Henderson County Parks and Rec
- Safety is wellness, too! Learn about gun safety with nonprofit Be Smart for Kids
See the full vendor lineup below.
Live Music: Fiddlin' Ryn & Friends
Kid's Corner: Kid Yoga (free, ages 3-10) for 20-min sessions at 10am and 10:30am by Yoga and Massage. Mats provided.
Chef Demo on the Plaza: Healthy Salads from Dietician Bree Neison of Pardee UNC Healthcare, 10am-11am
Farmers & Growers (produce, eggs, meat, honey): Appalatin Farmstead, Barry Farms, Bee-utiful Farm and Garden, Bright Branch Farm, Broom's Blooms, Colfax Creek Farm, Crow Holler Produce, Fair Hollow Garden, Fruitland Farmstead, The Garden of Griffin, Grateful Bed Farm, Green Buffalo, Hillside Farm, Honeybee Bliss, Mickey Lively Plants, Popp's Posies at The Popp Shoppe, Simply Caught Seafood, Sylvia's Succulents, Cacti and Plants, Tiny Bridge Farm, Violet Aurora Farm
Prepared Food/Drink Vendors (baked goods, fermented foods, value added products): Boom Boom Kettle Corn, Chef Squared Co., DARE Vegan Cheese, Deena's Bakery, Echo Mountain Inn Cold Pressed Juice, Guidon Brewing Co, Homemade Pasta Noodles, Raspberry Fields, ShareWell Coffee Co. & Roastery, Serotonin Ferments, Spinning Spider Creamery, Underground Baking Co.
Arts & Crafts (nonfood/nonplant): Happy Toad Pottery, James Horwitz Woodworking, Mountain Barkery, Sister Soaps and Brother Bars, Yoga and Massage
Food Truck: Daddy D's on Wheels
Hendersonville Farmers Market takes place every Saturday (May 8-Oct 30) at the Historic Train Depot on 650 Maple Street, 8am-1pm.