Vendor List for June 5 at Hendersonville Farmers Market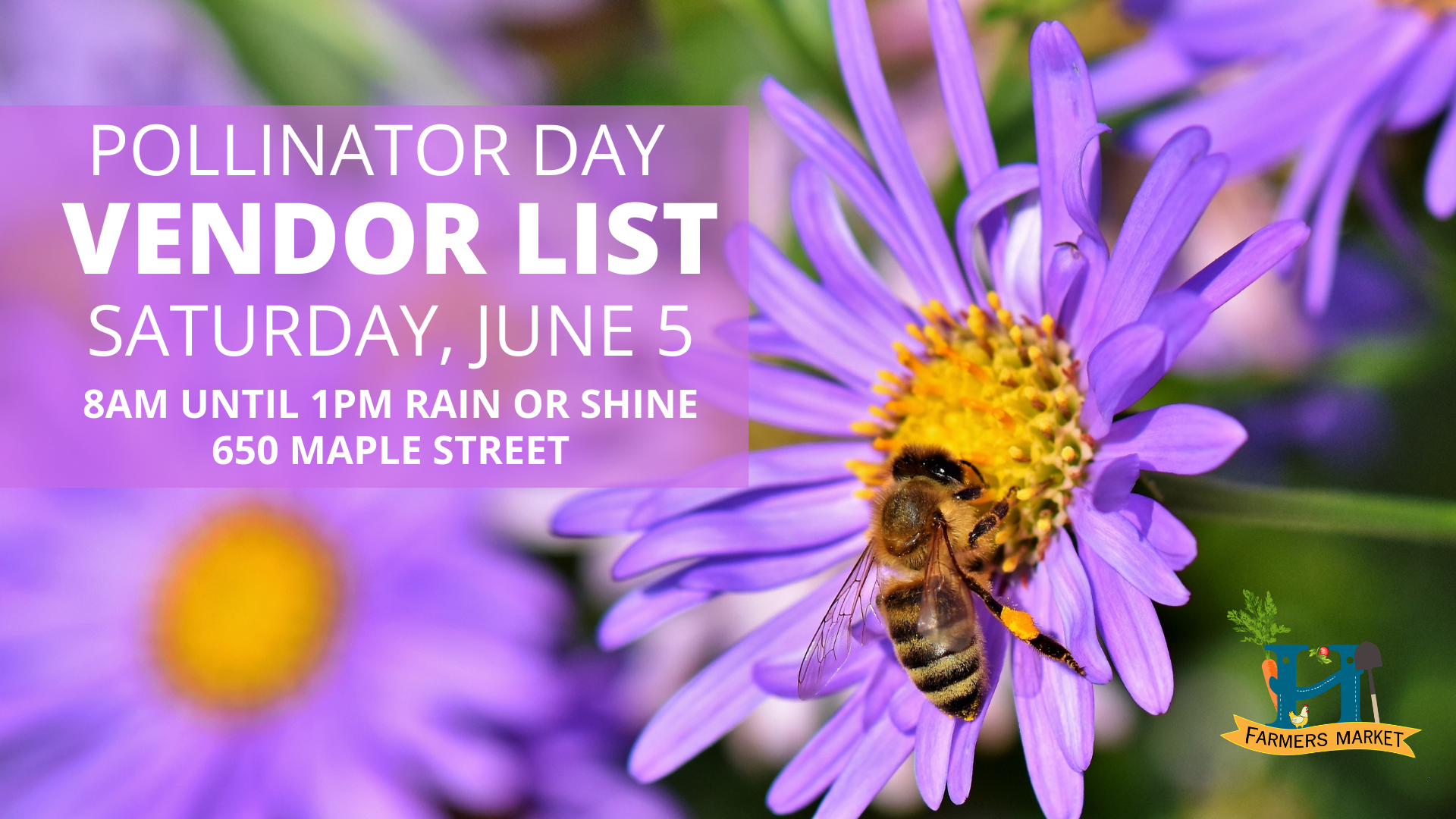 June 5 is Pollinator Day at Hendersonville Farmers Market! You'll find the regular bountiful harvest from all the market vendors plus some special treats to celebrate pollinators (all those amazing creatures that visit flowering plants and help them reproduce).
Featuring:
- Bee City USA antennae kids craft
- Plant tips from the Master Gardeners of Henderson County
- Native bee education from Spriggly's Beescaping
...& plenty of vendors offering plants and pollinator friendly fun, such as Honeybee Bliss, Mickey Lively's Plants, and Butterfly Flight
Check out the full lineup for June 5 below!
Live Music: Myron Hyman
Kid's Corner:
- Kid Yoga (free, ages 3-10) in the Kid's Corner for 20-min sessions at 10am and 10:30am by Yoga and Massage
- Plant and take home your own seedling
Chef Demo: Launa Tierney of Homemade Pasta Noodles (presented by Hendersonville Community Co-op) 10am-11am
Farmers & Growers (produce, eggs, meat, honey): Appalatin Farmstead, Barry Farms, Bee-utiful Farm and Garden, Black Dog Flowers, Bright Branch Farm, Broom's Blooms, Colfax Creek Farm, Crow Holler Produce, Fair Hollow Garden, Fruitland Farmstead, The Garden of Griffin, Grateful Bed Farm, Green Buffalo, Gray Family Farmstead, Hillside Farm, Honeybee Bliss, Mickey Lively Plants, Simply Caught Seafood, Sylvia's Succulents, Cacti and Plants, Tiny Bridge Farm, Violet Aurora Farm
Prepared Food/Drink Vendors (baked goods, fermented foods, value added products): Chef Squared Co., DARE Vegan Cheese, Deena's Bakery, Echo Mountain Inn Cold Pressed Juice, Homemade Pasta Noodles, Sea of Sweets Bakery, ShareWell Coffee Co. & Roastery, Serotonin Ferments, Spinning Spider Creamery, Underground Baking Co., Young's Backyard BBQ
Arts & Crafts (nonfood/nonplant): Butterfly Flight, Kathy's Pottery, Mother Hubbard Crafts, Mountain Barkery, Paper Clutz Co.
Food Truck: Daddy D's on Wheels
Hendersonville Farmers Market takes place every Saturday (May 8-Oct 30) at the Historic Train Depot on 650 Maple Street, 8am-1pm.