Vendor List for June 25 at Hendersonville Farmers Market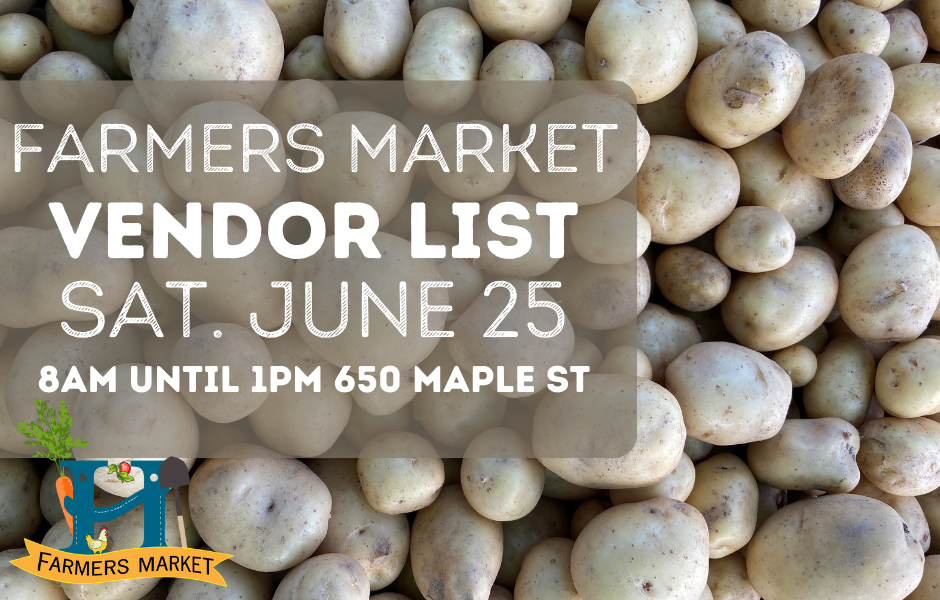 A bountiful Saturday is on the horizon as summer is officially here and the produce is coming in!
Live Music: Myron Hyman (depot) and Rachel Mayes (Jam Tent)
Kids' Corner: Activity provided by Henderson Farm Bureau Women's Committee
Youth Bicycle Helmet Giveaway: Stop by and chat with Hendersonville Police Department outside the Depot entrance and take a free youth bicycle helmet!
Farmers & Growers (produce, eggs, meat, honey, plants): Barry Farms, Bee-utiful Farm and Garden, Black Dog Flowers, Bright Branch Farm, Broom's Blooms, Colfax Creek Farm, Crow Holler Produce, Fair Hollow Garden, Grateful Bed Farm, Greenhill Worm Farm, Honeybee Bliss, Laurel Creek Plant Farm, M&M Berry Farm, Morgan Farm, Natural Foods from Cleveland, Popp's Posies at The Popp Shoppe, Saluda Grade Farm, Sylvia's Plants, Violet Aurora Farm, Tiny Bridge Farm
Value Added Food/Drink Vendors (baked goods, fermented foods, cheese, pasta etc.): Asheville Pretzel Co, Barnhouse Kitchen, Boom Boom Kettle Corn, Chef Squared Co., Homemade Pasta Noodles, Pullman Bread, Raspberry Fields, Sea of Sweets Bakery, ShareWell Coffee Co. & Roastery, Sophia's Tamales and Horchata, Spinning Spider Creamery, Sweet Brine'd, Underground Baking Co.'s Brezel Bus
Arts & Crafts (nonfood/nonplant): Dragon Metal Studios, Eli Tomalka Woodworks, Iris Folk Medicinals, Kimmet's Krafts, Mountain Barkery, Options 1111, Popp's Posies at The Popp Shoppe, Sophia's Boutique
Hendersonville Farmers Market takes place every Saturday (May-Oct) at the Historic Train Depot on 650 Maple Street, 8am-1pm.