Vendor list June 24th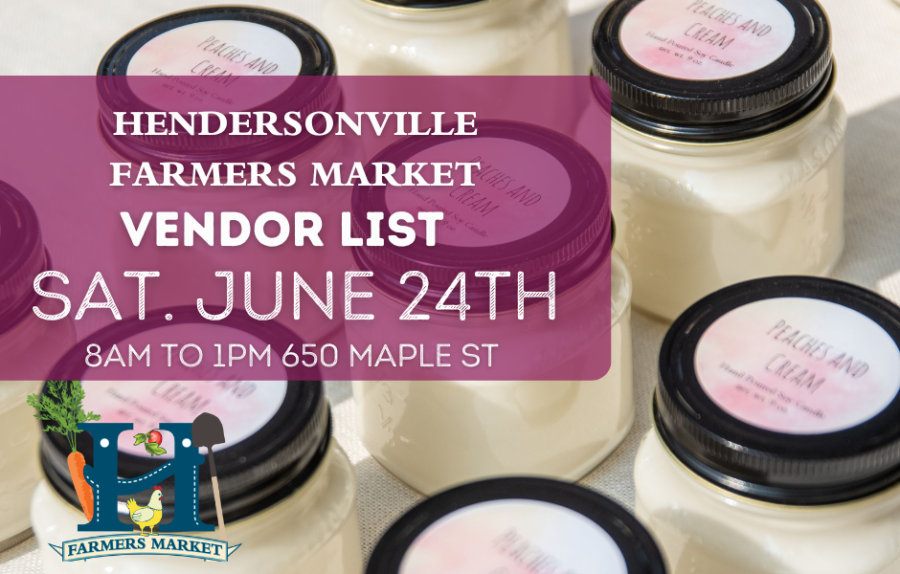 Experience the best of Hendersonville at the Farmers Market on June 24th! Rain or shine, join us on Maple Street from 8am to 1pm. Discover local vendors offering fresh produce, mouthwatering baked goods, and unique handmade crafts. Don't miss out on this vibrant community!
Live Music: Rick Kuncicky
Farmers & Growers (produce, eggs, meat, honey, plants): Barry Farms, Bee-utiful Farm and Garden, Black Dog Flowers, Bright Branch Farm, Broom's Blooms, Crow Holler Produce, Cleveland Natural Farm, Grateful Bed, GourMay, Honeybee Bliss, House of Brandstracts, Lanning Road Farms, Morgan Farm, Newman Farm, Popp's Posies at The Popp Shoppe, Saluda Grade Farm, Stump Farms, Sylvia's Succulents, Cacti and Plants, Tiny Bridge Farm,
Value Added Food/Drink Vendors (baked goods, fermented foods, cheese, pasta etc.): Aw Shucks Popcorn, Barnhouse Kitchen, Conjure Craft Chocolate, Deena's Bakery, Raspberry Fields, ShareWell Coffee Co. & Roastery, Up all Night, Bretzel Bus by Underground Baking Co.
Arts & Crafts (nonfood/nonplant): Mountain Barkery, Whimsical Whatnots, Robinson Ex Files Knives, Kimmett's Krafts, Double Cross Crochet, Studio David
Young Entrepreneur: Piece of Maine, Willa Crochet
Health and Wellness: YAM (Yoga and Massage)