Vendor List for July 3 at Hendersonville Farmers Market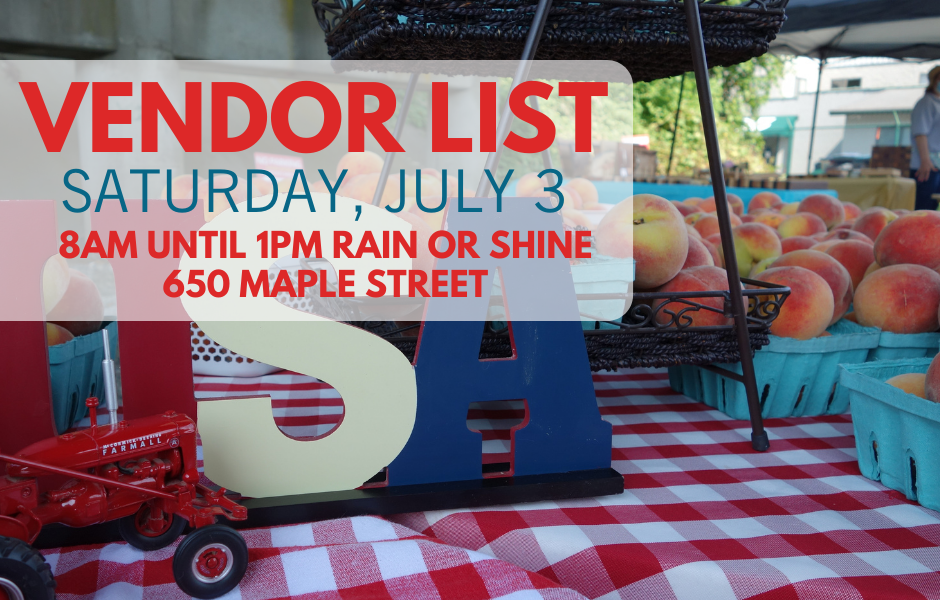 Get ready for your Fourth of July cookout by shopping local at the farmers market! Let our vendors help you with fresh produce, animal products, baked goods and more for your holiday celebrations. We have local peaches, leafy greens, animal products, fresh cut flowers, and even a limited amount of tomatoes and sweet corn this week! Don't miss the holiday-themed treats, like red, white and blue macaroons from Sea of Sweets Bakery.
Check out the full lineup for July 3 below!
Sponsor: Charlotte Sheppard, REALTOR, Keller Williams Mountain Partners
Live Music: Fiddlin' Ryn and Friends
Kid's Corner: 9am Egg Race, Kid Yoga (free, ages 3-10) in the Kid's Corner for 20-min sessions at 10am and 10:30am by Yoga and Massage, 11am Water Balloon Toss
Local Beer Tasting & To-Go Beer: Triskelion Brewing Co.
Farmers & Growers (produce, eggs, meat, honey): The AppaLatin Farmstead, Barry Farms, Bee-utiful Farm and Garden, Black Dog Flowers, Bright Branch Farm, Broom's Blooms, Colfax Creek Farm, Crow Holler Produce, Fruitland Farmstead, Garden of Griffin, Grateful Bed Farm, Green Buffalo, Hillside Farm, Honeybee Bliss, Mickey Lively Plants, Natural Foods, Popp's Posies at The Popp Shoppe, Revis Farms, Simply Caught Seafood, Sylvia's Succulents, Cacti and Plants, Tiny Bridge Farm, Violet Aurora Farm
Prepared Food/Drink Vendors (baked goods, fermented foods, value added products): Asheville Pretzel Co, Chef Squared Co., DARE Vegan Cheese, Deena's Bakery, Echo Mountain Inn Cold Pressed Juice, Homemade Pasta Noodles, Mimi's Mountain Mixes, Raspberry Fields, Sea of Sweets Bakery, Serotonin Ferments, ShareWell Coffee Co. & Roastery, Spinning Spider Creamery, Underground Baking Co.,Young's Backyard BBQ
Arts & Crafts (nonfood/nonplant): Butterfly Flight, KickAshe, Mother Hubbard Crafts, Mountain Barkery, Paper Clutz Co., Sister Soaps and Brother Bars
Food Truck: Feta Flav