Vendor List for July 15th Hendersonville Farmers Market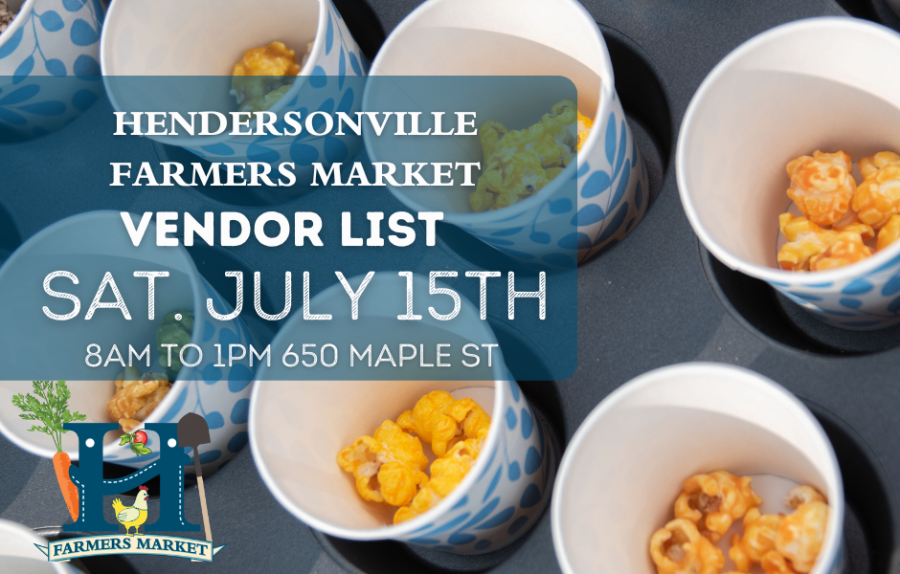 Mark your calendars for July 15th and get ready for a fantastic time at the Hendersonville Farmers Market! Rain or shine, we'll be set up on Maple Street from 8am to 1pm. Explore a wide array of locally sourced produce, delightful baked goods, and one-of-a-kind handmade crafts from our talented vendors. Join us for a memorable community event you won't want to miss!
Live Music: Apple County String Band
Kid's Corner: Betsy NC Coop Extension
Cooking Demo: Betsy NC Coop Extension
Farmers & Growers (produce, eggs, meat, honey, plants): Bee-utiful Farm and Garden, Black Dog Flowers, Bright Branch Farm, Broom's Blooms, Crow Holler Produce, GourMay, Honeybee Bliss, House of Brandstracts, Lanning Road Farms, Morgan Farm, Newman Farm, Saluda Grade Farm, Stump Farms, Sylvia's Succulents, Cacti and Plants, Tiny Bridge Farm,
Value Added Food/Drink Vendors (baked goods, fermented foods, cheese, pasta etc.): Aw Shucks Popcorn, Barnhouse Kitchen, Deena's Bakery, Raspberry Fields, ShareWell Coffee Co. & Roastery, Bretzel Bus by Underground Baking Co.,
Arts & Crafts (nonfood/nonplant): Mountain Barkery, Robinson Ex Files Knives, Studio David, Two Chicks Pottery, Plated Bliss, Whimsical Whatnots
Young Entrepreneur: Mama Llama Co.
Non Profits: League of Women Voters