Vendor List for Hendersonville Farmers Market Wellness Day! May 20th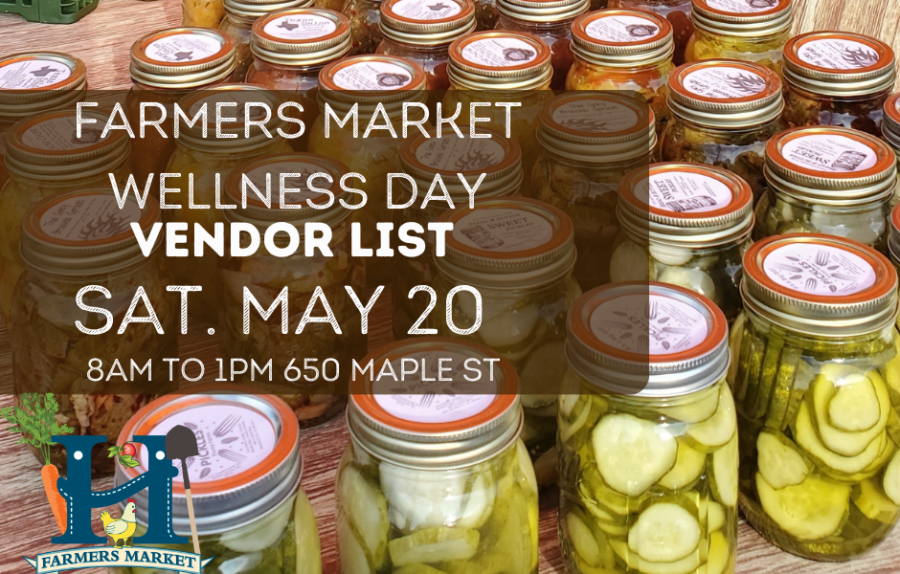 Join us at the Hendersonville Farmers Market on May 20th for Wellness Day! Explore our vendor list featuring regular vendors with fresh local produce, along with special wellness-focused booths Like YAM (Yoga and Massage) and the Free Clinics!
Live Music: Rick Kuncicky
Kids' Corner: Kid's Yoga 10 and 10:30
Cooking Demo: Abigail Pierce
Farmers & Growers (produce, eggs, meat, honey, plants): Barry Farms, Bee-utiful Farm and Garden, Black Dog Flowers, Bright Branch Farm, Broom's Blooms, Crow Holler Produce, Cleveland Natural Farm, Garden of Griffin, GourMays Mushroom Farm, Grateful Bed Farm, Honeybee Bliss, House of Brandstracts, Lanning Road Farms, Morgan Farm, Saluda Grade Farm, Stump Farms, Sylvia's Succulents, Cacti and Plants, Tiny Bridge Farm, Teacher's Farm, Wild Fresh Garden.
Value Added Food/Drink Vendors (baked goods, fermented foods, cheese, pasta etc.): Aw Shucks Popcorn, Barnhouse Kitchen, Conjure Craft Chocolate, Homemade Pasta Noodles, Raspberry Fields, Sea of Sweets Bakery, ShareWell Coffee Co. & Roastery, Underground Baking Co.'s Brezel Bus, Up all Night, Mimi's Mountain Mixes
Arts & Crafts (nonfood/nonplant): Mountain Barkery, Mother Hubbard Crafts
Non-Profits Wellness Day Vendors: YAM (Yoga and Massage), The Buzz, Full circle Wellness, and The Free Clinics