Vendor List for August 19th Hendersonville Farmers Market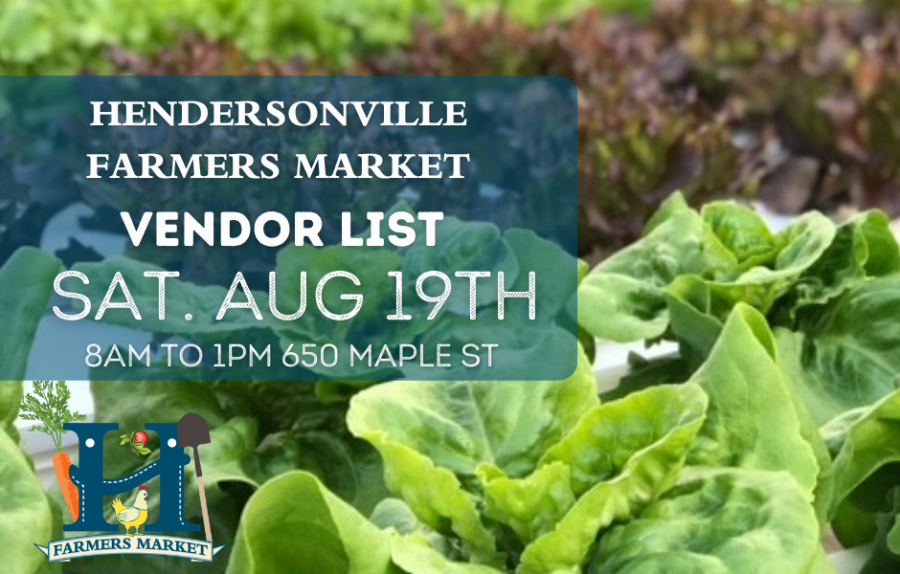 Participate in the summer fun at the Hendersonville Farmers Market on August 19th! Swing by Maple Street anytime from 8 AM to 1 PM for a great time. We're showcasing a variety of locally grown produce, delicious baked goods, and unique handmade crafts from our talented vendors. Enjoy the summer vibes and be part of this special community event. Don't forget to save the date for August 19th and join us for a fantastic day!
Be sure to stop by the Gen H Comprehensive Plan tent that will be set up on the plaza. Learn more, ask questions and help plan Hendersonville's future!
Live Music: Apple county String Band
Jam Tent: Rachael Mayes
Kid's Corner and Cooking Demo: Betsy NC Coop Extension
Farmers & Growers (produce, eggs, meat, honey, plants): Barry Farms, Bee-utiful Farm and Garden, Bright Branch Farm, Broom's Blooms, Black Dog Flowers Cleveland Natural Farms, Crow Holler Produce, Grateful Bed Farm, Gray Family Farmstead, House of Brandstracts, Honeybee Bliss, Lanning Road Farms, Morgan Farm, Newman Farm, Pressley Farm, Popp's Posies at The Popp Shoppe, Stump Farms, Sylvia's Succulents, Cacti and Plants, Tiny Bridge Farm, Teacher's Farm, Wild Goods
Value Added Food/Drink Vendors (baked goods, fermented foods, cheese, pasta etc.): Aw Shucks Popcorn, Barnhouse Kitchen, Homemade Pasta Noodles, Raspberry Fields, Sea of Sweets Bakery, ShareWell Coffee Co. & Roastery, Bretzel Bus by Underground Baking Co., Mimi's Mountain Mixes
Arts & Crafts (nonfood/nonplant): Mountain Barkery, Plated Bliss, Studio David, Eli Tomalka
Non-Profit: League of Women Voters