Tomato Day Vendor List!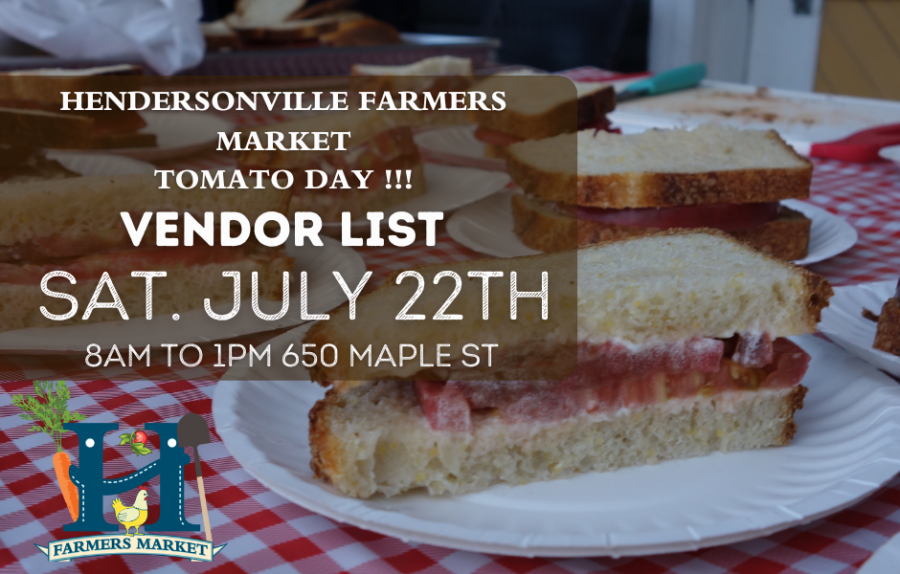 Join us for Tomato Day this Saturday, July 22nd! Experience a delightful day filled with all your beloved vendors and even more Tomato Day fun! Indulge in complimentary tomato sammies crafted from local Henderson County Tomatoes. Don't miss the chance to meet and greet with Tommy Tomato as they stroll around the event. And guess what? We're hosting a thrilling tomato Beauty Pageant too! The Hendersonville Farmers Market will be bustling with excitement from 8 am to 1 pm. Mark your calendars and make sure to drop by to enjoy the Tomato Day Celebration!
We want to shout out Underground Baking Co. for being our 2023 Tomato Day Sponsor!
Live Music: Rick Kuncicky
Jam Tent: Collin Cheek
Kid's Corner: Mindful Mornings Play School
TOMATO DAY ACTIVITES: Free Tomato Sammies! Tommy Tomato! Tomato Beauty Pageant!
Farmers & Growers (produce, eggs, meat, honey, plants): Bee-utiful Farm and Garden, Black Dog Flowers, Bright Branch Farm, Broom's Blooms, Cleveland Natural Farm, Crow Holler Produce, GourMays Mushroom Farm , Honeybee Bliss, House of Brandstracts, Lanning Road Farms, Morgan Farm, Popp's Posies at The Popp Shoppe, Saluda Grade Farm, Stump Farms, Sylvia's Succulents, Cacti and Plants, Tiny Bridge Farm, Tierra Fertil Coop LLC, Garden of Griffin, Teacher's Farm,
Value Added Food/Drink Vendors (baked goods, fermented foods, cheese, pasta etc.): Aw Shucks Popcorn, Barnhouse Kitchen, Deena's Bakery, Raspberry Fields, Sea of Sweets Bakery, Serotonin Ferments, ShareWell Coffee Co. & Roastery, Bretzel Bus by Underground Baking Co., Up All Night, Mimi's Mountain Mixes
Arts & Crafts (nonfood/nonplant): Mountain Barkery, Pottery, Plated Bliss, Glimmer Bee Creations, Double Cross Crochet, Dragon Metal Studios and Sage & Spirit, The Wild Ginkgo
Young Entrepreneur: A Piece of Maine, A & B Art
Sponsor Booths: Laura Flores Real Estate - Next Home