Ten Employees Graduate from City of Hendersonville Academy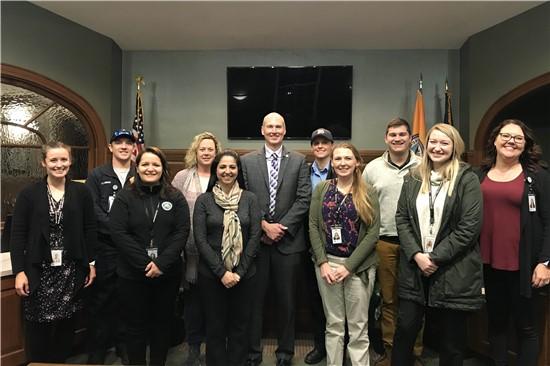 In September 2019, the City of Hendersonville initiated a third session of the City of Hendersonville Academy (COHA). The goal of COHA is to provide employees with a greater comprehension of City operations, services, programs, and finances to enhance their job performance. Members participate in evening training sessions to learn and network with staff and guest speakers on topics such as City hierarchy, levels of government, budget, Human Resources topics, and local economy and growth. Employees volunteer to participate on their own time. Employees taking part in the program are interested in increasing their knowledge, understanding all levels of the City, improving their department, and becoming leaders in the organization. The participants were recognized at the December City Council meeting.
City Manager John Connet is shown with the 2019 COHA graduates.
Back row L to R: Cameron Womack (Fire Department), Sarah Wykle (Water & Sewer), City Manager John Connet, Holly Nourigat (Fire Department), Drew Finley (Water & Sewer), Kimberly Jackson (Public Works)
Front row L to R: Allison Nock (Admin), Ligia Guinea (Finance), Tamara Amin (Finance), Kaitland Finkle (Finance), Ashley Staton (Finance)