Street Maintenance and Resurfacing 2022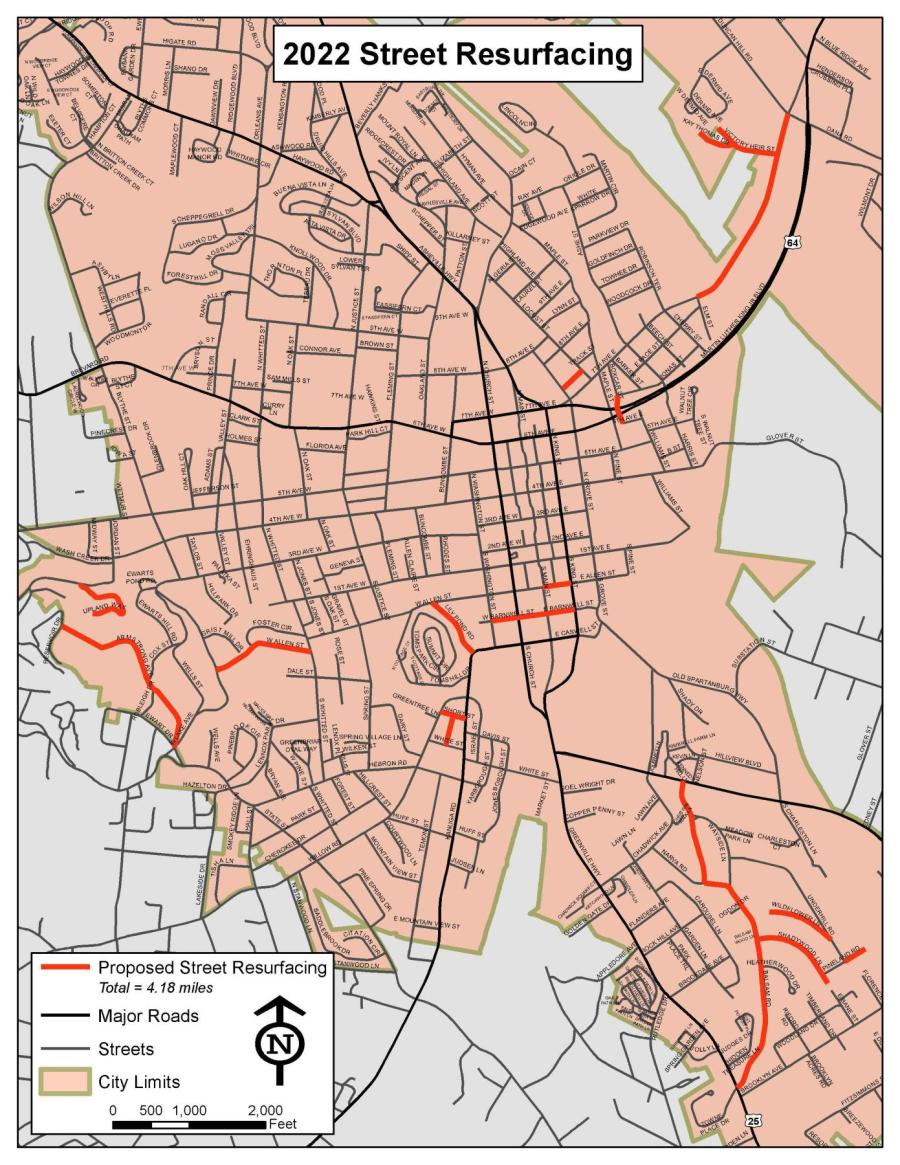 Throughout the month of October, the City of Hendersonville will be conducting street maintenance and repaving several streets within the City. Paving schedule is subject to change due to infrastructure improvement coordination and weather delays.
The paving contractor will be Tarheel Paving of Hendersonville and they will communicate with businesses and residents with a more specific schedule as it pertains to their street.
Streets to be resurfaced include:
Balsam Road from Spartanburg Highway to Greenville Highway

Wildflower Lane from Underhill Road to dead end

Shadywood Lane from Balsam Road to Pineland Road

Pineland Road from Underhill Road to dead end

Lily Pond Road from Kanuga Road to West Allen Street

Armstrong Avenue from West Lake Avenue to Reservoir Drive

West Allen Street from West Lake Avenue to Whitted Street

East Barnwell Street from Main Street to King Street

Short Street from Kanuga Road to Willow Road

Alley from Short Street to White Street

Upland Way from Jordan Street to Dead End

Barnwell Street from Main Street to Church Street

Barnwell Street from Church Street to Washington Street

Allen Street from King Street to Main Street

Edwards Alley from Allen Street to First Avenue

Edwards Alley from First Avenue to Second Avenue

Seventh Avenue East from the Mud Creek Bridge to Duncan Hill Road

Oklawaha Trail from Seventh Avenue to the Highway 64 Bridge

Victory Heir Street from Seventh Avenue East to Dead End

Kay Thomas Drive from Victory Heir Street to Dead End

Alley 2 from Locust Street to Grove Street
The extent of the maintenance will vary depending on the situation. Some streets may simply be given a new layer of asphalt overlaying the existing surface, while other streets may require some milling before a layer of new asphalt is applied.
The City of Hendersonville uses a Pavement Condition Survey to determine the condition of city-maintained streets and to establish a prioritized repair program. Major thoroughfares through the City are maintained by the North Carolina Department of Transportation (NCDOT). A resource to determine whether a street is maintained by the City of Hendersonville or NCDOT is the pavement condition map available on the City of Hendersonville website.
For questions about this project, please call the City of Hendersonville Public Works Department at (828) 697-3084.