Streambank Repair Workshop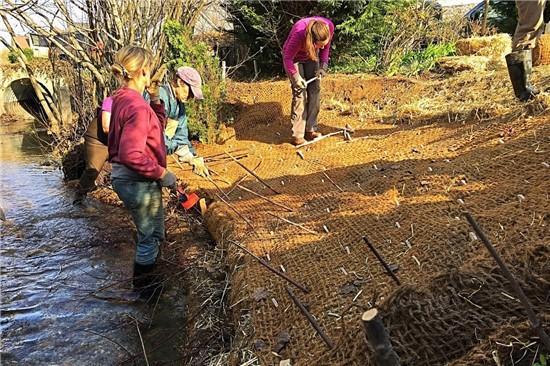 *This Workshop is Full - Thank you to all who have registered!*
The City of Hendersonville will be hosting a Streambank Repair Workshop facilitated by the NC Cooperative Extension on March 13, 2019. This workshop will teach participants how to protect streambanks and improve the environment by stabilizing streams on their property.
"This workshop is an excellent opportunity for homeowners and landscape professionals to learn about stream bank restoration techniques that can address mild to moderate stream bank erosion," said Stormwater Administrator Michael Huffman. "The flooding and heavy rains we experienced last year impacted many of the small streams in the area, causing increased erosion and property damage. This workshop demonstrates how property owners can address these issues on a limited budget using natural design concepts."
The workshop will begin with a classroom portion of instruction held at the City of Hendersonville Operations Center located at 305 Williams Street. The afternoon will consist of an outdoor, hands-on session during which students will participate in a stream repair exercise in Patton Park. Not only will participants learn techniques to be taken home to repair problem streambanks, they will be helping to improve and beautify a section of public green space for others to enjoy.
The City of Hendersonville is offering this workshop free of charge and would like to thank the NC Cooperative Extension for their partnership in offering this opportunity for residents to learn how to create healthy stream environments using natural materials and native plants.
Photo: A 2018 Bank Stabilization Project at Brandy Branch in Mills River Village involving NC Cooperative Extension, Mills River Partnership, Jennings Environmental, Sierra Nevada, Asheville Greenworks and City of Hendersonville Stormwater. Photo credit Mills River Partnership.