September 3rd Vendor List For Hendersonville Farmers Market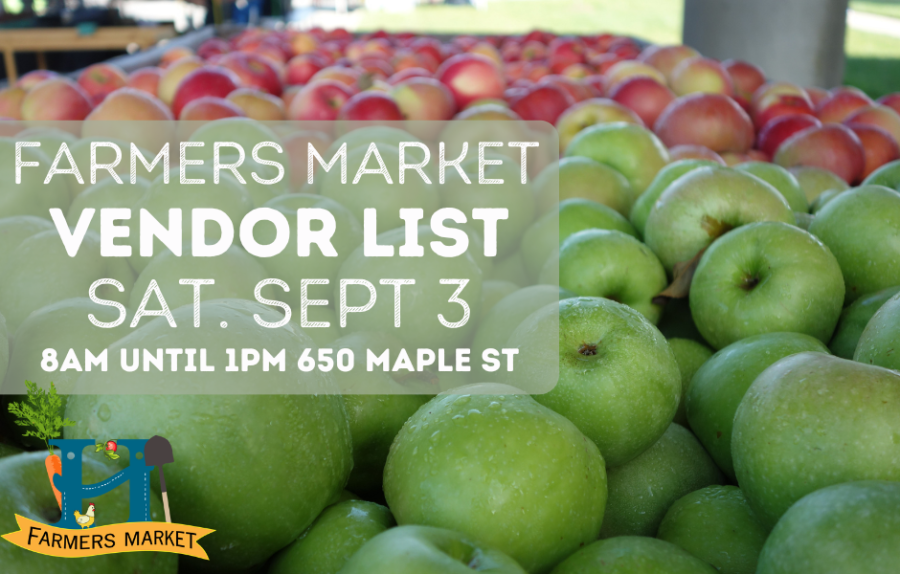 With Apple Festival on the way, we are ready to have another amazing Saturday at Hendersonville Farmers Market! Customers will find 30+ local vendors offering seasonal produce, baked goods, handmade crafts, and more! Check out this week's vendor and activity lineup below.
Live Music: Hightop Mountain Harmony (Depot) and Barn Spiders (Jam Tent)
Kids' Activities:
Kids' Corner: Art Council activity/ Kid Yoga 10 & 10:30
Face painting at the Depot
Cooking Demo: 10-11am with Homemade Pasta Noodle
Farmers & Growers (produce, eggs, meat, honey, plants): Barry Farms, Bee-utiful Farm and Garden, Black Dog Flowers, Bright Branch Farm, Broom's Blooms, Crow Holler Produce, Fair Hollow Garden, Fruitland Farmstead, Garden of Griffin, GourMays Mushroom Farm, Honeybee Bliss, Newman Farms, Pressley Farm, Saluda Grade Farm, Sylvia's Plants, Violet Aurora Farm
Value Added Food/Drink Vendors (baked goods, fermented foods, cheese, pasta etc.): Asheville Pretzel Co, Brandstracts, Deena's Bakery, Homemade Pasta Noodles, Mimi's Mountain Mixes, Raspberry Fields, ShareWell Coffee Co. & Roastery, Sweet Brine'd, Brezel Bus by Underground Baking Co. , Young's Backyard BBQ
Arts & Crafts (nonfood/nonplant): JCS Pottery, Michael Blake's Handmade Baskets, Mother Hubbard Crafts, Out of the Drawer Quilts, Studio 1221, Whimsical Whatnots, Z-Bugs and Pixi
Young Entrepreneurs: Studio 1221, Z-Bugs and Pixi
Nonprofit: Hendrick Rhodes VFW Post 5206
Sponsors: Printville, Yoga and Massage
Hendersonville Farmers Market takes place every Saturday (May-Oct) at the Historic Train Depot on 650 Maple Street, 8am-1pm. Learn more at hendersonvillefarmersmarket.com.