Sept 4 at Hendersonville Farmers Market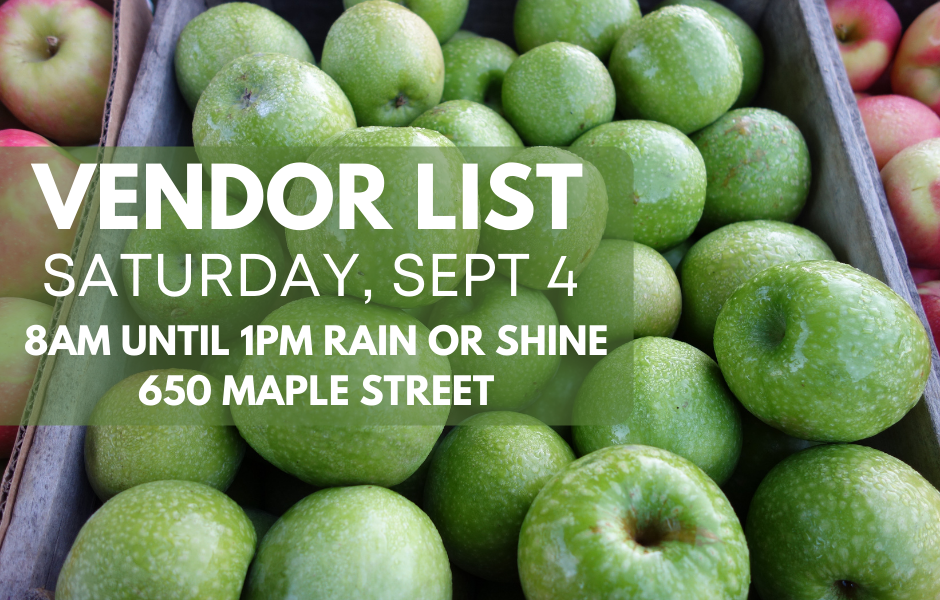 Whatever your holiday weekend plans may be, make sure you've penciled in a visit to the market this Saturday! From apples to kid yoga to a cooking demo, there are unique experiences to be had for any age! More than 35 vendors will be offering homegrown and handmade products including fresh produce, baked goods, cheese, honey, plants, crafts and more.
*Masks are required in the Historic Train Depot*
Apple Festival Weekend Feature: Bright Branch Farm Homegrown Apples & More! They will have 6 varieties of apples including plenty of Honeycrisp. Bright Branch will also be offering Apple Slushies, Apple Cider Doughnuts, Apple Pies, Apple Pie Filling, and Assorted Jams along with their usual offering of mixed fruits and Veggies.
Cooking Demo: Join Launa Tierney of Homemade Pasta Noodles for a live cooking demo (including free samples) from 10-11am. Sponsored by Hendersonville Community Coop.
Kid's Corner: Kid Yoga: Visit the Kid's Corner for free 20-minute YAM Kid Yoga sessions at 10 and 10:30am for ages 3-10, mats provided.
Live Music: Fiddlin' Ryn
Sponsor Table: One Health Primary Direct Care
Farmers & Growers (produce, eggs, meat, honey): Barry Farms, Bee-utiful Farm and Garden, Black Dog Flowers, Bright Branch Farm, Broom's Blooms, Crow Holler Produce, Garden of Griffin, Gray Family Farmstead, Honeybee Bliss, M & M Berry Farm, Mickey Lively Plants, Natural Foods, Newman Farm, Pressley Farm, Simply Caught Seafood, Sylvia's Succulents, Cacti and Plants,
Prepared Food/Drink Vendors (baked goods, fermented foods, value added products): Asheville Pretzel Co, Chef Squared Co., Deena's Bakery, Echo Mountain Inn Cold Pressed Juice, Homemade Pasta Noodles, Mimi's Mountain Mixes, Raspberry Fields, Sea of Sweets Bakery, ShareWell Coffee Co. & Roastery, Spinning Spider Creamery, Sweet Brine'd, Underground Baking Co.
Arts & Crafts (nonfood/nonplant): KickAshe, Mother Hubbard Crafts, Mountain Barkery, Paper Clutz Co., Two Chicks Pottery, Whimsical Whatnots
Food Truck: Feta Flav
Nonprofit: League of Women Voters – Henderson County