Rhythm & Brews Kicks Off 2023 Season May 18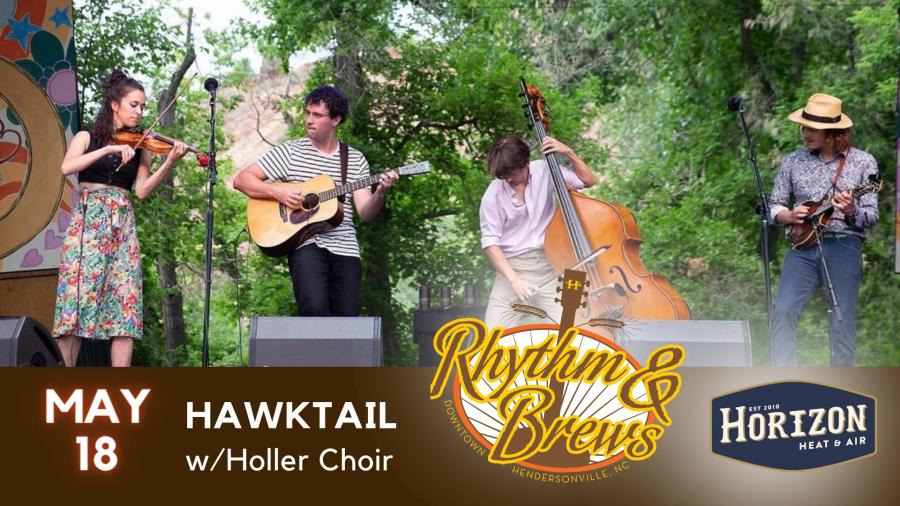 Rhythm & Brews Concert Series Reveals 2023 Season Lineup
HENDERSONVILLE, NC, April 10, 2023 – Summer is approaching, and so too is the Rhythm & Brews Concert Series, presented by Horizon Heating & Air! Beginning in May and running through September, these free outdoor shows will ramp up downtown fun on the third Thursday of each month, complete with craft beverages, food trucks and kids' activities. Each concert will take place at the south end of Main Street, closing off the blocks between Allen and Caswell streets. Also contributing to the presentation of this concert series are Norm's Minit Mart, Yoga and Massage, B Squared Realty, Optimum, Van Winkle Law Firm, and BGW CPA. Rhythm & Brews and the Friends of Downtown Hendersonville have also received generous support from the Henderson County Tourism Development Authority.
As the premier live music series of Hendersonville, Rhythm & Brews brings in a variety of established acts as well as up-and-coming artists from around the nation. Whether you love soul, rock, bluegrass or the funky stuff, Rhythm & Brews will put a smile on your face and broaden your musical horizons.
Headliner: Hawktail
is a quartet that could be defined as a supergroup, considering the high caliber of musicianship consisting of fiddler Brittany Haas, bassist Paul Kowert, mandolinist Dominick Leslie, and guitarist Jordan Tice. This quartet brings something special to Bluegrass, their synchronized and responsive playing evokes not only fine Bluegrass but also classical chamber music and the magic of a hot Jazz combo. The four Hawktail musicians wear their virtuosity lightly, with perfection and deep skill but no flashiness or egotism. The four blend and move as one. Knowing when to pull back or drop out to support the other player is a special skill that great groups have, and these guys epitomize what that means.
Opening Act:
Holler Choir
is a string band outfit breaking out in the South East's Roots Music Scene in 2023. Holler Choir's band members include Clint Roberts (guitar, vocals), Helena Rose (banjo, vocals), Norbert McGettigan (bass, vocals), Bridger Dunnagan (fiddle), and a rotating cast of additional talent. Their sound features tight vocal harmonies, driving clawhammer banjo energy, introspective lyrics, and melodic hooks reminiscent of 90's Triple A radio hits. In late 2022, The band joined forces with Michael Ashworth again to produce Holler Choir's debut full-length record, "Songs Before They Write Themselves", set to release in the Summer of 2023. The record was tracked in the historic Echo Mountain Studios church room and was engineered by Hillsboro-based Jason Richmond (Avett Brothers, Rising Appalachia). Grammy Award-winning engineer Kim Rosen mastered the album.
Opening acts will kick off each evening at 5:30 p.m. followed by the headliner performance from 7:30-9:30 p.m. Doors open at 5:15 p.m.
For the youngest in the family, the Hendersonville Honeycrisps & the Hendersonville Toy Company Kid Zone will provide kid-friendly fun, including hula-hooping and activities provided by Hands On! Children's Museum. Meanwhile, adults can enjoy downtown Hendersonville's first fully integrated beer and wine garden featuring locally crafted drinks from Sierra Nevada Brewing Co., Bold Rock Hard Cider, Guidon Brewing Co., Oklawaha Brewing Co., Dry Falls Brewery, Saint Paul Mountain Vineyards, and Flat Rock Cider Company.
All net proceeds from adult beverage sales will benefit the Friends of Downtown Hendersonville 501c3 nonprofit, whose mission is to identify, preserve and enhance the key factors that contribute to the authentic small town urban character of historic downtown Hendersonville. In recent years, the Friends of Downtown Hendersonville has supported downtown businesses with over $35,000 in direct business support through the façade and pivot grant programs.
Looking for a fun volunteer opportunity? Lending your time at Rhythm & Brews is a great way to meet new people and get involved in a community event. Fill out the Volunteer Interest Form to get started.
Rhythm & Brews Concert Series was started in 2013 by Friends of Downtown Hendersonville, a 501c3 nonprofit operated by the Downtown Division of the City of Hendersonville Community Development Department. For more information, visit downtownhendersonville.org.