Rhythm & Brews Concert Series Reveals 2023 Season Lineup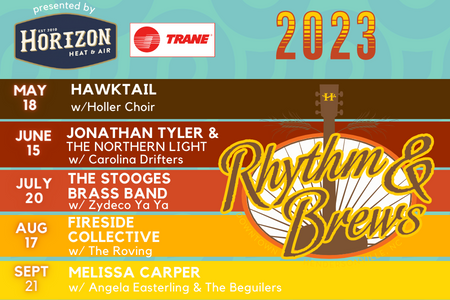 Rhythm & Brews Concert Series Reveals 2023 Season Lineup
HENDERSONVILLE, NC, April 10, 2023 – Summer is approaching, and so too is the Rhythm & Brews Concert Series, presented by Horizon Heating & Air! Beginning in May and running through September, these free outdoor shows will ramp up downtown fun on the third Thursday of each month, complete with craft beverages, food trucks and kids' activities. Each concert will take place at the south end of Main Street, closing off the blocks between Allen and Caswell streets. Also contributing to the presentation of this concert series are Norm's Minit Mart, Yoga and Massage, B Squared Realty, Optimum, Van Winkle Law Firm, and BGW CPA. Rhythm & Brews and the Friends of Downtown Hendersonville have also received generous support from the Henderson County Tourism Development Authority.
As the premier live music series of Hendersonville, Rhythm & Brews brings in a variety of established acts as well as up-and-coming artists from around the nation. Whether you love soul, rock, bluegrass or the funky stuff, Rhythm & Brews will put a smile on your face and broaden your musical horizons.
2023 Rhythm & Brews Concert Series Lineup:
May 18: Hawktail [[Bluegrass/Americana/String]] with Holler Choir [[Americana/String]]
June 15: Jonathan Tyler & The Northern Lights [[Blues Rock/Southern Rock]] with Carolina Drifters [[Southern Rock]]
July 20: The Stooges Brass Band [[New Orleans Brass Band]] with Zydeco Ya Ya [[Zydeco/Cajun Swing]]
August 17: Fireside Collective [[Progressive Bluegrass]] with The Roving [[ Americana/Indie/Rock]]
September 21: Melissa Carper [[Americana/Western Swing]] with Angela Easterling & The Beguilers [[Singer/Songwriter]]
Opening acts will kick off each evening at 5:30 p.m. followed by the headliner performance from 7:30-9:30 p.m. Doors open at 5:15 p.m.
For the youngest in the family, the Hendersonville Honeycrisps & the Hendersonville Toy Company Kid Zone will provide kid-friendly fun, including hula-hooping and activities provided by Hands On! Children's Museum. Meanwhile, adults can enjoy downtown Hendersonville's first fully integrated beer and wine garden featuring locally crafted drinks from Sierra Nevada Brewing Co., Bold Rock Hard Cider, Guidon Brewing Co., Oklawaha Brewing Co., Dry Falls Brewery, Saint Paul Mountain Vineyards, and Flat Rock Cider Company.
All net proceeds from adult beverage sales will benefit the Friends of Downtown Hendersonville 501c3 nonprofit, whose mission is to identify, preserve and enhance the key factors that contribute to the authentic small town urban character of historic downtown Hendersonville. In recent years, the Friends of Downtown Hendersonville has supported downtown businesses with over $35,000 in direct business support through the façade and pivot grant programs.
The Rhythm & Brews Super Fan Tent, sponsored by B Squared Realty, provides an enhanced experience with a shaded viewing area including beer, wine and light refreshments. Individuals can become R&B Super Fans by purchasing a season package sponsorship for $200, LIMITED quantities remain! The package includes two tent tickets to each show, four beverage tickets for each show and two R&B season t-shirts. Becoming a R&B Super Fan sponsor will not only help sustain R&B, but other Downtown Program events including Hendersonville Farmers Market, the Bearfootin' Art Walk, and more. Visit the event website for more information on how to become a Super Fan.
Looking for a fun volunteer opportunity? Lending your time at Rhythm & Brews is a great way to meet new people and get involved in a community event. Fill out the Volunteer Interest Form to get started.
Rhythm & Brews Concert Series was started in 2013 by Friends of Downtown Hendersonville, a 501c3 nonprofit operated by the Downtown Division of the City of Hendersonville Community Development Department. For more information, visit downtownhendersonville.org.