Pollinator Day (June 4) Vendor List at Hendersonville Farmers Market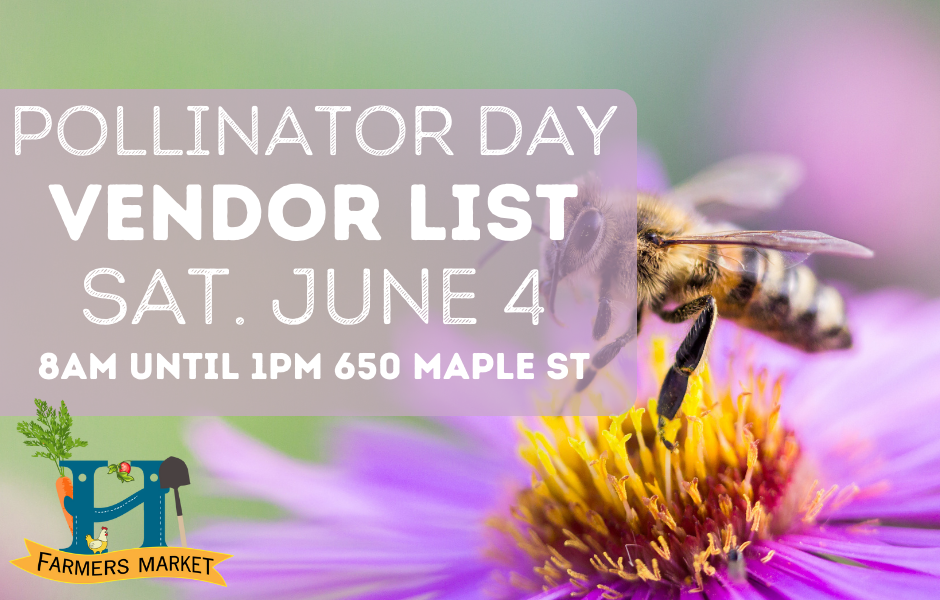 Hendersonville Farmers Market is excited to celebrate pollinators with activities and learning experiences for the whole family! Pick up a Pollinator Day passport to fill out and win a prize!
Pollinator Day related booths and activities:
Hendersonville Bee City USA, Walking Tours of the Beeline Mural, Cooking Demo with Launa Tierney of Homemade Pasta Noodles, Kids' Corner: Arts Council craft + Kid Yoga with Yoga and Massage, Observation Hive with Honeybee Bliss, and Asheville Greenworks Display
PLUS, all your favorite vendors!
Farmers & Growers (produce, eggs, meat, honey, plants): Barry Farms, Black Dog Flowers, Bright Branch Farm, Broom's Blooms, Colfax Creek Farm, Cleveland's Natural Farm, Crow Holler Produce, Fruitland Farmstead, Garden of Griffin, Grateful Bed Farm, Morgan Farm, Honeybee Bliss, Laurel Creek Plant Farm, Saluda Grade Farm, Sylvia's Plants, Tiny Bridge Farm, Violet Aurora Farm
Value Added Food/Drink Vendors (baked goods, fermented foods, cheese, pasta etc.): Asheville Pretzel Co, Barnhouse Kitchen, Deena's Bakery, Homemade Pasta Noodles, Raspberry Fields, Sea of Sweets Bakery, Serotonin Ferments, Shanti Elixirs, ShareWell Coffee Co. & Roastery, Sophia's Tamales, Underground Baking Co.'s Brezel Bus, Young's Backyard BBQ
Arts & Crafts (nonfood/nonplant): Handmade Baskets by Mike Blake, Mountain Barkery, Options 1111, Paper Clutz Co., Sister Soaps, Sophia's Boutique, Studio 1221, Yoga and Massage
Hendersonville Farmers Market takes place every Saturday (May-Oct) at the Historic Train Depot on 650 Maple Street, 8am-1pm. Learn more at hendersonvillefarmersmarket.com.