Police Department Employee of the Quarter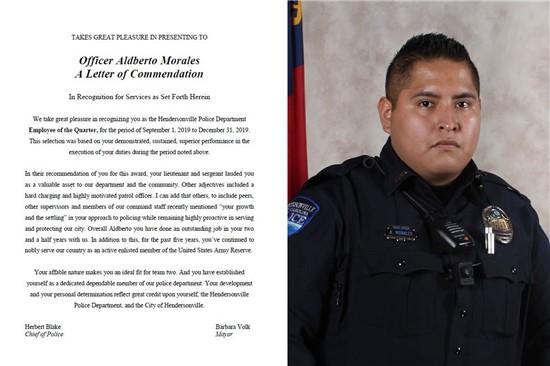 Officer Aldberto Morales received the following Letter of Commendation announcing him as Hendersonville Police Department's most recent Employee of the Quarter. We congratulate Officer Morales on this well-deserved recognition.
Aldberto Morales
A Letter of Commendation
In Recognition for Services as Set Forth Herein
We take great pleasure in recognizing you as the Hendersonville Police Department Employee of the Quarter, for the period of September 1, 2019 to December 31, 2019. This selection was based on your demonstrated, sustained, superior performance in the execution of your duties during the period noted above.
In their recommendation of you for this award, your lieutenant and sergeant lauded you as a valuable asset to our department and the community. Other adjectives included a hard charging and highly motivated patrol officer. I can add that others, to include peers, other supervisors and members of our command staff recently mentioned "your growth and the settling" in your approach to policing while remaining highly proactive in serving and protecting our city. Overall, Aldberto, you have done an outstanding job in your two and a half years with us. In addition to this, for the past five years, you've continued to nobly serve our country as an active enlisted member of the United States Army Reserve.

Your affable nature makes you an ideal fit for team two. And you have established yourself as a dedicated and dependable member of our police department. Your development and your personal determination reflect great credit upon yourself, the Hendersonville Police Department, and the City of Hendersonville.
Herbert Blake Barbara Volk
Chief of Police Mayor