North Carolina Main Street Champions Honored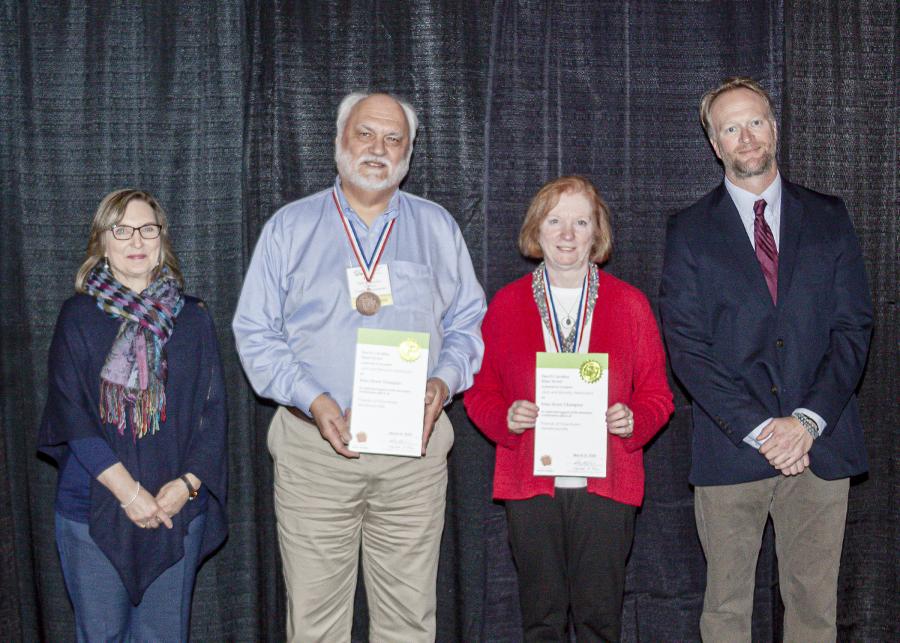 North Carolina Main Street Champions Honored
New Bern, N.C. - The 2019 North Carolina Main Street Champions, individuals that work and advocate for revitalized downtowns, were recognized for their commitment at a recognition ceremony in New Bern last month.
"Despite the short-term uncertainty in the global economy right now, vibrant downtowns will remain catalysts for North Carolina's economic prosperity in the years ahead," said North Carolina Commerce Secretary Anthony M. Copeland. "These honorees have shown considerable creativity and dedication in improving their communities. We're proud to honor their vision and hard work as Main Street Champions."
N.C. Commerce and the N.C. Main Street program began recognizing Main Street Champions in 2000. "It's long been well-known that successful downtown economic development doesn't happen by luck," said Liz Parham, director of the N.C. Main Street & Rural Planning Center. "There are always hardworking people behind these efforts, and we wanted to take time each year to put the focus on leaders who are making a real difference in their communities. Main Street Champions serve as a valuable thinktank for future projects and innovation," Parham said.
Forty-five Champions will receive honors for contributions to their Main Street programs and downtown districts in 2019. With this year's group, 766 Champions have been recognized by the North Carolina Department of Commerce over the past 20 years.
The 2019 North Carolina Main Street Champions are:
Peter Asciutto – Albemarle
Angela Street – Belmont
Ann Dergara – Brevard
Kathy Hykes and the late Bob Hykes – Burlington
Bob Barker – Cherryville
Sampson County Extension Master Gardeners – Clinton
Cabarrus Arts Council – Concord
David and Rhonda Price – Eden
Candace Thompson – Edenton
James Flanigan and Kevin O'Leary – Elizabeth City
John Cheek – Elkin
Peter Ustach – Elon
Melissa Cantrell – Forest City
Mollie Stephenson – Fuquay-Varina
Jason Waters – Garner
Julie Metz – Goldsboro
Jack and Beverly Maniscalco – Hendersonville
Julie Owens – Hickory
Frank Stewart – Kings Mountain
Cory Hughes – Laurinburg
City of Lenoir Public Works - Sanitation Division – Lenoir
Robin Bivens – Lexington
Tracy Cotton – Marion
Kim Saragoni – Mooresville
Jenn Williams – Morehead City
Angela Shores – Morganton
Bill Faulkenberry and David Griffith – New Bern
Angela and Neal Powell – Newton
North Wilkesboro Police Department -North Wilkesboro
Lori Dutra – Oxford
Ron Wheeler – Reidsville
Adam Wolfe – Roxboro
Warren Ormiston – Rutherfordton
Pam Hylton Coffield – Salisbury
Elizabeth Whitmore – Sanford
David White – Shelby
Jud Patterson and Suzanne Taylor – Smithfield
David and Stephanie Whitson - Spruce Pine
Steve Hill – Statesville
Winston Dozier – Troy
Wanda May – Tryon
Douglas Pearce – Wake Forest
Karen Johnson – Waxhaw
Alex McKay – Waynesville
Wilson City Council – Wilson
Beverly and Jack Maniscalco were honored as Hendersonville's 2019 Main Street Champions. Always with a smile and a "what do we do next?" Jack and Beverly have become a fixture at all Downtown Hendersonville events.
Together giving over 120 hours of volunteer time, Jack and Beverly are a dynamic duo even known to bring along their grandkids to model the importance of volunteerism. From setting up and tearing down at the summer concert series Rhythm & Brews, to collecting tables from the vendors at the Antique & Vintage show, their gentle teasing and quick laughter makes hard physical work a fun task.
"The Maniscalco's always answer the call to volunteer manifesting with their attitude and approach their genuine love for downtown." Said Lew Holloway, Downtown Economic Director, "Volunteers like Jack and Beverly are what have helped our events become so successful."
If you'd like to volunteer alongside the Maniscalco's the Friends of Downtown Hendersonville has a variety of opportunities throughout the year. While the Downtown Program continues to evaluate the event schedule for 2020 in light of restrictions associated with our collective response to COVID-19, we will be moving forward on many of them as time, community recovery and restrictions allow. In the meantime, you can go to DowntownHendersonville.org to learn more about our organization and to sign up to receive future communication about our Friends of Downtown Hendersonville volunteer opportunities.