North Carolina Apple Festival Recognized as North Carolina Main Street Champion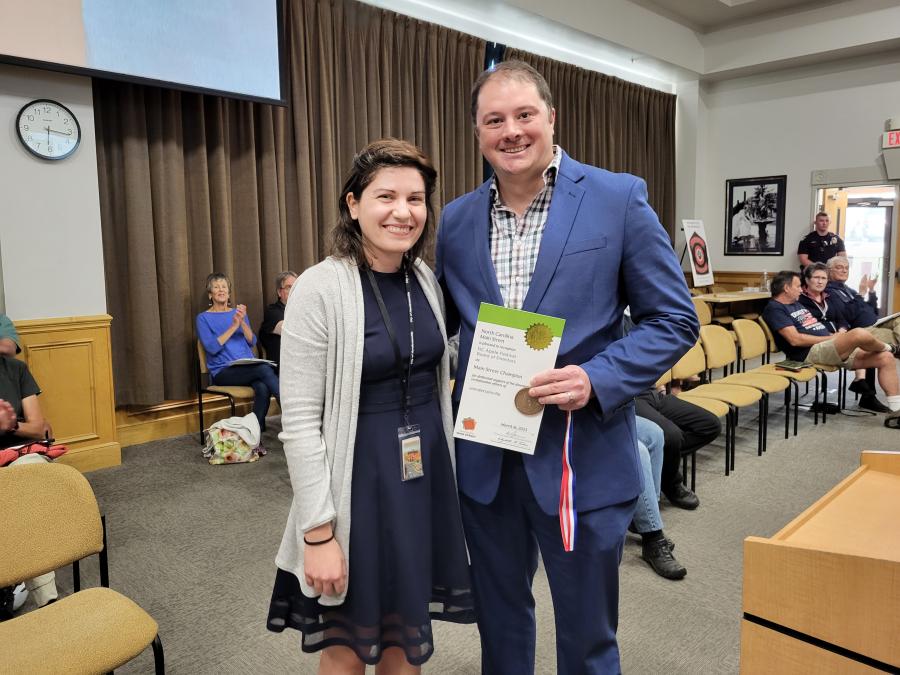 North Carolina Apple Festival Recognized as North Carolina Main Street Champion
The Board of Directors of the North Carolina Apple Festival were recognized among thirty-eight North Carolina Main Street Champions at the North Carolina Main Street Conference in Statesville on March 16, 2023.
"There are three common elements that are found in successful communities. These elements are asset based economic development strategies, public and private partnerships, and local champions," said Kenny Flowers, Assistant Secretary of Rural Economic Development at the N.C. Department of Commerce.
"Main Street Champions are the key to success in downtown revitalization. They possess courage to move downtown forward; they fight for positive change and do that with creativity and innovation; and they actively get things done, while staying focused on the downtown's economic development strategies," said Liz Parham, Director of the N.C. Main Street & Rural Planning Center at Commerce.
"The North Carolina Apple Festival's Executive Board is receiving this recognition for their work as an all-volunteer group of Hendersonville community members, apple growers, and overall community cheerleaders," said Jamie Carpenter, Downtown Manager.
"This five-day festival brings over 250,000 attendees and produces a $12 million economic impact in the Hendersonville economy. Volunteering to put on the festival is often a family affair, with generations coming together for the love of the event and community," said Downtown Manager Carpenter.
A public recognition was held at the monthly meeting of Hendersonville City Council on April 12, 2023.
Hendersonville - NC Apple Festival Board of Directors from NC Main Street Center on Vimeo.
###
ABOUT DOWNTOWN HENDERSONVILLE
The Friends of Downtown Hendersonville and Downtown Advisory Board exist to identify, preserve, and enhance the key factors that contribute to the authentic small town urban character of historic downtown Hendersonville. Organizational projects are identified, assessed, and prioritized based on their contribution to and potential to enhance and support a vibrant entrepreneurial environment and the livability of downtown.
Photo: City of Hendersonville Downtown Manager presented Apple Festival Board Chair Mark Shepherd with the Main Street Champion award at the April 12th Hendersonville City Council meeting.