May 14 Vendor List at Hendersonville Farmers Market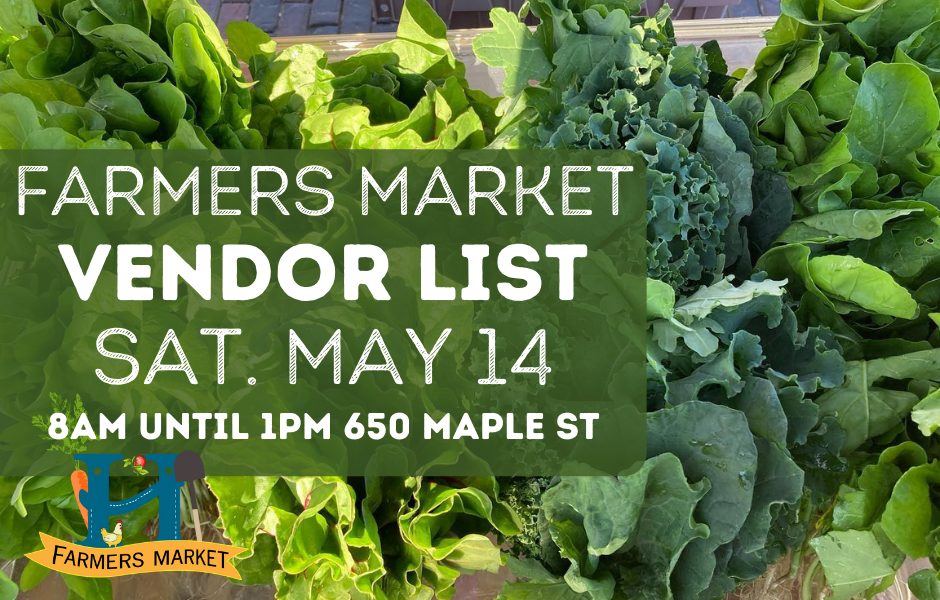 We're rolling into our second market weekend with a great lineup on our hands. They say the strawberries only get sweeter as the season goes on! See the full vendor lineup below.
Live Music: Pine Hill Music Werks (depot) and Barn Spiders (Jam Tent)
Kids' Corner: Make veggie stamp art with Hands On! Children's Museum
Farmers & Growers (produce, eggs, meat, honey, plants): Almost Eden, Barry Farms, Bee-utiful Farm and Garden, Black Dog Flowers, Bright Branch Farm, Broom's Blooms, Colfax Creek Farm, Crow Holler Produce, Grateful Bed Farm, Gray Family Farmstead, Greenhill Worm Farm, Morgan Farm, Honeybee Bliss, Saluda Grade Farm, Sylvia's Plants, Violet Aurora Farm
Value Added Food/Drink Vendors (baked goods, fermented foods, cheese, pasta etc.): Asheville Pretzel Co, Barnhouse Kitchen, Boom Boom Kettle Corn, Deena's Bakery, Mimi's Mountain Mixes, Pullman Bread, Raspberry Fields, Sea of Sweets Bakery, Serotonin Ferments, ShareWell Coffee Co. & Roastery, Sophia's Tamales, Spinning Spider Creamery, Underground Baking Co.'s Brezel Bus
Arts & Crafts (nonfood/nonplant): Dragon Metal Studios, Baskets by Mike Blake, Happy Toad Pottery, Iris Folk Medicinals, Mountain Barkery, Sophia's Boutique, Studio David M, Whimsical Whatnots, The Wild Ginkgo
Nonprofit: NC Farms App
Hendersonville Farmers Market takes place every Saturday (May-Oct) at the Historic Train Depot on 650 Maple Street, 8am-1pm.