Locals Invited to Submit Sidewalk Mural Ideas for 5th Avenue Art Route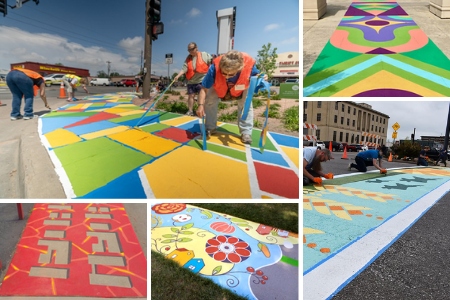 Locals Invited to Submit Sidewalk Mural Ideas for 5th Avenue Art Route
Friends of Downtown Hendersonville launches community sidewalk mural project funded by AARP Community Challenge Grant
July 28, 2021 – Imagine your art in Downtown Hendersonville! The community is invited to submit concepts and ideas for a sidewalk mural on 5th Avenue in Downtown Hendersonville in a project funded by an AARP Community Challenge Grant, designed for quick action projects to help communities become more livable for people of all ages. The Friends of Downtown Hendersonville are one of only 244 grantees selected from across all 50 states, Washington D.C, Puerto Rico and the U.S. Virgin Islands.
This project will build the pedestrian connection between the two downtown commercial districts through creative visible sidewalk murals that will be selected and created through an engaged community process.
The City of Hendersonville has made strategic efforts to connect the 7th Avenue and Main Street districts, including a public-private partnership to complete the historic rehabilitation of the award-winning Grey Mill redevelopment workforce housing project that is located along 5th Avenue and serves as an anchor between the districts. Additionally, the Friends of Downtown began the Hendersonville Farmers Market in 2020 on Maple Street, a connection that will serve as a destination at the end of the 5th Avenue Art Route.
"We are thrilled to receive this grant from AARP to create this pedestrian focused art route." said Hendersonville Mayor Barbara Volk. "This project is a creative way to engage with the community that will bring visibility to the pedestrian corridor connecting Main Street to 7th Avenue. I'm looking forward to all of the creative ideas our community brings during this project and walking along the route when it is completed!"
The community is invited to submit proposals for the project between July 28 and August 10. and there will be opportunities for the community to provide input and participate in the painting of the artwork. The selected artist(s) will be commissioned to design and produce original artwork onsite in the form of a sidewalk mural, a stipend for selected artists will be provided. There are no age restrictions, or limit of number of concepts an individual or group may submit. The top designs will be shared publicly for community to vote online and at downtown events in August. The mural will then be completed by the artists and volunteers in a community painting day(s) in September.
Proposal applications can be found at downtownhendersonville.org.
About the AARP Community Challenge Grant:
The Community Challenge funds innovative projects that inspire change in areas such as transportation, public spaces, housing, diversity and inclusion, civic engagement, coronavirus recovery and more.
It's all part of AARP's nationwide work on livable communities, which supports the efforts of neighborhoods, towns, cities and counties across the country to become great places for all residents. AARP believes that communities should provide safe, walkable streets; affordable and accessible housing and transportation options; access to needed services; and opportunities for residents to participate in community life.
The 5th Avenue Art Route is a quick-action project meant to build community engagement and connections around a creative project that encourages safe, walkable routes between the two commercial districts.
"When it comes to improving the walkability and ascetics of downtown Hendersonville, people of all ages benefit, as well as downtown merchants. Improving Hendersonville's open spaces is a great way to beautify the city while engaging volunteers and the community. AARP is excited to see how this project will make meaningful improvements," explains AARP North Carolina Associate State Director Rebecca Chaplin.
To learn more about the work being funded by the AARP Community Challenge across the nation – including all 244 granted projects this year, visit aarp.org/CommunityChallenge. You can also view an interactive map of all Community Challenge projects and AARP's livable communities work at aarp.org/livable.
###
ABOUT THE FRIENDS OF DOWNTOWN HENDERSONVILLE
The Friends of Downtown Hendersonville exist to identify, preserve and enhance the key factors that contribute to the authentic small town urban character of historic downtown Hendersonville. For more information, visit downtownhendersonville.org.