Juneteenth Vendor List at Hendersonville Farmers Market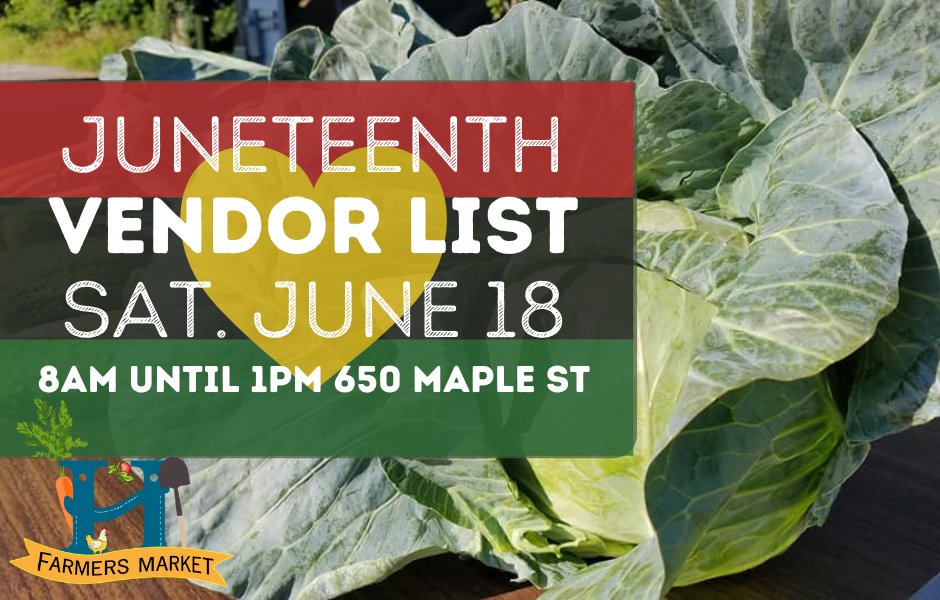 On Saturday, June 18, Hendersonville Farmers Market will celebrate Juneteenth with activities, free food, and learning experiences for the whole family. Customers can expect to have access to all the locally made products from regular season vendors in addition to the South end of the market being dedicated to Juneteenth.
"This is an event for the community to come together to create unity," says Melinda Lowrance, who represents the Star Lite Chapter #510 Order of the Eastern Star which is leading the event.
The Juneteenth Market will feature: Free barbeque (taking donations), face painting, a DJ, dancing, bubbles, book display, and a local Black/African American history display. Guest speakers include Andrew Aydin, who worked with the late Congressman John Lewis, and Preston Blakely, Mayor of Fletcher.
PLUS, all your favorite vendors!
Farmers & Growers (produce, eggs, meat, honey, plants): Barry Farms, Black Dog Flowers, Bright Branch Farm, Broom's Blooms, Cleveland's Natural Farm, Crow Holler Produce, Garden of Griffin, GourMays Mushroom Farm, Grateful Bed Farm, Gray Family Farmstead, Honeybee Bliss, Morgan Farm, Saluda Grade Farm, Sylvia's Plants, Tiny Bridge Farm, Violet Aurora Farm
Value Added Food/Drink Vendors (baked goods, fermented foods, cheese, pasta etc.): Asheville Pretzel Co, Barnhouse Kitchen, Deena's Bakery, Glykalogy Sweet Cart, Homemade Pasta Noodles, Mimi's Mountain Mixes, Pullman Bread, Raspberry Fields, Sea of Sweets Bakery, Serotonin Ferments, Shanti Elixirs, ShareWell Coffee Co. & Roastery, Sophia's Tamales, Spinning Spider Creamery, Underground Baking Co.'s Brezel Bus
Arts & Crafts (nonfood/nonplant): Happy Toad Pottery, Handmade Baskets by Mike Blake, Mountain Barkery, Parish Members of St. Anthony The Great, Sister Soaps, Sophia's Boutique, Studio 1221, Yoga and Massage
Hendersonville Farmers Market takes place every Saturday (May-Oct) at the Historic Train Depot on 650 Maple Street, 8am-1pm. Learn more at hendersonvillefarmersmarket.com.