July 9 Vendor List at Hendersonville Farmers Market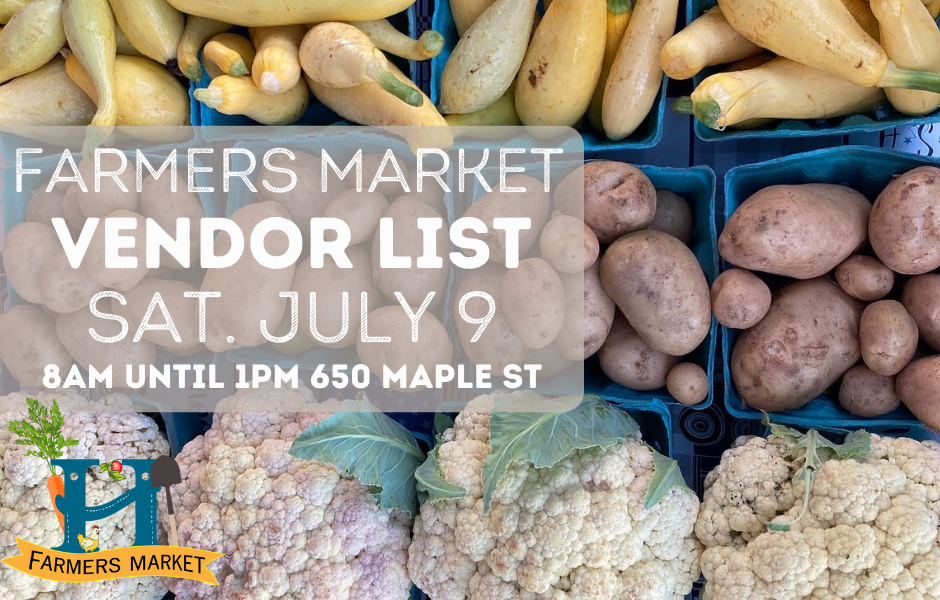 Hellooo summer harvest! You do not want to miss this Saturday's offerings from our vendors (or any of the upcoming market days). Crowd favorites are officially here, from tomatoes to peaches to blackberries, and even some sweet corn! Don't forget about the baked goods, fermented products, local meats, and homemade crafts either.
Live Music: Apple Country String Band (Depot) and Barn Spiders (Jam Tent)
Kids Activities:
Crafts in the Kids' Corner with Hands on! Children's Museum
Face painting in the Depot
Farmers & Growers (produce, eggs, meat, honey, plants): Bee-utiful Farm and Garden, Bright Branch Farm, Broom's Blooms, Colfax Creek Farm, Crow Holler Produce, Garden of Griffin, Grateful Bed Farm, Gray Family Farmstead, Honeybee Bliss, Lanning Road Farms, Laurel Creek Plant Farm, M&M Berry Farm, Morgan Farm, Newman Farms, Popp's Posies at The Popp Shoppe, Saluda Grade Farm, Sylvia's Plants, Tiny Bridge Farm, Violet Aurora Farm
Value Added Food/Drink Vendors (baked goods, fermented foods, cheese, pasta etc.):Barnhouse Kitchen, Boom Boom Kettle Corn, Deena's Bakery, Glykalogy Food Cart, Mimi's Mountain Mixes, Raspberry Fields, Sea of Sweets Bakery, Serotonin Ferments, ShareWell Coffee Co. & Roastery, Sophia's Tamales & Horchata, Spinning Spider Creamery, Underground Baking Co.'s Brezel Bus
Arts & Crafts (nonfood/nonplant): Dragon Metal Studios, Mountain Barkery, Options 1111, Paper Clutz Co., Parish Members of St. Anthony The Great, Popp's Posies at The Popp Shoppe, Sophia's Boutique, Two Chicks Pottery
Hendersonville Farmers Market takes place every Saturday (May-Oct) at the Historic Train Depot on 650 Maple Street, 8am-1pm. Learn more at hendersonvillefarmersmarket.com.