July 16 Vendor List at Hendersonville Farmers Market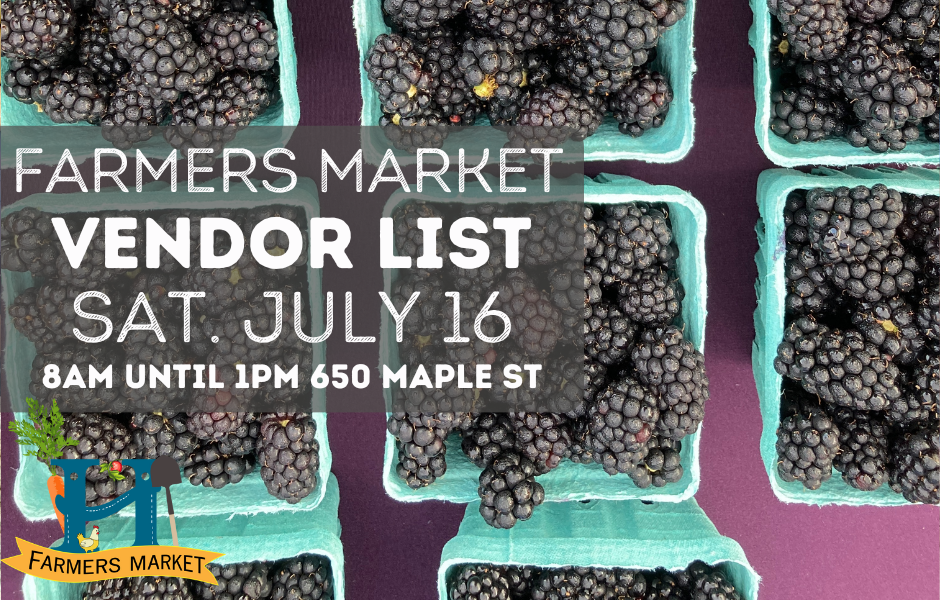 The deliciousness of summer harvest will continue this Saturday with a market featuring your favorite regular vendors as well as plenty of fun surprises!
Live Music: Rosabelle (Depot) and Asheville Junction (Jam Tent)
Kids Activities:
Crafts in the Kids' Corner with NC Cooperative Extension
Face painting in the Depot
Cooking Demo:
10-11am with NC Cooperative Extension
Farmers & Growers (produce, eggs, meat, honey, plants): Barry Farms, Bee-utiful Farm and Garden, Bright Branch Farm, Broom's Blooms, Colfax Creek Farm, Crow Holler Produce, Garden of Griffin, GourMays Mushroom Farm, Grateful Bed Farm, Honeybee Bliss, Lanning Road Farms, Laurel Creek Plant Farm, M&M Berry Farm, Morgan Farm, Newman Farms, Popp's Posies at The Popp Shoppe, Pressley Farm, Saluda Grade Farm, Sylvia's Plants, Tierra Fertil Coop , Tiny Bridge Farm, Violet Aurora Farm
Value Added Food/Drink Vendors (baked goods, fermented foods, cheese, pasta etc.): Asheville Tea Company, Asheville Pretzel Co, Barnhouse Kitchen, Chef Squared Co., Deena's Bakery, Homemade Pasta Noodles, Mimi's Mountain Mixes, Raspberry Fields, Serotonin Ferments, Shanti Elixirs , ShareWell Coffee Co. & Roastery, Spinning Spider Creamery, Underground Baking Co.'s Brezel Bus
Arts & Crafts (nonfood/nonplant): Eli Tomalka Woodworks, Happy Toad Pottery, Mountain Barkery, Popp's Posies at The Popp Shoppe, Wise Earth Way
Hendersonville Farmers Market takes place every Saturday (May-Oct) at the Historic Train Depot on 650 Maple Street, 8am-1pm. Learn more at hendersonvillefarmersmarket.com.